Jordan's SOLIDWORKS Setup Package
SOLIDWORKS 2014 has just been released, and it's time for a fresh start. With each new release, I usually tweak my interface layout and my settings just a bit. This year, I think I've finally got it perfected, so it's time to share these customization's with the world. Click the image below to access a 9-page package including all kinds of user interface modifications and helpful template files. This is a great resource for someone new to SOLIDWORKS looking to hit the ground running. The package includes:
Updated Toolbars
Modified Shortcut Bars
Shortened Right Click Menus
Simplified Mouse Gestures
Extra Keyboard Shortcuts
Custom Color Schemes
Document Templates
Property Tab Templates
Sheet Format Templates
Drafting Standards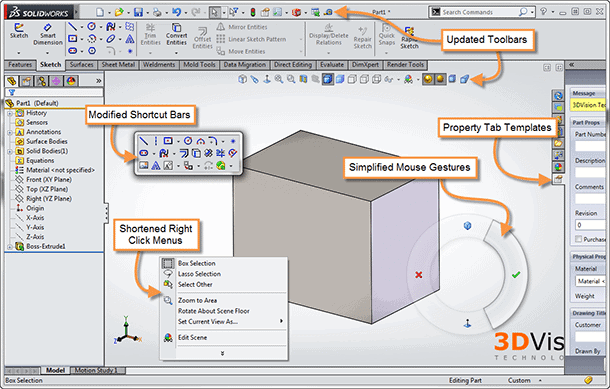 NOTE: All the my customization's and templates are provided in 2014 format and they are not backwards compatible. If you haven't upgraded to 2014 yet, what are you waiting for?