Let Design Guidance Help You: Powerful tools in xDesign on the 3DEXPERIENCE Platform to streamline your parts
3D Creator is one of the roles on the 3DEXPERIENCE platform. It contains the xDesign app for 3D modeling completely in the cloud through a web browser on any device, anywhere.
In this blog article I am going to introduce you to an amazing tool in xDesign, called Design Guidance.
This tool will intelligently redesign/streamline your part to help you decide the best shape for it based on some simple input.
It's kind of like doing a traditional FEA / Simulation analysis, in that you start out by modeling your part in the shape you think it should be and applying a material to it. Then you simply use sketches or 3D geometry to define the connection points and force conditions, and select what existing geometry to leave intact as you have it. But, rather than telling you if your part can stand up to the loads by showing stresses, strains, factors of safety, etc. the design guidance "solver" will work its magic and propose a solution at what the shape of the part should be changed to!
After you get the result there is an option to automatically "smooth" the output and use it as your final design. This would be practical if you were 3D printing (plastic or metal) the part. If you are wanting a more "traditional" looking design (and one that is more manufacturable) then you simply use the results as a guide to create your final design with less material used and a better understanding of how it will stand up under a load condition.

Here are a couple more results examples from Design Guidance studies in xDesign
And finally, here is a link to a 12min Design Guidance training video that will show you how it works on a motorcycle suspension frame: https://youtu.be/5W6qrFPrw5I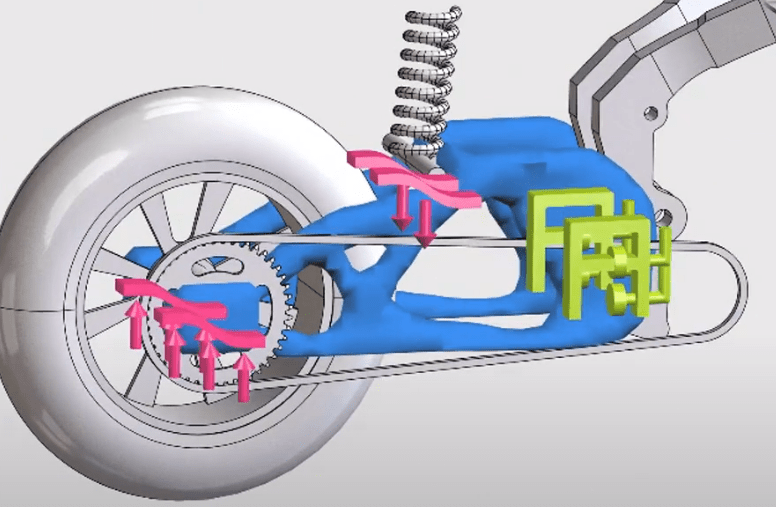 Randy Simmons
Sr. Application Engineer / SW Elite A.E.
Computer Aided Technology, Inc.