Manage & Customize SOLIDWORKS Materials
Managing SolidWorks Favorite Materials
Add, remove or rearrange your favorite list
You can add materials you often use to your favorite list for faster access. This option is oftentimes overlooked, even though it resides in a window you probably use frequently. To access the window, just right-click on material in the feature manager tree, shown below. Customizing your list will make adding material to every 3D CAD model you have much simpler.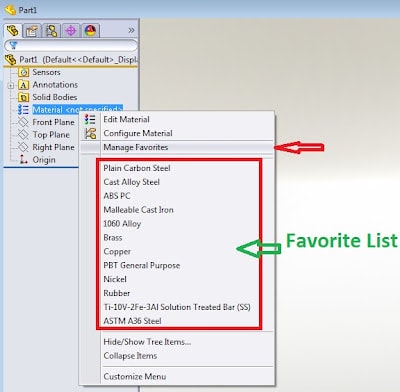 To manage your favorite list, click on "Manage Favorites." A new window titled "Material" opens, shown below. To add a material to the list, simply click on the material you want to add from the list to the left and click "add." Once you have added your favorite materials, you can rearrange their order in the list by clicking on the "Up" or "Down" buttons in the window. Furthermore, you can remove them using the "Remove" button.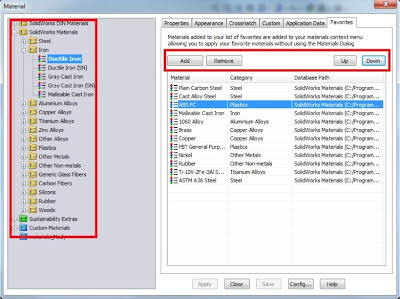 Creating SolidWorks Custom Materials
Adding custom materials with mechanical properties
To create your own custom material in SolidWorks, click on Edit material. If you right-click on the custom material folder, you have the option to create a new library folder or just add a new category. The category can be Steel, Iron, Carbon Fiber, "ACME Material," etc.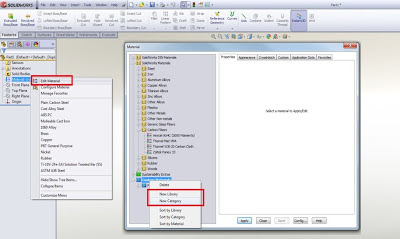 You can now simply right-click to copy one of the materials under SolidWorks materials and paste it in the appropriate category.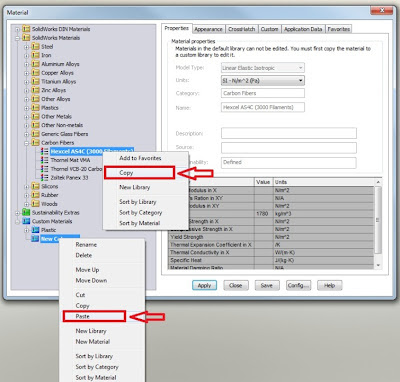 Once a material is added to your custom library, you can then rename and manage it just like any other material in the list by right-clicking on the material itself. Furthermore, you can input the mechanical properties of this material – such as the elastic modulus, density, tensile or compressive strength, etc. An example is shown below.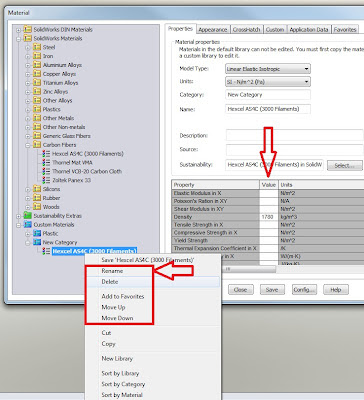 For more training and tutorials on the many 3D CAD Modeling solutions in the SOLIDWORKS family of products and add-ons, register for an upcoming Event or look into our SOLIDWORKS training.