Maximizing SOLIDWORKS Performance (MSWP-12-#5)
Turn off SOLIDWORKS Add-Ins
A simple yet often over looked drain on resources is unused Add-Ins. Our baseline was run with five Add-Ins turned on; FeatureWorks, PhotoView 360, Simulation, Toolbox and Toolbox Browser. All of these Add-Ins were not necessary for the operation of the benchmark. These Add-Ins, even when not actively engaged, will hold some resources. So for our test we simply turned off all Add-Ins and released those resources for use by the portions of SOLIDWORKS required for our benchmark.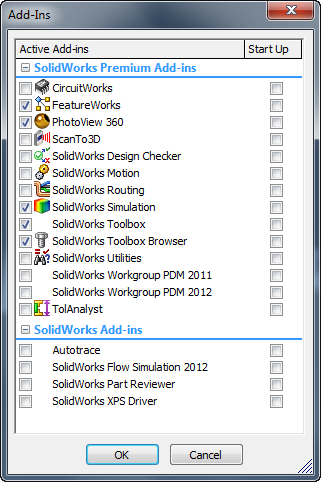 If you remember from our first article; our test baseline had a runtime of 5:01:35 and we measured time for the areas of Opens, Rotations, Modeling, Rebuilds, Switching Sheets, Saves and Closes.
After we turned off the Add-Ins our macro ran in 4:28:53, this had a noticeable effect in the areas of Opens, Rotations, Modeling and Switching Sheets.
This setting gained us a savings of 0:32:42 or 10.8%.
Please check back to the CATI blog as we will continue posting our series of articles that goes further into the details of each of our tests. All of these articles will be stored in the category of Maximizing SOLIDWORKS Performance and links to each with their release date are listed below:
Thanks,
Josh Altergott, CATI Support Manager
Adrian Fanjoy, CATI Technical Services Director