SOLIDWORKS 2011: Multiple Configuration Tables
Working with SolidWorks configurations just keeps getting easier thanks to the "Modify Configurations" window. If you use configurations and you aren't familiar with this then you need to pop open the Help menu and get acquainted.
In SolidWorks 2011, Modify Configurations got even better with the addition of the dedicated All Parameters button at the bottom of the dialog window. Simply click this and every configured parameter will open up in the table.
One of my favorite features about the Modify Configurations window is the ability to arrange configuration tables to your liking and then save them for reuse in the future. Add columns by double clicking dimensions and features in the graphics area, delete columns using the right mouse button, click drag columns to reorder and then, when it looks just right, give it a name and hit the Save Table View button. Now whenever a change is needed just open up the table which can be found in the Tables folder on the Configuration Manager tab. What's even better is you can make and save as many tables as you want.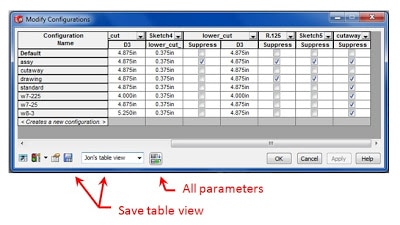 Related Articles