My Life in Drawings: SOLIDWORKS Dimension Palette
When it comes to mass changes to dimensions on your drawings, one perfect tool to assist with this is the Dimension Palette! Whether you need to customize tolerancing or arrange dimensions, this underrated tool can help you achieve your goal in a zip.
If you prefer to view content in video form, click here!
First and foremost, Why?
Personally, I like the accessibility of it. I know just about everything can be done in the property manager but the ease and layout of it makes for a simple understanding of what your final result will be. That, in addition to the powerful tools inside it that allow me to properly layout dimensions on my drawing.
So lets take a look!
The dimension Palette will adapt depending on if you select one or more dimensions along with whether or not you have tolerancing applied. See below for a quick breakdown of each selection
A great way to collect ALL dimensions at once for an auto arrange, is to select one dimension and use CTRL+A to select the rest. Even if you don't need everything but you need most, this can be an effective way to collect them all and deselect the ones you do not!
Simple things in SOLIDWORKS often prove to have significant gains. The dimension palette is a smaller example in the grand scheme of things, but in drawings alone there are COUNTLESS ways to function faster with the same accuracy you need.
Style selector: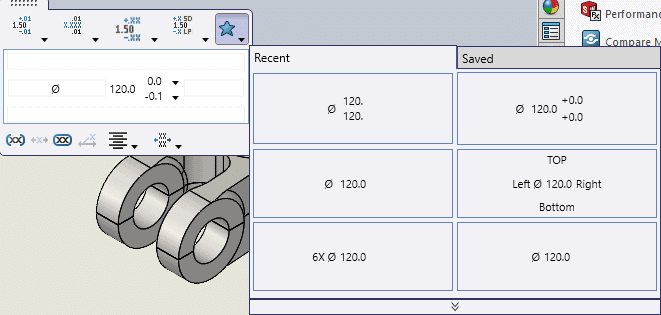 For additional clarity or to live the excitement of Dimension Palette again check out the walk through video here!
David Janicki
Application Engineer
Computer Aided Technology, Inc.