Preventative Maintenance on your Objet30
It's spring here in the lovely midwest, and like a lot of people, we're very big on spring cleaning. Just like anything, your machine needs a little TLC once in a while.
So aside from sending out one of our fantastic Field Service Engineers to do a "PM" (preventative maintenance), what kinds of things can you do to keep your system running smoothly, reliably, and consistently this year?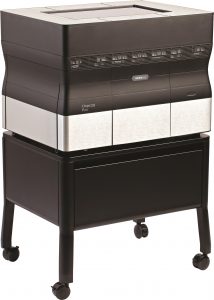 The first rule with any liquid-based system is that cleanliness is key. Follow these preventative maintenance tips to keep your Objet30 running smooth.
Run your head cleaning wizard every time you finish a build. This keeps the head, roller, and blade nice and clean for future jobs.
Clean the heads and roller at least once a week if you're not running jobs!
Perform a Pattern test weekly to check for dead nozzles in the head. (This can be found on page 6-33 in your User Guide.
Every 300 hours, the machine will let you know that it's time to calibrate the UV intensity of the bulb on your head. You can find this procedure on page 6-43 of your User Guide.
Keep the bay and surrounding area as clean as you can. Bits of material left over can find their way on your prints, causing loss of material and build time. You can use 70% rubbing alcohol or Simple Green to keep this area clean.
Feel free to check the wiper blade next to the roller. To learn how to do this, I would recommend calling our Support or Stratasys Support for the proper operation. You'll know if this is dirty if chunks of cured material start falling in your prints.
In addition, we recommend that you reboot both computers at least once or twice a week to keep them running smooth. Remember the full preventative maintenance chart for your machine is located on page 6-27 in your User Guide (Rev D).
Every year, we recommend scheduling a PM visit with your local FSE. They will come and do a few much more in-depth replacement of wear-items such as your inline filters, vacuum tubes, and wiper blade as well as testing your heads, UV lamp, and vacuum system in the machine. They will also be happy to clean up and go over any questions, tips, and best practices with you on site. Don't hesitate to reach out to us!
Robb Lauer
Application Engineer, Manufacturing Solutions
Computer Aided Technology, LLC