Quick and Easy Ways to Customize Your SOLIDWORKS User Interface
SOLIDWORKS gives us the ability to customize our user interface in virtually anyway we like. However, we always recommend keeping your User Interface with the default settings until you are comfortable with the SOLIDWORKS User Interface. Once you get the hang of things, there are many ways to customize your SOLIDWORKS User Interface to increase efficiency and productivity. In this blog we will cover Customizing Menus, Creating & Editing Custom CommandManager Tabs, and Customizing Keyboard Shortcuts and Mouse Gestures.
1. Customize Menu: To customize any of the menus from the top bar of SOLIDWORKS such as File, Edit, View, Insert, Tools, Window, or Help, simply left mouse click on the menu you want to customize and choose Customize Menu from the bottom of the list.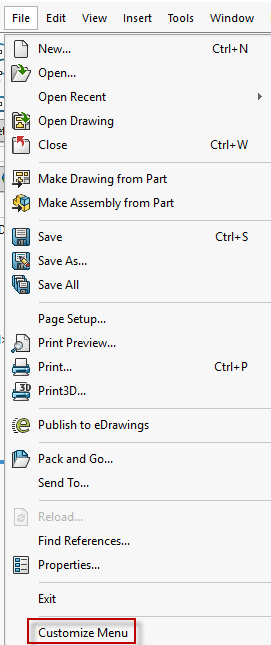 Once you click Customize Menu, you will see the boxes with checkmarks where you can customize what you see when you drop down each Menu option.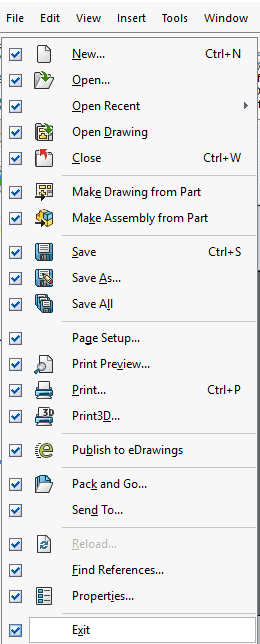 2. Create & Edit CommandManager Tabs: SOLIDWORKS does a great job at grouping popular features and tools onto tabs that they best relate to. However, sometimes it's missing a command that you use all the time or maybe it's too crowded with features you hardly ever use or maybe you simply want to create a custom new tab just for you!
To access the option to customize the CommandManager toolbars, you can either right click in the gray area of the CommandManager and select Customize or you can go to Tools > Customize. Both options are shown in the images below, respectively: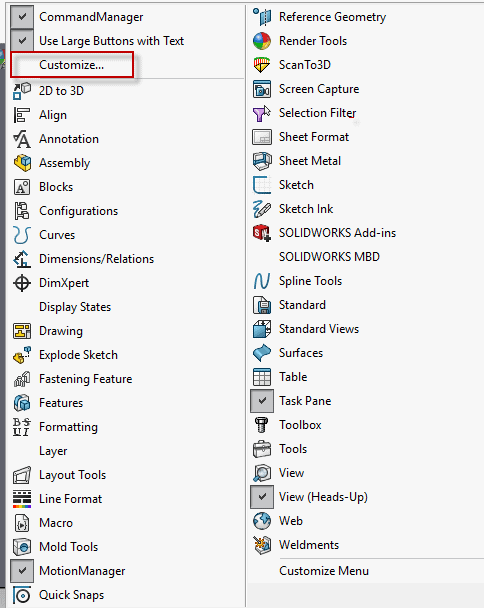 Once you click Customize, all of the possible CommandManager tabs will appear such as Features, Sketch, Weldments, etc. as well as a tab that says "New Tab".
To create a New tab that you can place commands on, click New Tab > Empty Tab. This will allow you to add the name of your tab and then place commands on it. I named my custom tab "My Tab" and moved it after the Sketch tab by using drag and drop. See below: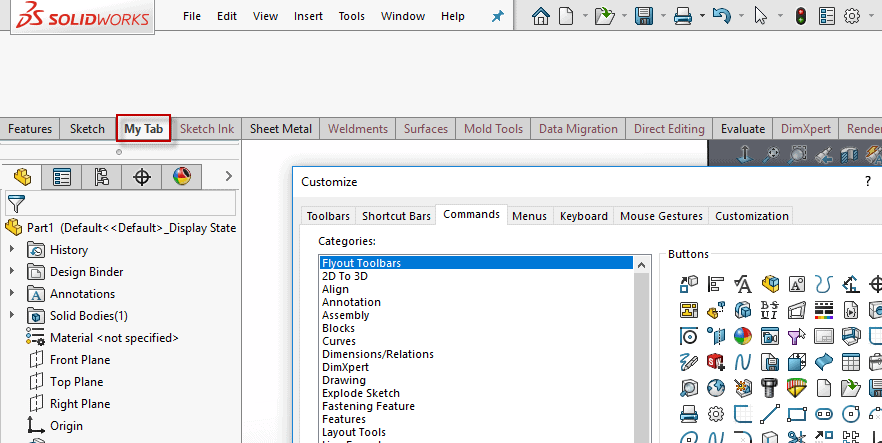 Next, to add Commands to this tab or to any other CommandManager tab, click on the Commands tab of the Customize dialog box and drag and drop any command onto any of the tabs on the CommandManager or on the Heads-Up Toolbar. To remove any tabs, simply drag and drop the command away from the CommandManager tab.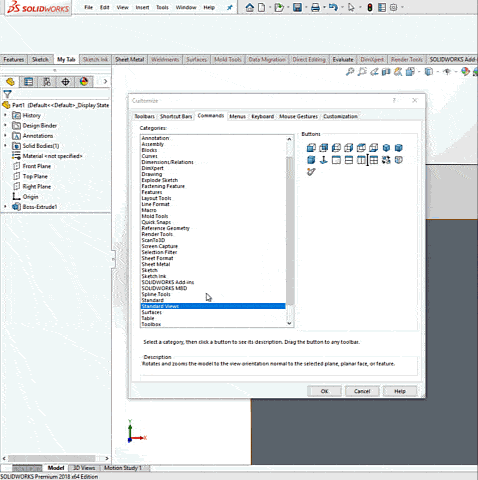 3. Customize Keyboard Shortcuts: SOLIDWORKS uses many of the Windows keyboard shortcuts, and even has default keyboard shortcuts of its own.
You can edit and add new keyboard shortcuts to many of the commands in SOLIDWORKS by clicking the Keyboard tab of the Customize dialog box (from Tools > Customize) and typing the desired keyboard button next to a command. You can also filter it down to only show commands that have keyboard shortcuts already assigned to them and then print the list, so you can get accustomed to using the shortcuts.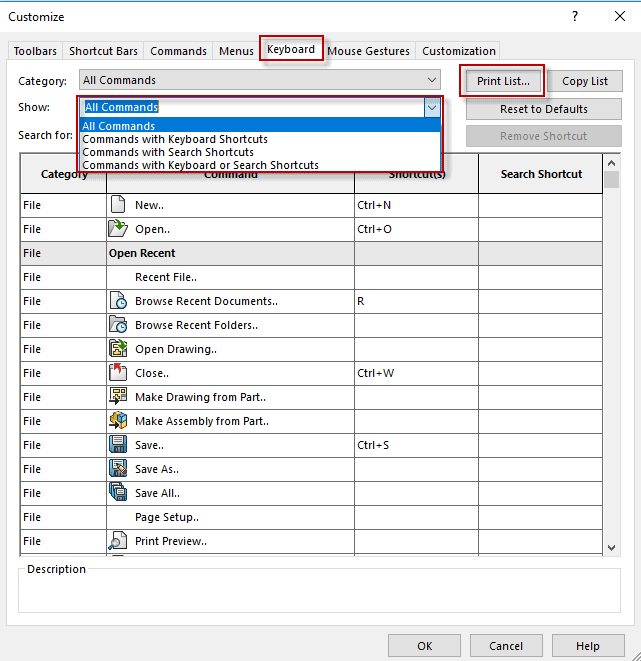 4. Customize Mouse Gestures: Mouse gestures are shortcuts that allow you to quickly execute a command by right-dragging in the graphics area. The commands that are available on Mouse Gestures will change depending on whether you are in a Part, Drawing, Assembly, or Sketch.
You can edit the amount of Mouse Gestures per Mouse Gesture Guide, and you can also control what command is in each position of the Mouse Gesture Guide. To do so, click on the Mouse Gestures tab from the Customize dialog box (Tools > Customize). From here, select the amount of mouse gestures, and then drag and drop your desired command from the Command table to the desired position on the guide. Similar to the keyboard shortcuts, we can also print these Mouse Gesture Guides.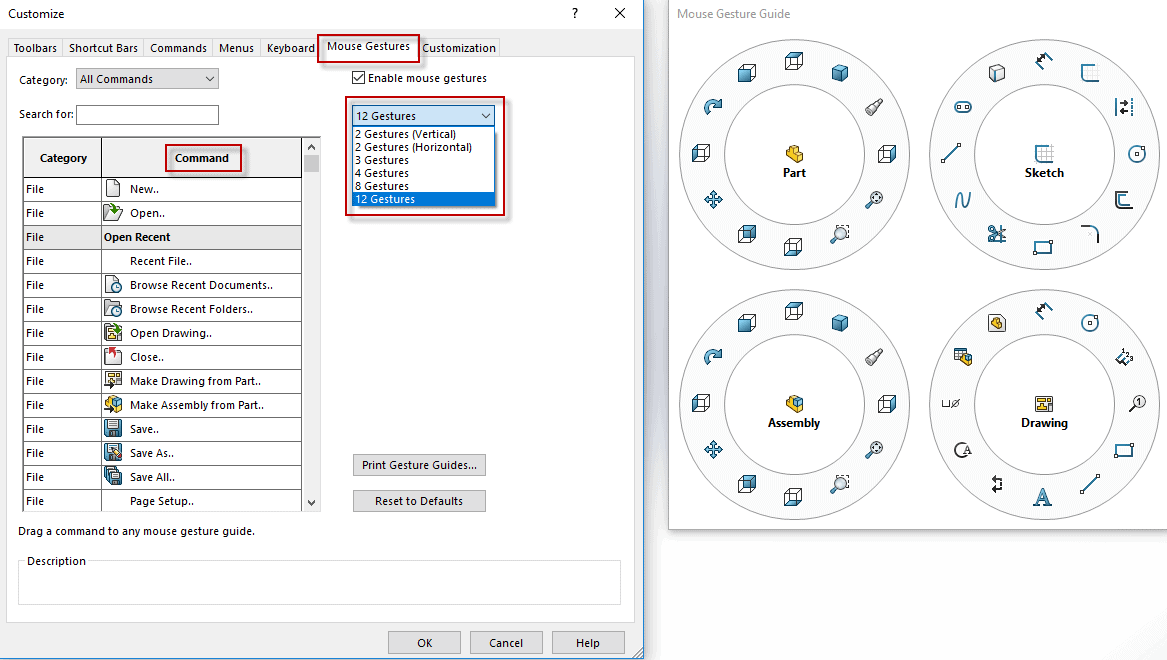 Now it's time for you to customize your SOLIDWORKS User Interface so that you can be more efficient and productive while working in SOLIDWORKS!
Nicole Kelley
Application Support Engineer
Computer Aided Technology, Inc