RULERS in SOLIDWORKS Drawing mode
Want just a little more guidance of "where" you are at in a Drawing in SolidWorks?
TURN ON THE RULERS!
Most people have no idea about this option, so don't be embarrassed. 🙂
Just go up to the VIEW pulldown menu, and towards the very bottom turn on RULERS!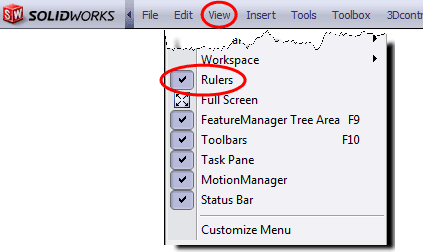 Don't forget you also have the cursor coordinate numbers at the bottom of the screen. The rulers are just easier to quickly look at and understand where you are on the sheet, especially if you are zoomed in.
This is great for when you are sketching on a drawing or using snapping with the grid on a drawing.