Selection Sets and SOLIDWORKS Simulation
How many left mouse button (LMB) clicks does it take to complete a task? More specifically, how many left clicks does it take to select all the faces, edges, components, and similar that you need when setting up a feature in SOLIDWORKS Simulation? I'm sure you would agree that the more complex the analysis, the more button clicks required. Are you taking advantage of the available tools to reduce your LMB clicks and save time? If you are not currently doing so, maybe it's time you investigate using a real time saver for repetitive button clicks – Selection Sets.
Selection Sets were introduced with SOLIDWORKS 2015, so we as users have had plenty of time to incorporate them into our daily CAD work. As SOLIDWORKS users, I'm sure we're all familiar with using SHIFT-select or CONTROL-select, just two of the many select options, for making multiple selections in our model files. You might think that needing to only make the selection grouping one time means that using Selection Sets is not for you. Let's first discuss how to create a Selection Set. Then we can discuss possible uses of Selection Sets and how to effectively use them to reduce your SOLIDWORKS Simulation setup time.
The first step for a Selection Set is, of course, to select the entities you want to have quick access to. This could be several faces, edges, components, or features, that you want in a single group. Once the entities are selected, use your right mouse button (RMB) and choose 'Save Selection'. (Depending upon whether you are working in a part file, weldment, assembly, or drawing, the location in the RMB menu for Save Selection may change slightly.)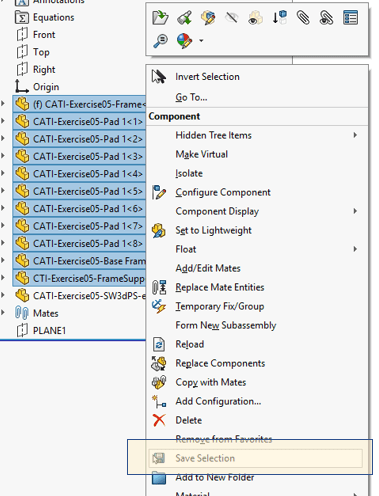 This will create a folder in the feature tree called 'Selection Sets', of course! When you expand this folder in the feature tree you will see a generic name, like 'Selection-Set1', a feature that can be expanded by LMB on the small arrow to the left of the feature name. When expanded, you can visualize what entities you selected in creating the set. You can also LMB on the saved Selection Set and have the selections highlight in the graphics window. Finally, like features, you can rename the selection set for convenience.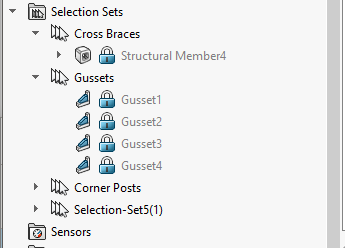 Early on I mentioned that Selection Sets could reduce your Simulation setup time. Here are just two examples that I've recently encountered where a Selection Set sped up both my pre- and post-processing in Finite Element Analysis. The first is a model with several structural members supporting an engine. I need to apply a mesh control to the smaller bodies in the assembly, which would require accessing the Flyout Feature Manager Design Tree, then several LMB clicks to select all the required components. With the Selection Set already created in the weldment, I only need to access the Flyout Feature Manager Design Tree, expand the part file Feature Tree and its Selection Sets folder, then use a single LMB on the saved Selection Set.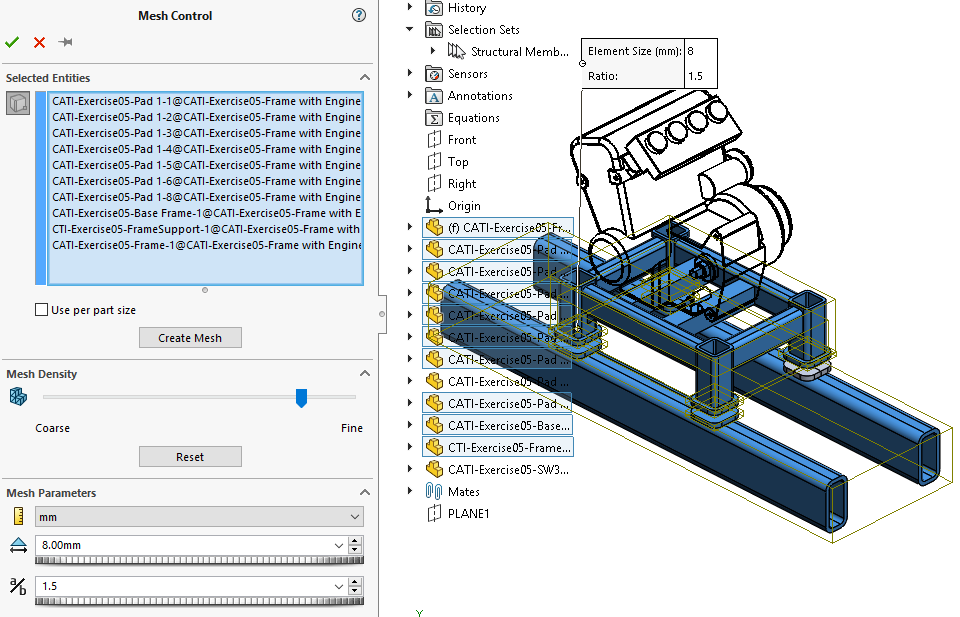 After I've solved this Finite Element Model, when I am post-processing the results I need to create several result plots showing only these entities. Without the saved Selection Set, I would need to repeat the multiple button clicks to choose each of the components for each plot. That's a whole lot of left-clicks saved with this one Selection Set!
In a second example, I need access to a few features on a part that are obstructed by another part within the assembly. While I have options to address this, such as making the obstructing part transparent or hiding it, or even using Select Other, using a Selection Set is still a great time saving option.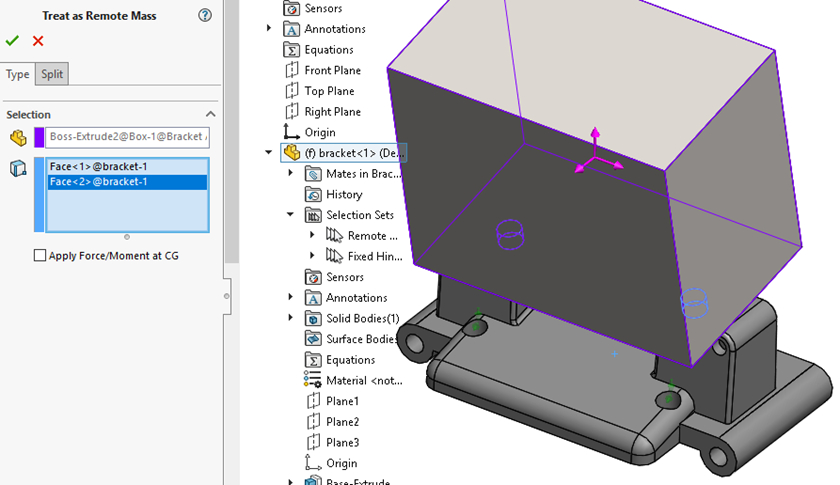 I'm setting up this large block as a Remote Mass feature in the Finite Element Model. It is connected to the bracket component on two cylindrical faces that are obstructed by the opaque block. The Selection Set allows for a rapid setup of the Remote Mass feature.
These are just two examples of using Selection Sets to reduce the amount of time needed to pre- and post-process a Finite Element Model. Using Selection Sets can help with mesh controls, contact sets, applying fixtures, and more when pre-processing your Finite Element Model. Also, as I already mentioned, the Selection Set allows me to save significant time in repeating groupings of output for post-processing Simulation results. What other time saving tools do you use in SOLIDWORKS to make your Simulation work faster? Hopefully, if you are not currently using Selection Sets, you'll learn to use them for the great time-saver they are! Now go make your products better with SOLIDWORKS Simulation!

Bill Reuss
Product Specialist, Simulation
Computer Aided Technology, Inc