Simplified (McMaster-Carr) Parts in Assemblies
The following golden rule applies to 99% of you out there…
Never include fasteners with modeled threads in your assemblies.
This is the reason the SOLIDWORKS toolbox comes with three options for thread display when inserting fasteners into your assemblies: Simplified, Cosmetic, and Schematic. The popular and recommended choice is 'Cosmetic' – a healthy combination of detail and efficiency.

There are quite a few factors that can contribute to clunky and inefficient assembly models, but two very obvious culprits are the quantity/complexity of features and surfaces. You can apply this concept to any type of model, but modeled threads are a perfect example to discuss both of these slow downs. Though there are times when it makes sense to model threads within a part file, it's rare that those threads are needed within an assembly file.
One of the coolest things about McMaster-Carr (besides their same day delivery of just about anything you can ever dream of) is that they offer 3D models of a majority of their products in a native SOLIDWORKS file (i.e. feature tree, dimensions, and relations are included). McMaster-Carr customers with SOLIDWORKS have a huge advantage over the rest, because they'll be able to quickly edit these files however they'd like. Here's an example…
Download a 1" long ¼-20 SHCS from McMaster-Carr and notice that the part comes fully equipped with modeled threads.
Click Tools > Feature Statistics and note the 0.80 second calculated rebuild time.
Right mouse button (RMB) the "Cut-Sweep1" feature, and select "Configure Feature" from the menu.
Create a "Simplified" configuration with the thread cut feature suppressed.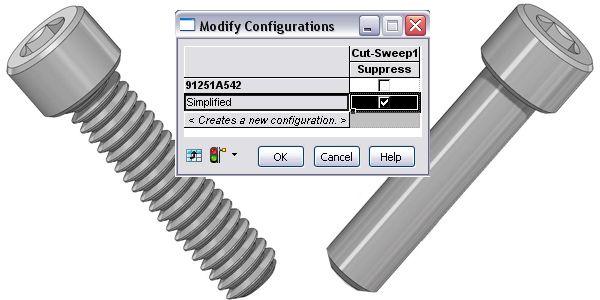 Run the Feature Statistics tool one more time and you'll see a 0.15 second rebuild time.Just by removing one feature, we managed to cut the rebuild time to less than a fifth of what it was. This goes a very long way inside an assembly where many of these fasteners can exist.
Obviously, you can make "Simplified" configurations for any type of model (not just threaded fasteners). You can suppress any type of feature that is not required to be present in the assembly (complex features, fillets, chamfers, etc.). This is a great way to speed up large assembly performance. All you have to do is activate the "Simplified" configuration of all the part files within an assembly. "How?", you might ask…
Click File > Open within SOLIDWORKS and browse to an assembly file.
Before opening it, click the "Advanced" check box.
When you click the "Open" button, select the following options on the pop-up menu.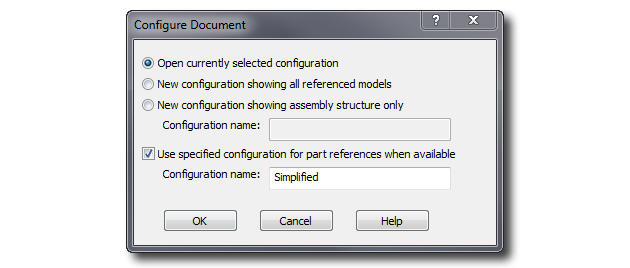 Once you click OK, SolidWorks will find any part within the assembly (regardless of the levels of sub-assemblies) that has a "Simplified" configuration and activate it. Simple (no pun intended)! Why not create a simplified configuration for every part file?