SIMULIA R2019x: What's New and How to Download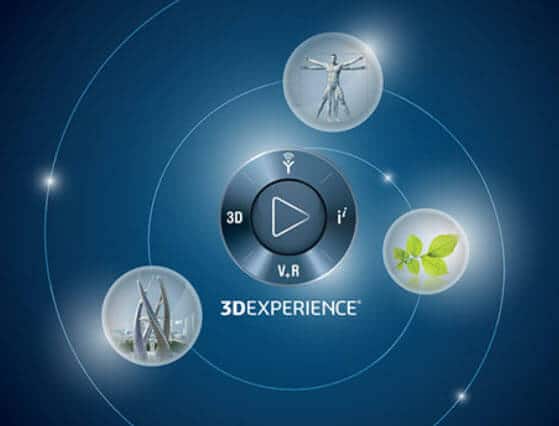 The simulation portfolio of 3DEXPERIENCE R2019x (including Abaqus 2019 download, fe-safe, Tosca, Xflow, CST, and Isight) is out and available to you right now! It's packed with new features and enhancements that will expand your analytical possibilities and make your life as an analyst easier! My personal favorites include improved solve times in Abaqus/Explicit, hyperfoam materials in Abaqus/Standard, and new constraint options in Tosca Structure. Exciting!
How to Download
Head over to software.3ds.com to get your download now! This update is freely available to current licensees. For more detailed instructions on downloading and installing DS software, check out our blog post.
If you'd like to learn more about SIMULIA, visit our SIMULIA page. If you'd like to speak to us about getting started with SIMULIA, contact us here.
What's New
The Abaqus Unified FEA product suite offers powerful and complete solutions for both routine and sophisticated engineering problems covering a vast spectrum of industrial applications.
What's New
Material and element enhancements
A new 2nd order tet element C3D10 in Abaqus/Explicit provides larger stable time increment and is more computationally efficient than the existing C3D10M element
A new shear panel element SHEAR4 in Abaqus/Standard provides efficient modeling of reinforced thin-wall structures such as can be found in airplane fuselages
The hyperfoam material that was previously available in Abaqus/Explicit is now also available in Abaqus/Standard. Results transfer between Abaqus/Standard and Abaqus/Explicit is fully supported which enables workflows involving static preload followed by dynamic impact.
The concrete damaged plasticity model in Explicit has been enhanced to include damage initiation and failure.
Contact enhancements
General contact in Abaqus/Standard now supports thermal and thermal-electrical procedures.
Initial contact stresses in Abaqus/Standard can be computed based on user-specified stress in elements underlying the contact surface.
New contact output variables including scalar integration of contact pressure over the surface.
The bolt contact capability in Abaqus/Standard has been enhanced to more accurately represent threads without actually meshing the thread.
Linear Dynamics enhancements
SMP parallel processing is now supported for results recovery in mode-based procedures.
The missing mass method is now available for use within the response spectrum procedure. A common application is earthquake engineering.
Structural energy flow, power flow and acoustic radiated energy and power can now be computed for coupled structural-acoustic steady state dynamics.
Modeling and visualization enhancements
Model instances can now be used with flattened input files.
Asymmetric axisymmetric elements CAXA/SAXA are now supported within Abaqus/CAE.
Geometry assemblies within Abaqus/CAE can be exported into the ASAT format which simplifies interoperability with 3DEXPERIENCE applications.
Visualization of nodal tensor fields is now supported.
Other key enhancements
Parallel scalability of Abaqus/Explicit has been significantly improved. Performance improvements approaching 50% have been observed.
Performance of contour integral evaluation has significantly increased for large models.
Performance of linear static load cases has been significantly improved.
The Tosca optimization suite provides fast and powerful structural and flow optimization solutions based on FEA and CFD simulations. Tosca optimization suite consists of two products: Tosca Structure is for optimized structural designs, and Tosca Fluid provides optimized fluid flow design concepts.
What's New
Tosca Structure
Tosca Structure.topology

Faster execution using shared memory parallelization (SMP) for topology optimization using shared memory parallelization.
Enhanced topology optimization sensitivity filtering

Sensitivity filters has been enhanced and especially in combination with stress constraints or symmetry constraints are results much improved

Enhanced optimizer for sensitivity based optimizations

New implementation of the internal optimizer, Convex Separable Approximation (CSA). The optimizer is now default

Improved controls for overhang constraints for additive manufacturing

Tosca Structure.shape

Enabling sensitivity based shape optimization with Abaqus non-linear analysis

Non-linear static analysis (NLGEOM=YES, *PLASTIC, *CONTACT …)
Including all modeling nonlinearities as large deformations, contact and non-linear materials.
Stress constraints
Reaction force constraints, even on *COUPLING elements
2D and 3D elements
Abaqus execution in MPI-mode
Better performance, especially for stress constraints

Enhanced manufacturing constraints for sensitivity based shape optimization supporting the following manufacturing constraints

Plane symmetry
Cyclic rotational symmetry
Cyclic plane symmetry
Stamping
Demold control

For easy restrictions of plane surfaces adjacent to the design area with RESTRICT_ON_SURFACE
Definition of a smooth transition zone into the design area with CHECK_TYPE = TRANSITION
Enhanced element correction for C3D10 elements

Tosca Structure.bead

Enabling sensitivity based bead optimization with Abaqus nonlinear analysis which replaces the "linearized" workflows
The Sensitivity based bead optimization now supports

Non-linear static analysis (NLGEOM=YES, *PLASTIC, *CONTACT …)
Stress constraints
Reaction force constraints, even on *COUPLING elements
Abaqus execution in MPI mode
Better performance

Tosca support in ABAQUS/CAE 2019

Support Abaqus sensitivities for all Tosca workflows
Sizing
Shape
Bead * (planned for FD release)
Overhang constraint topology optimization

Supported solver interfaces

Abaqus 2019
ANSYS® v19.0
MSC Nastran® 2017
Supported life solver interfaces
Tosca Fluid
Tosca Fluid improved interfaces for

STAR-CCM+® versions: 9.02 – 13.02
Ansys Fluent® versions 15.0.0 – 19.0.0
fe-safe is a powerful, comprehensive and easy-to-use suite of software for fatigue analysis from finite element models.
What's New
Improved robustness of weld line definitions for solid elements
Enhanced nodal force method for Verity weld fatigue relaxes some of the meshing requirements
Results summary available by group, not just model as a whole
Groups/sets created by fe-safe are written to ODB Prismatic Hull infinite life method
Simpler plugin loading
Ability to use more than one plugin in the same project/job
Improved plugin identification/versioning
Installer unified with Abaqus
Isight provides simulation process automation and design optimization solutions that enable users to reduce analysis time and costs while improving product performance, quality and reliability.
What's New
Isight Enhancements

Support copy-paste of scripts in script editors
New "Fetch & republish to local library" command in fipercmd

Component Enhancements

Abaqus component upgrade

Support for Abaqus 6.14 – Abaqus 2019

CATIA V5 component upgrade

Supports CATIA V5 R27, CATIA V5 R28, and CATIA V5 R29

SolidWorks component upgrade

SolidWorks component is enhanced to support SolidWorks 2016 SP4 through 2019 releases

SIMULIA Execution Engine (SEE) Enhancements

TomEE-Microsoft SQL Server based SEE
Web Dashboard in TomEE-based-SEE
HTTPS support for Webtop and Web Dashboard in TomEE-based-SEE
CST STUDIO SUITE allows engineers to experiment with virtual prototypes even at the earliest stages of the design process, to compare the performance of different configurations, and to optimize their products as part of end-to-end industry processes that require EM simulation.
What's New
General

CST Specialist connects CST Studio Suite with 3DEXPERIENCE and leverages the best capabilities of each. (See CST Specialist PX2 role BFS for more info)
Support for 3D CAD assembly design for CST Studio Suite assembly mode
Basic visualization of the farfield in Simulation Review app. The farfield plot is the most important KPI for antenna design and placement
Encryption of CST models for securely sharing data (IP protection), available for Transient Solver only
New Schematic Editor with strongly improved performance and usability
Improved Poser tool to posture human voxel models
System Assembly Modelling (SAM) Array Task allows post-processing optimization in full array
New Anchorpoint Sweep in SAM Assembly Viewer

High Frequency

Support of new GPU devices: NVIDIA Tesla V100 and Quadro GV100
Improved HPC Cluster check for MPI simulations o Distributed Computing – Merge time improved
Lumped Elements Touchstone Circuits (T,F, TLM)
Simultaneous Excitation (F,I) o Windscreen antenna simulations: Improved setup
FD, TLM and Asymptotic Solver now included in Hybrid Solver (F, TLM, A)

Low Frequency Simulation

3D rotational motion (LT)
Support of periodic subvolumes in 3D (LT + Mstatic)
SAM Machine Task with several improvements

Charged Particles

New E-Static PIC Solver (for slow movements, e.g. plasma)
Optically induced emission model (photoemission)
Combined E-field plots with particles

Cable Simulation

Simplified definition of cable bundles in 3D
Easy definition of junctions between cable terminals
Stranded wires in TLM Solver (bi-directional coupling with cables thicker than a mesh cell)
Improved accuracy of lossy metals, used in cable cross section
Parameter sweep for random bundling
Running cable simulations on Linux OS (batch mode only)

Circuit Simulation

New Schematic Editor with improved performance and usability
Excitation settings now available in ask Parameter list
New IBIS AMI Task

Filter Designer

FD2D: improved accuracy of fast distributed models
FD3D: VNA based filter tuning (coupling matrix extraction from real-time measured S-parameters)
FD3D – New topologies for dual- and multi-mode filters

Interference Task

Interactive violation matrix, directly opening EMI margin plot
Radio library available for download from support page

EDA Import and PCB Simulation

IR and PI Result Field now use normal layout window with all selection capabilities
2DTL and SI coupling limits can be determined from threshold voltage
IR Drop with detailed power loss and sign off reporting
Boardcheck: Electrical data for rules is calculated from PCB data, Hierarchical violation view

Chip Interface

Cadence Virtuoso plug-in
Import from interconnect technology files (*.ict, *.itf)
Button for easy 3D-model generation
XFlow offers particle-based Lattice-Boltzmann technology for high fidelity Computational Fluid Dynamics (CFD) applications as a part of SIMULIA's Fluids Simulation portfolio.
What's New
Apply Volume Heat Source boundary condition and Conjugate Heat Transfer (CHT) boundary condition on the same solid
Enhanced XFlow-Abaqus two-way cosimulation capability
New XFlow-Abaqus one-way cosimulation capability for small fluid-induced structural deformations
Improved Arbitrary Reference Frame for simulations with enforced moving bodies
Power'By enhancements enabling the possibility to upload to numerical results of XFlow and the simulation model to the 3DEXPERIENCE platform
Enhanced Isosurface visualization for simulations with multi resolution lattice domain
Improved animations generator with new parameters to better control the output animation file