Show the Cut-List Properties of your Weldment in a Note on your Drawing
Ironically, you probably will not find how to do this from the SolidWorks help files, so I will provide it for you here.
Note: I was able to discover the answer to this by posting this issue to the SolidWorks forums*. It took a few days for someone who knew the answer to generously provide it. But it saved me hours of manual note editing.
As most users should know by now, you can assign all sorts of custom properties to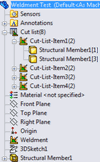 the various bodies you create in your Weldment part. And SolidWorks provides a few critical properties by default (if you create the bodies using the 'Structural Member' feature. [Otherwise, SolidWorks can't give you the Length property by default, for example.]
And these custom properties are relatively easy to show in your Cut-List table by adding the necessary columns and assigning those columns to that particular Cut-List item Property.
However, if you attach a Note to that Weldment Body in a view in the drawing, and you choose 'Link-to-Property' and try to select a cut-list property from the available list, you will NOT find the Cut-List properties available to you.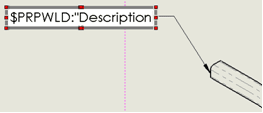 Instead, you must 'know the code' and type it in carefully, and in all caps. The Code
is this: $PRPWLD:"<property name>"
For example:
$PRPWLD:"Description"
$PRPWLD:"Length"
As you see in my Cut-list Table, I even created my own custom property called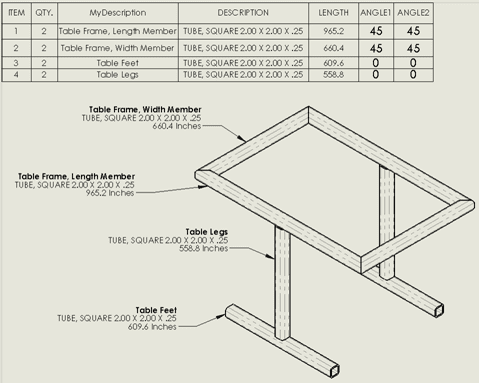 'MyDescription' for illustration purposes.
Note that you will first need a Cut List Table in the drawing somewhere. If you don't want the table itself showing on one of the sheets, then just have it placed off the edge of the 'paper' itself.
Now, this Parametric Note capability is most useful on subsequent sheets where you might show individual Weldment members in individual views. See the example below, which was done using the 'Relative View' command with the 'Select Bodies' option. We will leave the explanation of this method of showing individual Weldment members to another blog post.

*http://forum.solidworks.com
Timothy Ganstrom, ME, CSWP, Adv.Surf.Spec.