SOLIDWORKS 2016 What's New – Import/Export Overview - #SW2016
SOLIDWORKS 2016 has enhanced some importing and exporting features and has included a few more formats to the list.
Exporting options now include:

Exporting Material Properties to IFC 2×3 File
Exporting to the IFC 4.0 Format
Importing Options now include:

Importing of Visual Properties
Importing PTC Creo 3.0 Files
Importing STL Models
Let's explore each of these options.
Exporting Material Properties to IFC 2×3 Files
Enhancement: You can now export material properties such as mass, area and volumes that are assigned to SOLIDWORKS models to IFC 2×3 files.
Exporting Material Properties to IFC 4.0 Format
In order to make it easier to share design data with BIM (Building Information Modeling) systems, SOLIDWORKS now exports to the IFC 4.0 format.
Users can map the following data from a SOLIDWORKS file to an IFC 4.0 file:

Geometrical data
File Properties and metadata
Material and mass properties
Tessellated geometry
Face and body colors
Export to the IFC 4.0 format is supported for:

Parts
Top-level assemblies
Mutibody parts
Weldment parts
To export to the IFC 4.0 format:
Click File > Save As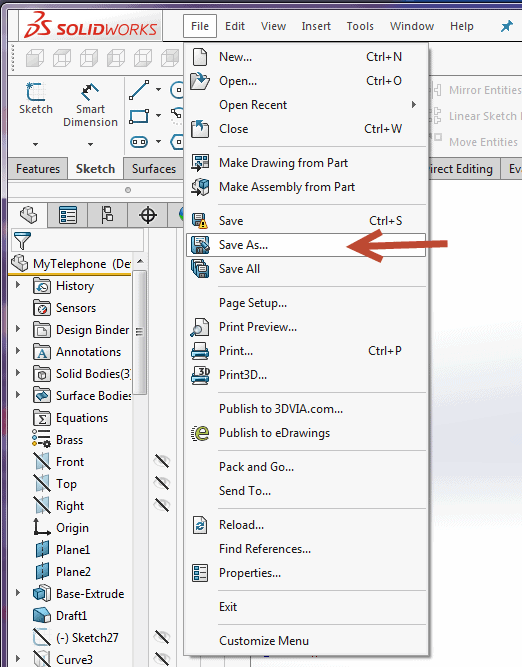 For Save as type, select IFC 4 (*.ifc)
Click Options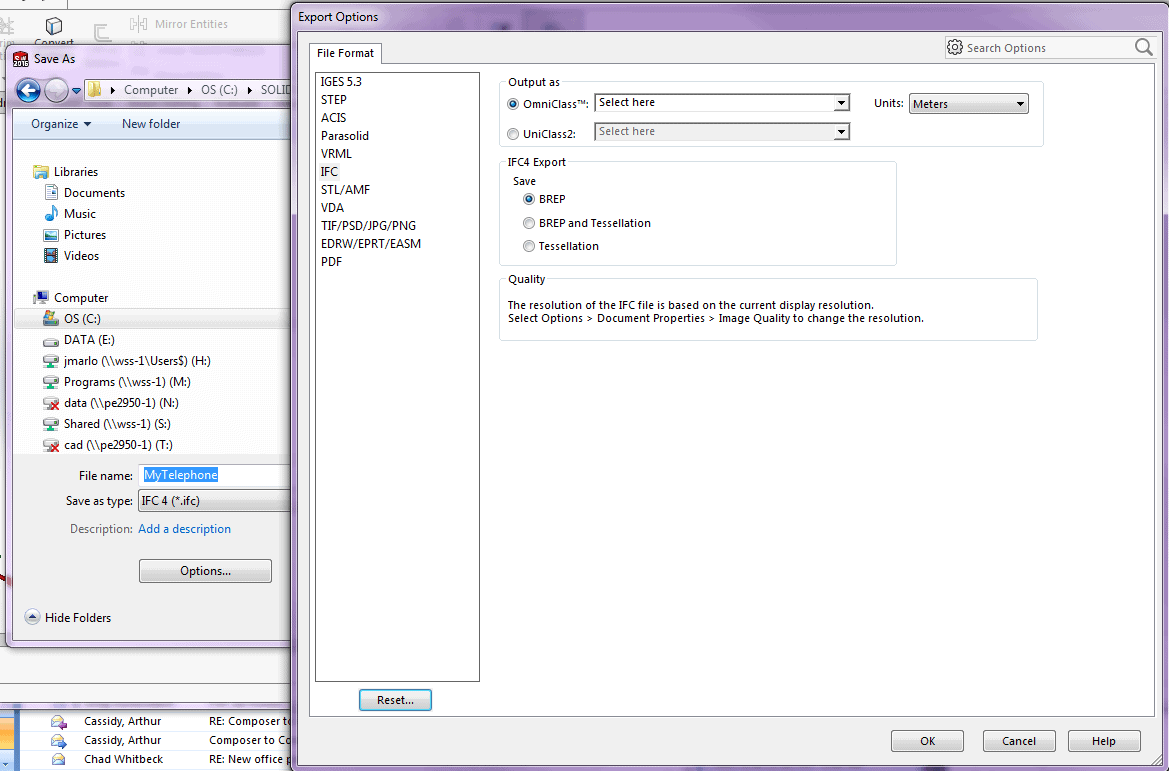 In the Export Options dialog box, select either OminClass or UniClass2 output and expand the items to select the specific class to use. Select Units. Under IFC4 Export, select one of the following: BREP, BREP and Tessellation or Tessellation. Click OK. Select the file name and location and any optional description and click OK.
Import of Visual Properties
The SOLIDWORKS Software will not analyze colors associated with imported parts and combine them when assigning them to a new SOLIDWORKS part or assembly. This will reduce the number of visual properties created when you import files with appearance and saves time loading the imported models.
The analysis results are:
If every imported face on a body is the same color, SOLIDWORKS creates a single body appearance.
If every imported body in the part is the same color, SOLIDWORKS creates a single part appearance.
If every imported assembly contains the same color for every component in the assembly, SOLIDWORKS creates a single assembly appearance.
Colors that are defined on features in the imported files are kept in the final model.
To retain a pointer to the imported file, the custom property Original Imported File contains the path to the original file.
Note: The path is a static reference that does not update if you move the file.
We hope this part of the What's New series gives you a better understanding of the new features and functions of SOLIDWORKS 2016. Please check back to the CATI Blog as the CATI Support Team will continue to break down many of the new items in SOLIDWORKS 2016. All of these articles will be stored in the category of "SOLIDWORKS What's New." You can also learn more about SOLIDWORKS 2016 by clicking on the image below to register for one of CATI's Design Summit's.
Thanks for reading!
Judy Marlo
Application Engineer
Computer Aided Technology