SOLIDWORKS 2017 What's New: PDM Task Enhancements - Generate MBD 3D PDFs, DXF to PDF & MS Office to PDF Conversions – #SW2017
PDM Task Enhancements: Generate MBD 3D PDFs, DXF to PDF & MS Office to PDF Conversions
SOLIDWORKS PDM Professional 2017 introduces a number of new enhancements in the tasks for converting various file types. The first being a new output format for SOLIDWORKS files. For SOLIDWORKS MBD users, the Convert task in PDM Professional can be set up to automatically generate SOLIDWORKS MBD 3D PDFs. To set this up, in the properties of the Convert task select the 'Conversion Settings.' Then select the Output file format to '3D PDF – MBD.'

Once set, you can then select the themes to use for Parts and Assemblies (if the theme is in your PDM Professional vault, it must be cached before task execution) and which views to publish.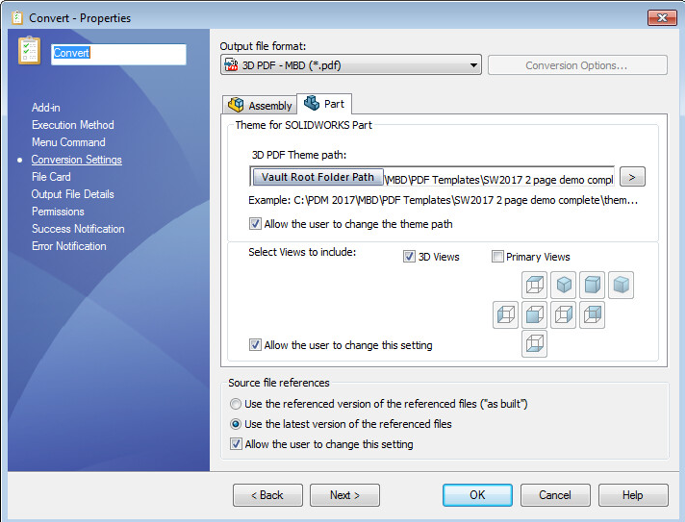 As with other Convert task settings, options are available to allow (or not, if being used as part of a workflow transition) users to change these settings at the time the task executes.
The second enhancement is a new PDM Professional task for converting DWG/DXF Files to PDF. In order to use this task however, you will need to have DraftSight Profession or Premium. While this is a new task, you still configure it with the same options that you would the other Convert task (File card variable mapping, output file locationnaming). The 'Conversion settings' page has some DraftSight specific options that you can set. Specifically, the ability to Override current DraftSight settings and Paper size.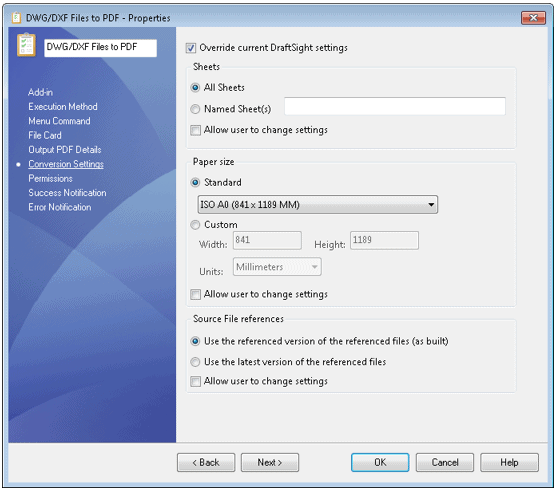 The final enhancement for PDM Professional task is another new task for Converting Microsoft Office to PDF. This task allows you to convert Microsoft Word, Excel and PowerPoint files into PDFs.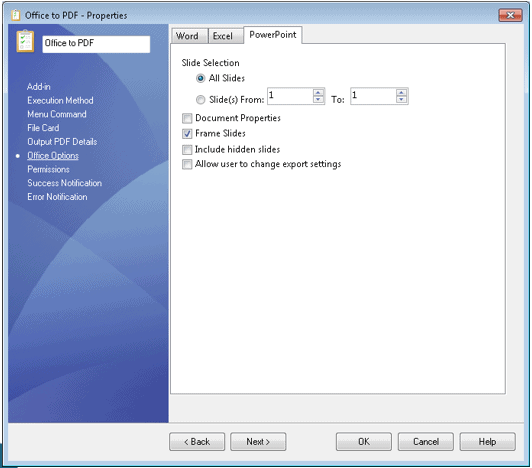 Configuring this task allows you to specify options (based on document type) such as:
Page /Sheet/Slide selection
Whether or not to include the document properties in the PDF
Print areas
Include/exclude frame slides
Include hidden slides
Integrating these new PDM Professional task enhancements into your PDM workflows will help you to define, organize and publish your product information and enhances the integration between PDM and your authoring software.
I hope this part of the What's New series gives you a better understanding of the new features and functions of SOLIDWORKS 2017. Please check back to the CATI Blog as the CATI and MCAD Support Teams will continue to break down many of the new items in SOLIDWORKS 2017. All of these articles will be stored in the category of "SOLIDWORKS What's New." You can also learn more about SOLIDWORKS 2017 by clicking on the image below to register for one of CATI's or CATI's Design Summits.
Clay Mosher
SR Consultant – PLM Solutions
Computer Aided Technology