SOLIDWORKS 2017 What's New: Reliability Report and Reboot Check in SOLIDWORKS Rx – #SW2017
Reliability Report and Reboot Check in SOLIDWORKS Rx
Oops! Your SOLIDWORKS crashed again. Contact tech support.
We get these calls all the time. Users report that their system is crashing constantly, but they can not often tell us anything about their crash.
In SOLIDWORKS 2017, we are now going to help you out by providing this information at your fingertips. The next time you are asked to record an RX of your issue, you will see a new tab inside of the tool.
The Reliability tab: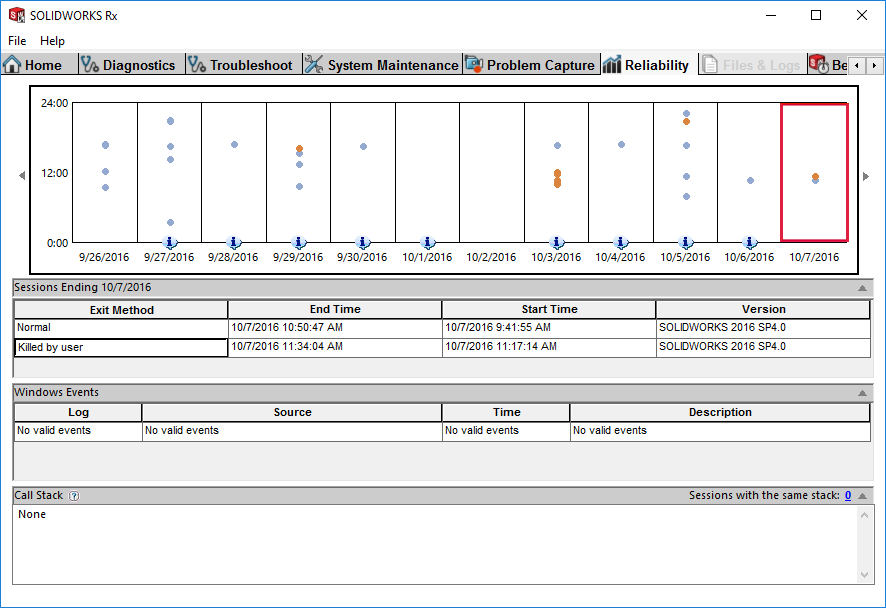 The reliability tab is going to provide information about how your SOLIDWORKS session was shut down. It tells you what version and service pack of SOLIDWORKS was running, and weather the session ended normally, killed by user, or system crash.
When you click on each session, it will provide the windows event logs for the 5 minutes before a crash. (Yeah!!! No more digging this out of the administration tools that no one knows how to access). It also reports the specific call stack.
This data will track for a 60 day window.
Reboot Check:
In addition to the reliability information, which will give use great insight to the behavior of your system, another issue that we commonly see is that users do not reboot their system for long periods of time. We often see the stability of a system deteriorate the longer a system is run without rebooting. SOLIDWORKS 2017 has now added a reboot check on the diagnostics tab.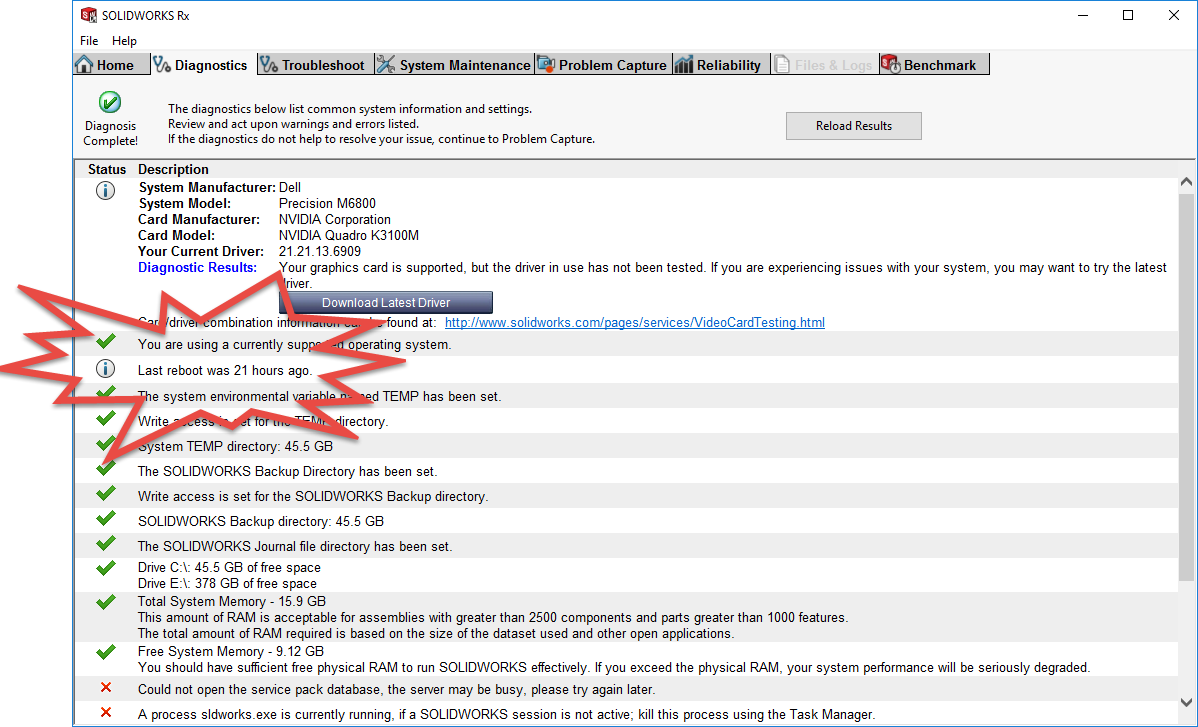 Check out this new feature and make sure you have rebooted recently!
These are some of the great new additions to SOLIDWORKS 2017 that is putting more information at your fingertips to help you know exactly what is happening with your system, and to giving you much more information to share with tech support when you are experiencing problems.
I hope this part of the What's New series gives you a better understanding of the new features and functions of SOLIDWORKS 2017. Please check back to the CATI Blog as the CATI and MCAD Support Teams will continue to break down many of the new items in SOLIDWORKS 2017. All of these articles will be stored in the category of "SOLIDWORKS What's New." You can also learn more about SOLIDWORKS 2017 by clicking on the image below to register for one of CATI's or CATI's Design Summits.
Bryan Pawlak
Sr. Application Engineer
Computer Aided Technology