SOLIDWORKS 2017 What's New: SOLIDWORKS PDM Latest Version Overwrite – #SW2017
SOLIDWORKS PDM Latest Version Overwrite
In SOLIDWORKS PDM 2017 there is a new feature that is as powerful and potentially risky as the "Rollback" function. "Latest Version Overwrite" gives a user the ability to overwrite the latest version of the file with the most current version of a file. If data storage is a worry for your company, "Latest Version Overwrite" may be the simple solution it needs. File cleanup can be automated through workflows or allowed per user's discretion.
In normal SOLIDWORKS PDM function, a new version of a file is created EVERY time a file or its corresponding metadata is altered and checked back in. In the archive server each version is a separate file copy while in the PDM interface, the user only sees one file. Versions add up with daily or at the minimum weekly check in which back up a user's progress and design changes. Setting variables in a transition and updating files and their child references to the new version of SolidWorks also create more file versions. The storage needed to hold these copies stack up especially when multiplied by 100,00+ unique files in a vault.
To give permission to perform this, check the "Can overwrite latest version during check in" in the Admin tool.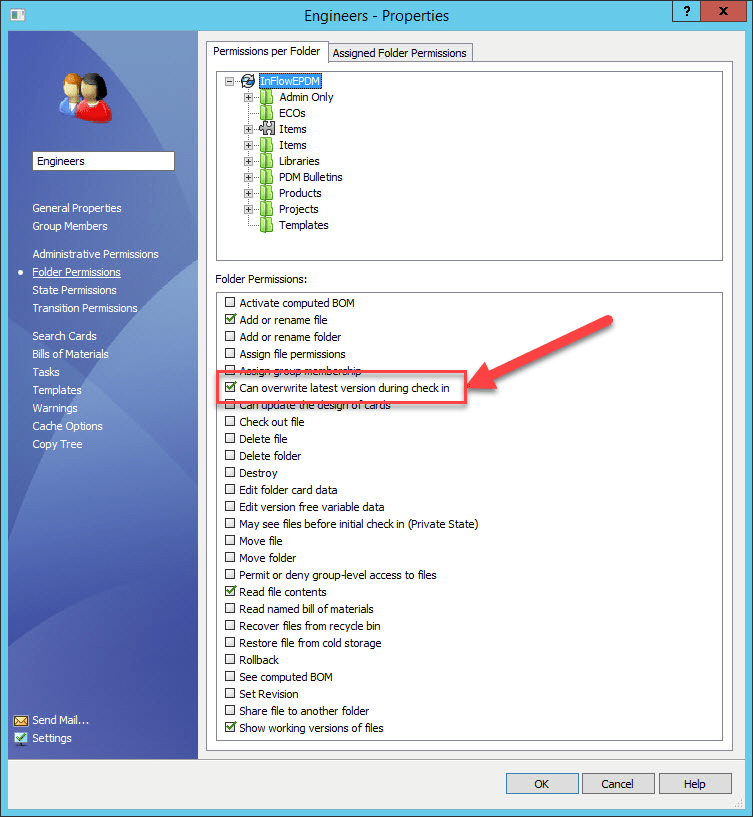 To perform this function as a user, the ability to "Overwrite Latest Version" is displayed in a new column during check in and state change. This option is only available if check in is selected in the window. Below shows an example where all files are being checked in while only the top four files are overwriting the latest version.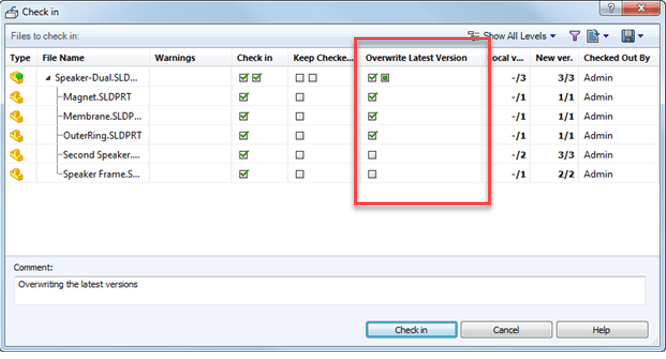 There are two main ways to utilize the overwrite function:
Manually: The user could be allowed access to this function at every check in. This would be the riskiest setup as it gives your users complete access.
Automatically: Admins can set this function to run automatically during a workflow transition. To save space a company could set up their workflow to overwrite every version except the released one. This could be easily managed by the admin and it would make a bigger impact on data size overall. Admin must still give a user permission to overwrite files in the Admin tool.
This feature can make a big impact on your current and future storage needs. How critical is your data situation? Would you use this as another tool in your workflow?
I hope this part of the What's New series gives you a better understanding of the new features and functions of SOLIDWORKS 2017. Please check back to the CATI Blog as the CATI and MCAD Support Teams will continue to break down many of the new items in SOLIDWORKS 2017. All of these articles will be stored in the category of "SOLIDWORKS What's New." You can also learn more about SOLIDWORKS 2017 by clicking on the image below to register for one of CATI's or CATI's Design Summits.
Emily Cannizzaro
InFlow PDM Consultant
Computer Aided Technology