SOLIDWORKS 2018 What's New – Controlling the Tangency Direction – #SW2018
SOLIDWORKS 2018 What's New – Controlling the Tangency Direction – #SW2018
New in SOLIDWORKS 2018 is the ability to reverse the tangency direction of certain curved sketch entities.
To perform this flipping of the tangency sketch relation you will need to be actively editing your sketch. Right click on your arc (or spline) that you want to reverse tangency direction of (this arc or spline will need to contain a Tangency Sketch Relation). Select on Reverse Endpoint Tangent from the right click shortcut menu.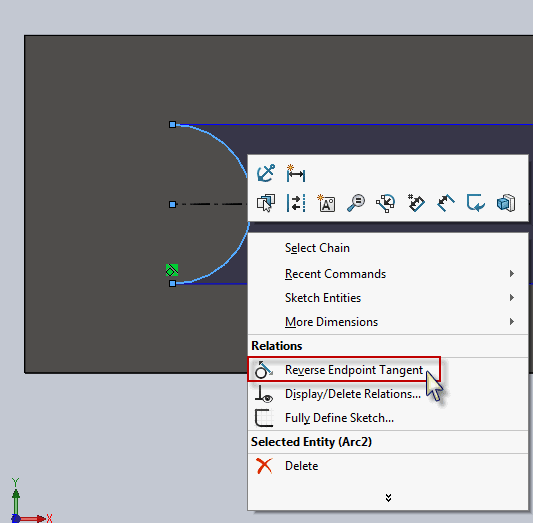 You should now notice that your sketch tangent has been reversed and flips your arc to the opposing tangency.
I hope this part of the What's New series gives you a better understanding of the new features and functions of SOLIDWORKS 2018. Please check back to the CATI Blog as the CATI Application Engineers will continue to break down many of the new items in SOLIDWORKS 2018. All of these articles will be stored in the category of "SOLIDWORKS What's New." You can also learn more about SOLIDWORKS 2018 by clicking on the image below to register for one of CATI's Design Innovation Summits.
Nathan Marsh
Application Support Engineer