SOLIDWORKS 2018 What's New – Create Results Plots from Imported Data – #SW2018
SOLIDWORKS 2018 What's New – Create Results Plots from Imported Data – #SW2018
This new functionality in SOLIDWORKS 2018 has a very small industrial niche. From time to time you can get featureless files that have to run an analysis.. If you have done setup and calculated previous projects that are the same in design, then you can export that data and apply it to the new file set. This can be especially helpful when the process takes a long time.
In the study drop down menu you can access the feature: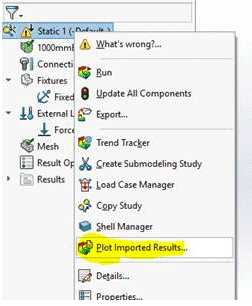 This will allow you to access a text file or a CSV file which holds all the element data.
I hope this part of the What's New series gives you a better understanding of the new features and functions of SOLIDWORKS 2018. Please check back to the CATI Blog as the CATI Application Engineers will continue to break down many of the new items in SOLIDWORKS 2018. All of these articles will be stored in the category of "SOLIDWORKS What's New." You can also learn more about SOLIDWORKS 2018 by clicking on the image below to register for one of CATI's Design Innovation Summits.
Ketul Patel
Applications Engineer, Simulation

ADD THIS LINK TO THE ABOVE IMAGE IN WORDPRESS
https://www.cati.com/events/descriptions/cati-design-innovation-summit