SOLIDWORKS 2018 What's New – Creating Mirrored Entities in 3D Sketch – #SW2018
SOLIDWORKS 2018 What's New –Creating Mirrored Entities in 3D Sketch – #SW2018
SOLIDWORKS 2018 offers many huge new additions and updates. It also offers many small delights as well. However, just because it is minor, does not mean that it does not supply major efficiency improvements!
In 3D Sketches, SOLIDWORKS 2018 adds the ability to create mirrored entities. Previously, this could only be achieved at the feature level. This meant you could not attain your design intent inside of your sketch, you would have to wait until you feature was created and then mirror it.
Now, in SOLIDWORKS 2018, you can achieve symmetry right inside of the 3D sketch, as you could already do in 2D sketches. It works almost the exact same way. You simply create your 3D sketch entities, choose 'Mirror Entities' (This was grayed out in previous versions of SOLIDWORKS when in a 3D sketch), and choose entities you want to mirror in the appropriate field.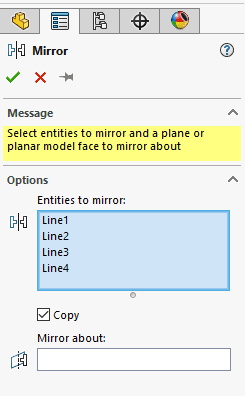 The slight difference is instead of choosing an axis to mirror about, since we are in 3D space, we choose a plane. From there, SOLIDWORKS will mirror the appropriate entities and give you your design intent right inside of your sketch.
I hope this part of the What's New series gives you a better understanding of the new features and functions of SOLIDWORKS 2018. Please check back to the CATI Blog as the CATI Application Engineers will continue to break down many of the new items in SOLIDWORKS 2018. All of these articles will be stored in the category of "SOLIDWORKS What's New." You can also learn more about SOLIDWORKS 2018 by clicking on the image below to register for one of CATI's Design Innovation Summits.
Ryan Field
Application Engineer