SOLIDWORKS 2018 What's New – Displacement Control for Nonlinear Contacts – #SW2018
SOLIDWORKS 2018 What's New – Displacement Control for Nonlinear Contacts– #SW2018
For those of you that have a need to do a buckling analysis, will remember the 2017 release allows you to conduct a buckling analysis on assemblies with no penetration contact conditions using the Arc Length control method. This opened up a whole new world what you can analyze for instance this guard rail: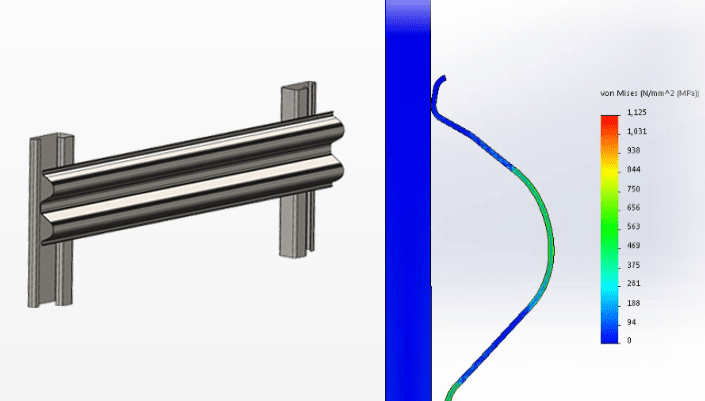 SOLIDWORKS 2018 has went a bit further on this functionality to allow users to use the Displacement control method to detect the post buckling phenomenon. Although this is only a mathematical difference, the time it takes to solve buckling problems can now be reduced dramatically.
There a couple of limitations on when this can be used but I assure you they are not show stoppers! You must use a surface-to-surface condition and only Direct Sparse solvers can be used.
I hope this part of the What's New series gives you a better understanding of the new features and functions of SOLIDWORKS 2018. Please check back to the CATI Blog as the CATI Application Engineers will continue to break down many of the new items in SOLIDWORKS 2018. All of these articles will be stored in the category of "SOLIDWORKS What's New." You can also learn more about SOLIDWORKS 2018 by clicking on the image below to register for one of CATI's Design Innovation Summits.
Ketul Patel
Applications Engineer, Simulation

https://www.cati.com/events/descriptions/cati-design-innovation-summit