SOLIDWORKS 2018 What's New – Sensor for Simulation Mass Properties – #SW2018
SOLIDWORKS 2018 What's New – Sensors for SOLIDWORKS Simulation Mass Properties – #SW2018
The power of using design studies has just gotten larger. If you are ever looking to find the "best" design iteration, then you should be using design studies to get you there. SOLIDWORKS 2018 has put more options into sensors so that you can optimize to a variable and collect more information about your designs.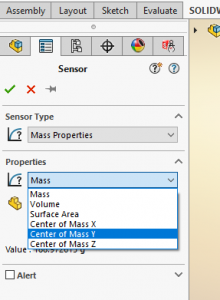 The mass properties sensor can now track variables such as volume, surface area, center of mass, and of course the mass.
I hope this part of the What's New series gives you a better understanding of the new features and functions of SOLIDWORKS 2018. Please check back to the CATI Blog as the CATI Application Engineers will continue to break down many of the new items in SOLIDWORKS 2018. All of these articles will be stored in the category of "SOLIDWORKS What's New." You can also learn more about SOLIDWORKS 2018 by clicking on the image below to register for one of CATI's Design Innovation Summits.
Ketul Patel
Application Engineer