SOLIDWORKS 2018 What's New – SIMULATION-Import Study Features into Assemblies – #SW2018
SOLIDWORKS 2018 What's New – SIMULATION-Import Study Features into Assemblies – #SW2018
It's time for some more great improvements to SOLIDWORKS Simulation capabilities! In this blog we will cover another great time saving improvement in the SOLIDWORKS 2018 release of SOLIDWORKS Simulation.
Imagine for a minute spending the time and effort setting up a study on a single part or sub-assembly only to find out that you need to copy the same setup when you put that part or sub-assembly into a more top-level assembly. This can happen a lot with certain types of workflows, and SOLIDWORKS Simulation has added the capability to import study features from the part/ sub-assembly level up to the top-level assembly. Let's see how this works.
In the picture below, I have a CATI bracket part that I have set up a study on. It has basic fixed hinge and roller slider fixtures, and a bearing load to simulate the rest of the assembly it attaches to.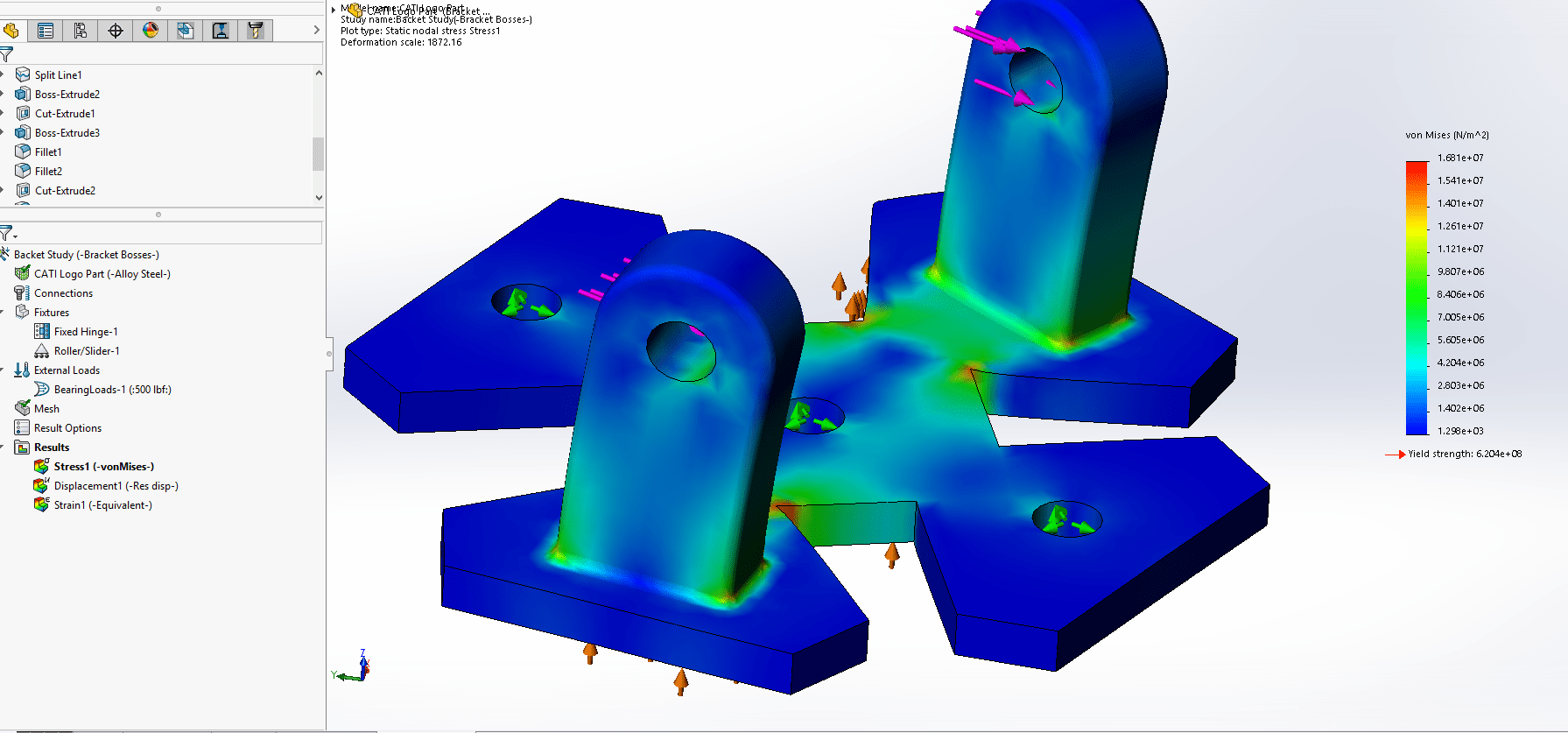 Now in the actual assembly, there are 4 of these parts, and it may be a bit time consuming to go and set up the same fixtures all over again. With the use of the new import study features, it's now a breeze! Simply check the Import Study Features box when creating a Simulation study in your assembly.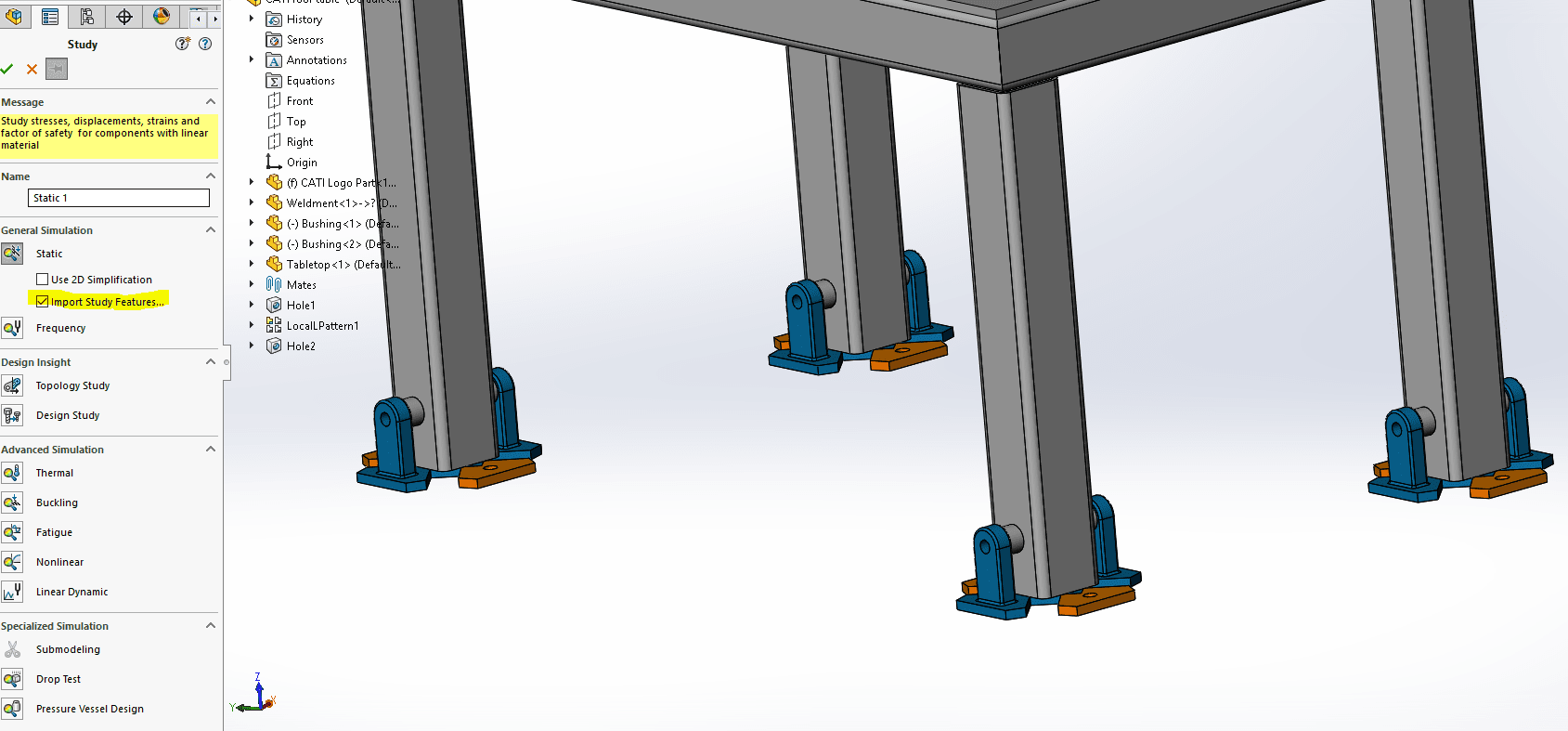 Once the green check is clicked, the following screen pops up. Notice how it allows you to import material definitions, connections, fixtures, loads, and mesh controls into the top level assembly study while also propagating those features to all instances of the part.
In this case, I have not imported the loads from the part level study, because the assembly carries the load to the part in the top-level study. Once the import is complete, notice my materials and fixtures have been imported to the study!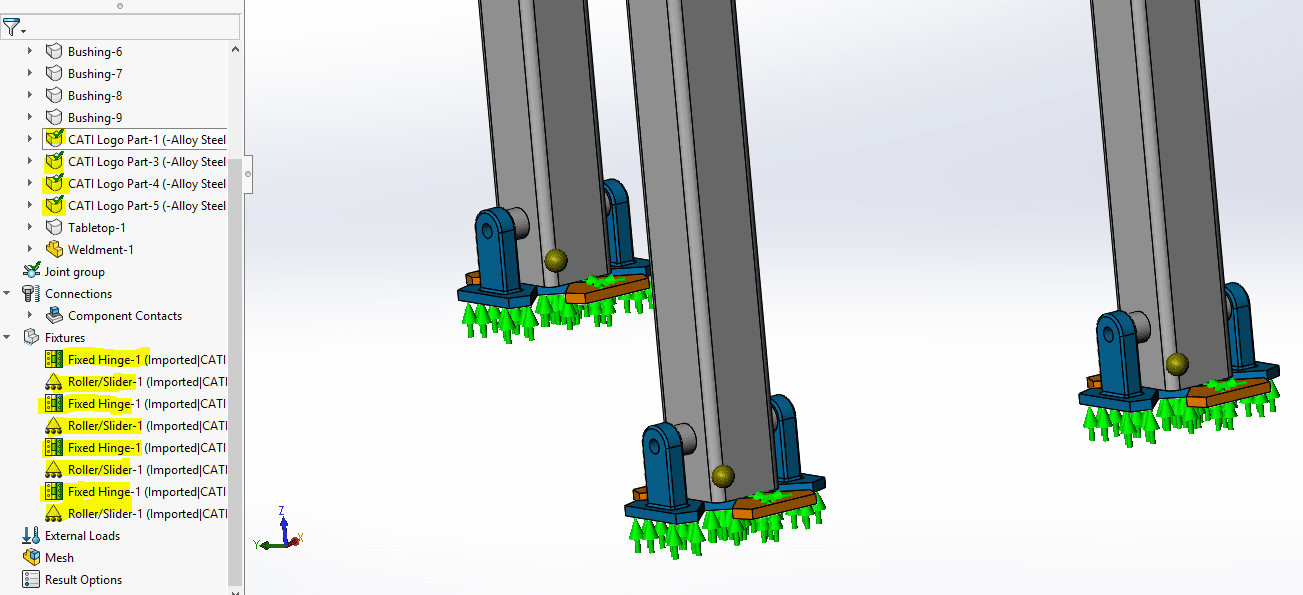 SOLIDWORKS takes pride in making complex processes like FEA Simulation quick, easy and efficient. Importing study Features is just one of many great improvements in SOLIDWORKS 2018. Please read a few other what's new blogs while you are here!
I hope this part of the What's New series gives you a better understanding of the new features and functions of SOLIDWORKS 2018. Please check back to the CATI Blog as the CATI Application Engineers will continue to break down many of the new items in SOLIDWORKS 2018. All of these articles will be stored in the category of "SOLIDWORKS What's New." You can also learn more about SOLIDWORKS 2018 by clicking on the image below to register for one of CATI's Design Innovation Summits.
Matt Sherak
Applications Engineer, Simulation