SOLIDWORKS 2018 What's New – SpeedPak Updates – #SW2018
SOLIDWORKS 2018 What's New – SpeedPak Updates – #SW2018
SpeedPak has been around since 2009 and can significantly improve the performance of large and complex assemblies. What's new for SOLIDWORKS 2018 is described in the last part of this article, so keep reading.
As a refresher, SpeedPak is a simplified configuration of an assembly. It primarily contains graphical information, but it also contains a subset of an assembly's parts, faces, reference geometry, sketches or curves. The resulting reduction of data loaded into memory is responsible for the improved performance. Only the selected subset of parts/faces/etc. is available for selection when opened and loaded into memory. When moving the cursor over other parts of the assembly, the graphics are 'ghosted' and are not available for selection.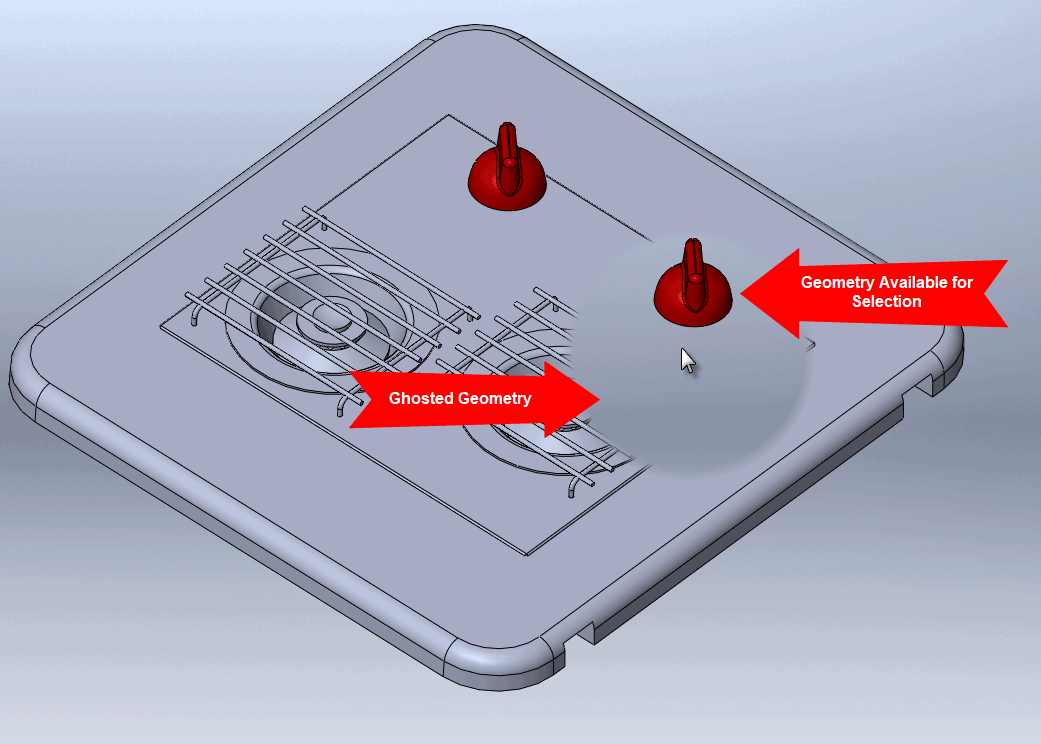 This is great, except that when you make changes to an assembly, such as adding, deleting, or moving components, the changes are not automatically incorporated into the SpeedPak configuration, even when you rebuild the assembly. Prior to 2018 you would have to manually update the SpeedPak configuration to incorporate the changes.
New for 2018 is the option to 'Update out-of-date SpeedPak configurations when saving files'. This will automatically update SpeedPak configurations when you hit the save button. Ensuring that the SpeedPak configuration is up to date means it's ready to go whenever you use it as a sub-assembly or in a drawing.
See the image below for where to find this setting: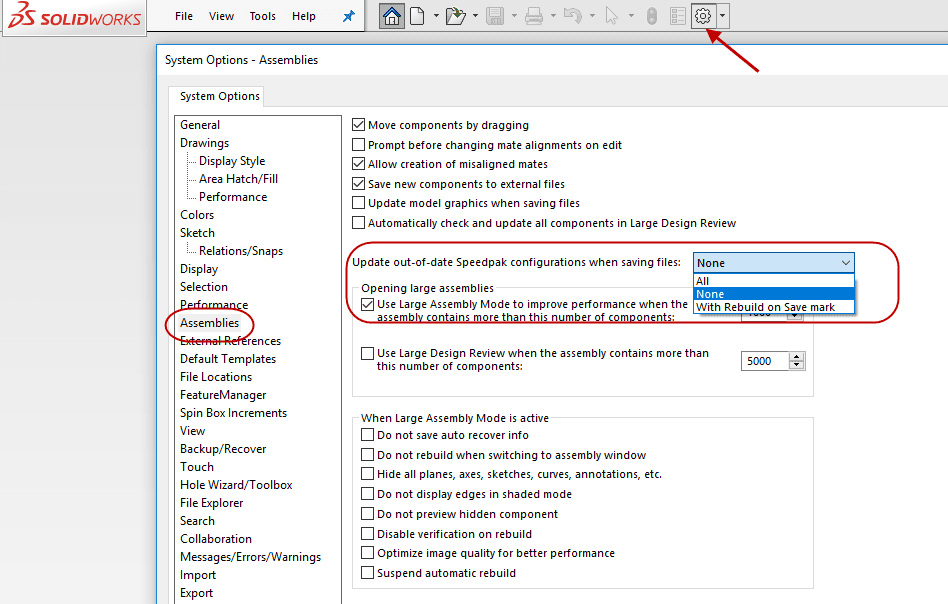 This setting is only half the story, however. You can also set a 'Rebuild on Save Mark' on the SpeedPak Configuration. This will allow you to specify that only certain SpeedPaks get updated and that can keep your file size smaller.
You can set 'Rebuild on Save Mark' in a couple different ways:
Setting a Mark in the ConfigurationManager
On the ConfigurationManager tab, right-click the assembly and click Rebuild on Save Mark.
Select Add Mark for SpeedPak Configurations.
Setting a Mark in the SpeedPak PropertyManager
On the ConfigurationManager tab, under the active configuration, right-click an existing SpeedPak configuration and click Edit SpeedPak.
In the SpeedPak PropertyManager, select Add Rebuild on Save Mark in the Options section.
I hope this part of the What's New series gives you a better understanding of the new features and functions of SOLIDWORKS 2018. Please check back to the CATI Blog as the CATI Application Engineers will continue to break down many of the new items in SOLIDWORKS 2018. All of these articles will be stored in the category of "SOLIDWORKS What's New." You can also learn more about SOLIDWORKS 2018 by clicking on the image below to register for one of CATI's Design Innovation Summits.
Chris Snider
CATI Field Technical Services Manager