SOLIDWORKS 2018 What's New – Temperature Criteria for Short Shots – #SW2018
SOLIDWORKS 2018 What's New – Temperature Criteria for Short Shots – #SW2018
SOLIDWORKS Plastics 2018 introduces several new features to improve the quality of our plastic injection molding analysis and results evaluation. Another of these new features is Temperature Criteria for Short Shots. A short shot occurs when the injection mold cavity does not completely fill with plastic during the injection stage of the molding process. While a short shot can occur due to several different reasons, this enhancement focuses on the resin at the melt front as the cavity fills. The Temperature Criteria for Short Shots adds an additional input in the Fill Settings dialog and is on by default in SOLIDWORKS Plastics 2018. The value entered is the glass transition temperature of the resin used in the SOLIDWORKS Plastics analysis.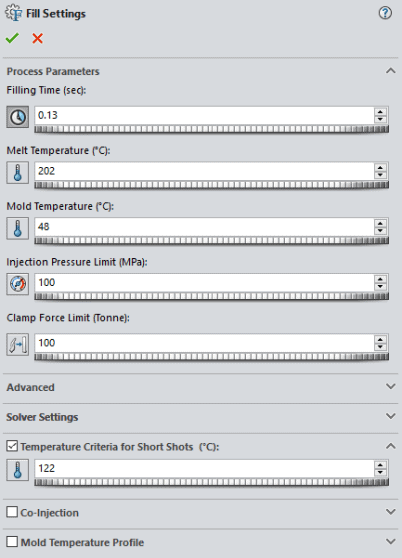 If the temperature of the resin at the melt front drops below the glass transition temperature, the plastic will begin to solidify. When this occurs, the injection pressure can increase beyond what the injection molding machine can produce and the cavity will not completely fill with resin. With this new SOLIDWORKS Plastics 2018 addition, there is an added focus on tracking the temperature at the melt front of the plastic resin. This enhancement leads to more accurate prediction of short shots when calculating a FILL analysis. When reviewing results of the FILL analysis, a good plot to review for this enhancement is Flow Front Central Temperature. If you set the minimum value legend of this plot equal to the glass transition temperature of the resin it will help you visualize where the short shot occurs.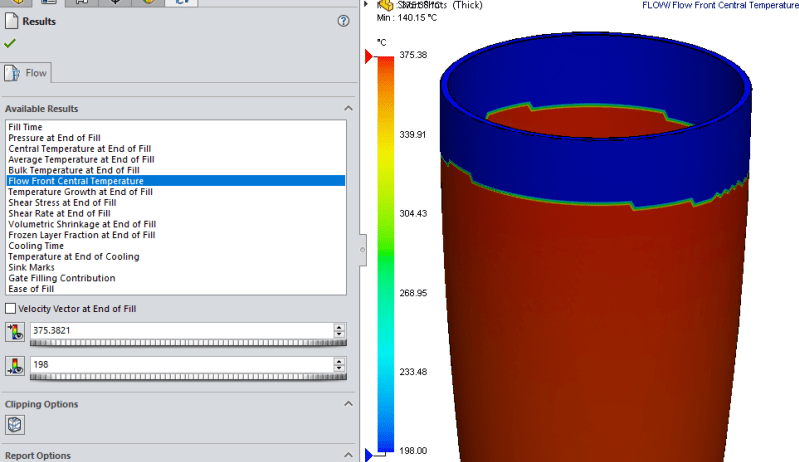 Be sure to try all the new features and functionality of SOLIDWORKS Plastics 2018. Now go make your designs better with SOLIDWORKS Simulation!
I hope this part of the What's New series gives you a better understanding of the new features and functions of SOLIDWORKS 2018. Please check back to the CATI Blog as the CATI Application Engineers will continue to break down many of the new items in SOLIDWORKS 2018. All of these articles will be stored in the category of "SOLIDWORKS What's New." You can also learn more about SOLIDWORKS 2018 by clicking on the image below to register for one of CATI's Design Innovation Summits.
Bill Reuss
Product Specialist, Simulation