SOLIDWORKS 2019 Installation Guide Part 3 – Electrical Installations
SOLIDWORKS Electrical can be broken down into two parts SQL Meta Data and Electronic Program Data.
SQL Meta Data has
All data about everything… (All the CAD document data is contained here.)
Electronic Program Data
Program Files – The application, (without this the program will not run).
Program Data – The data, (without it the program will run…but will have no content)
Licensing scheme for SOLIDWORKS Electrical:
SOLIDWORKS Electrical Schematic
SOLIDWORKS Electrical 3D
SOLIDWORKS Electrical Professional (limited to 1 PC)
Use the SOLIDWORKS Installation Manager. The installation manager is a simplified process that will help guide you through the install.
First a few important questions…
Do you want to share the data now or in the future?
How many people will share the data?
Do you want to use an existing SQL Server instance?
Is it a local or server installation?
Individual
Everything is installed locally
If choosing the individual method: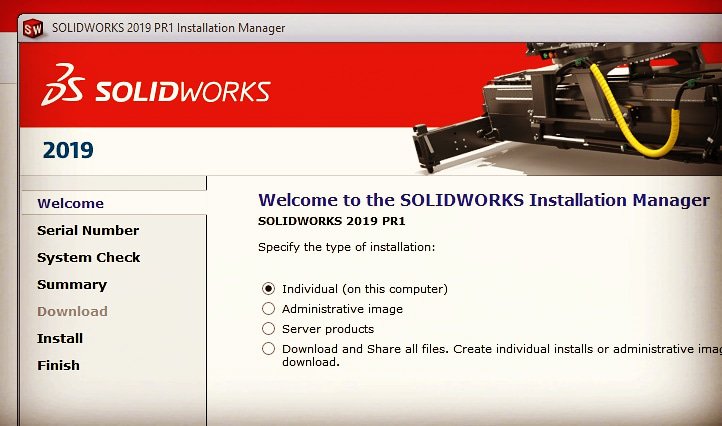 If you are adding to an existing SOLIDWORKS installation you will need to choose Modify.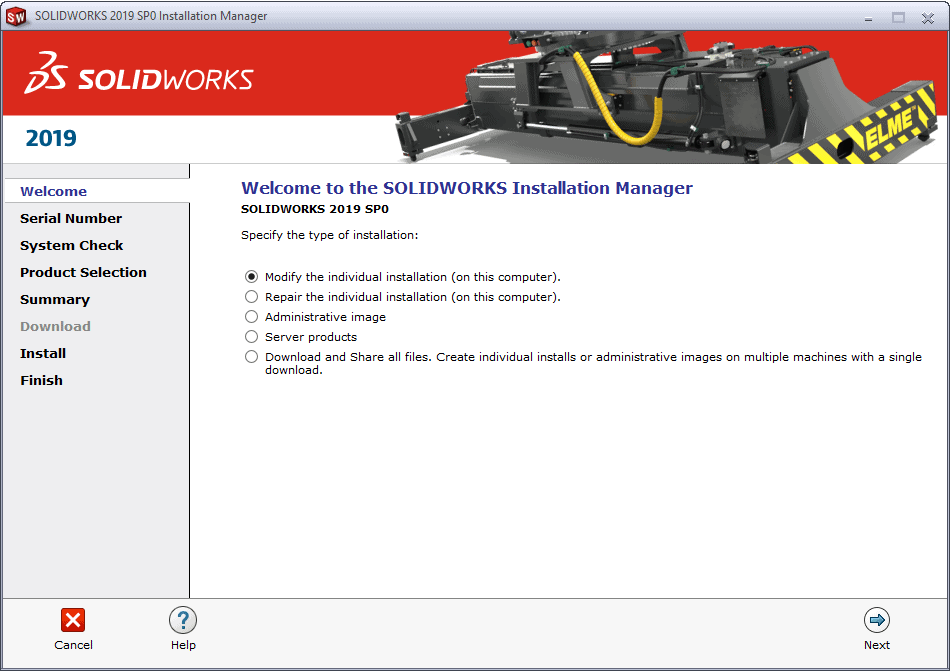 Enter your serial number for SOLIDWORKS
A SolidWorks Electrical Schematic code is generally only required where SolidWorks is NOT being installed. (If the SOLIDWORKS and Electrical serial numbers match only use the SOLIDWORKS number box)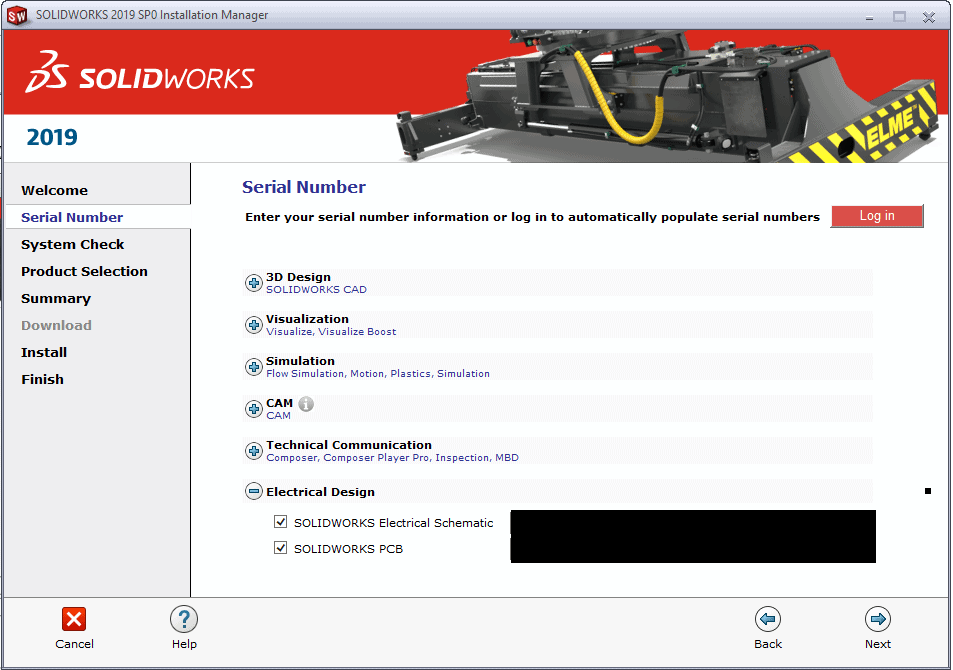 Product selection menu and the more button on the summary page give you the options to turn on the products and configure the locations etc. The below image is the appropriate settings for an Individual install with the end user machine being the SQL server host. Under the Products click Change and then check the boxes for SolidWorks Electrical and the sub products:
SolidWorks Electrical Schematic
SolidWorks Electrical 3D
Collaborative server
Data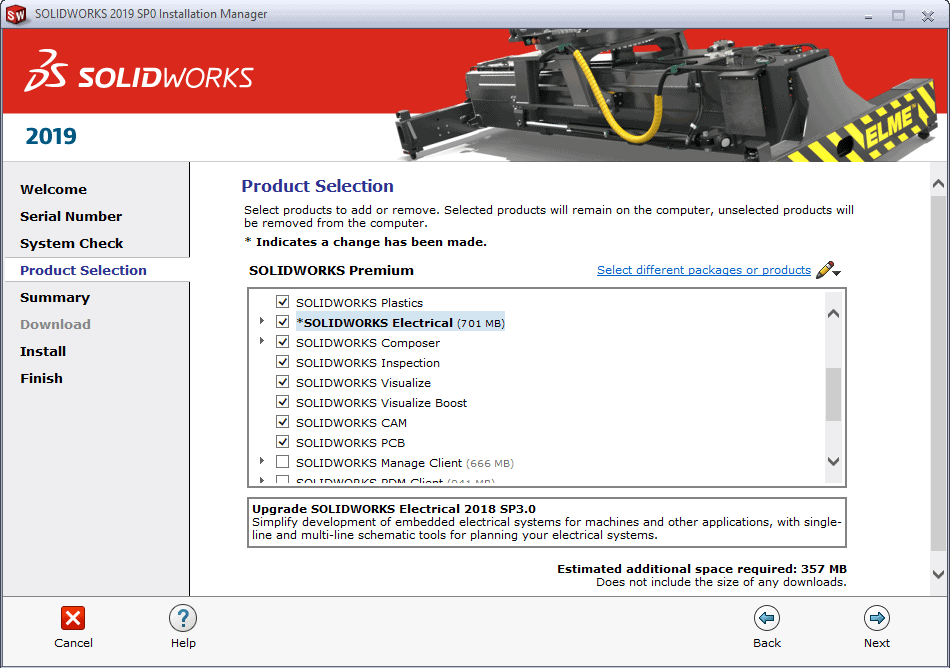 Click next to get to the SOLIDWORKS Electrical Options menu.
Specify server SQL name and data location
All other settings can be local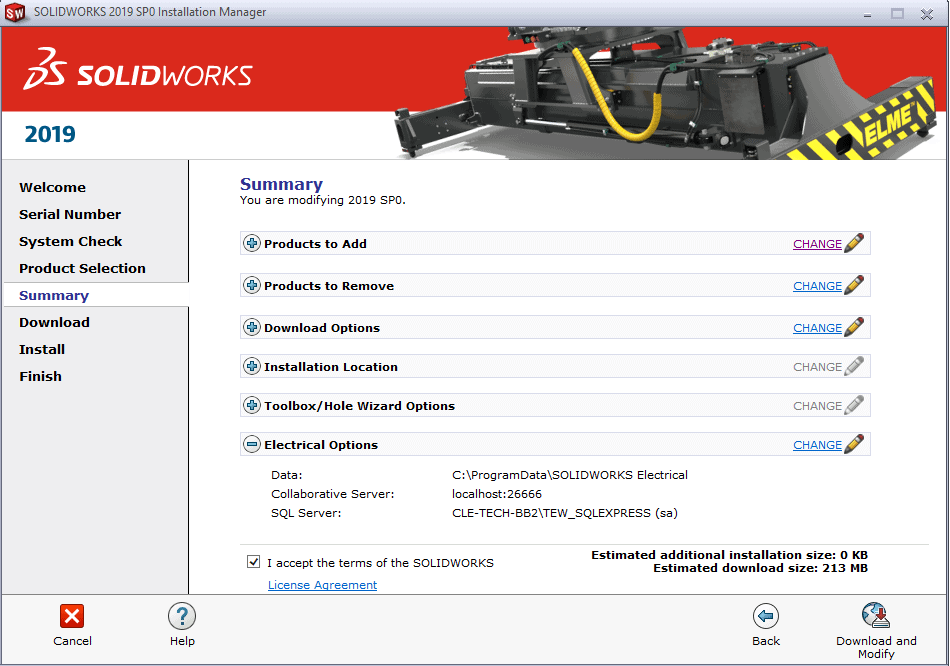 Or you may need a new instance if it has not been setup before.
SQL Server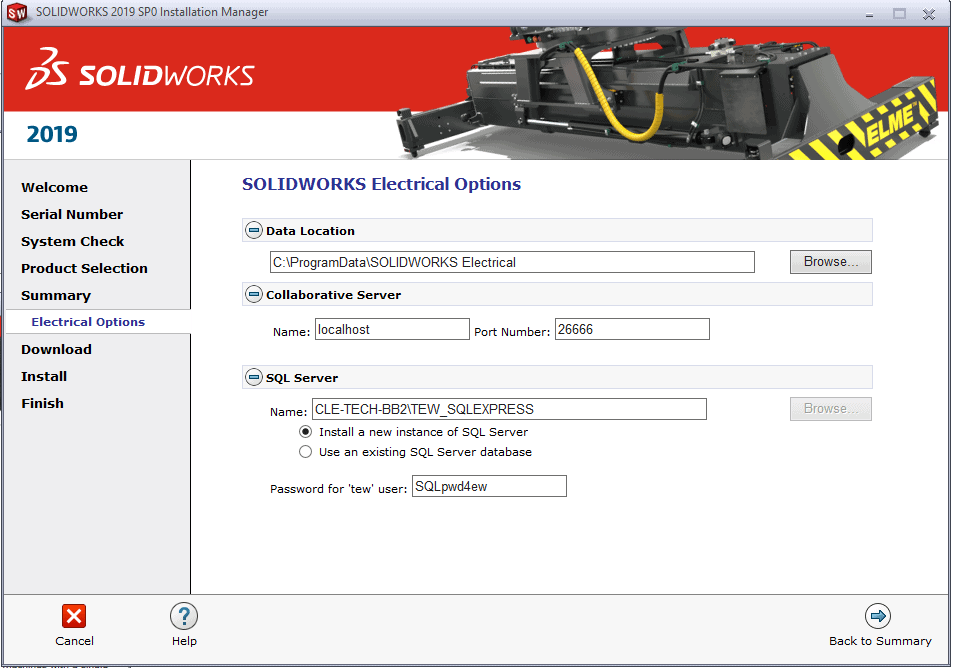 Upgrading an Existing Install
A few of the previous screens may look different if you already have installed an older version of SOLIDWORKS Electrical. The first thing you should do is create an Environment Archive inside of your previous version of SOLIDWORKS Electrical. To do this, launch your current SWE install, go to file, archive environment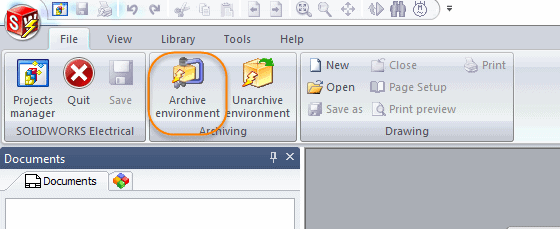 You will see a message if you have installed SOLIDWORKS Electrical on your machine previously. The environment archive done in the last step should give you a secure start if you have issues with the new version.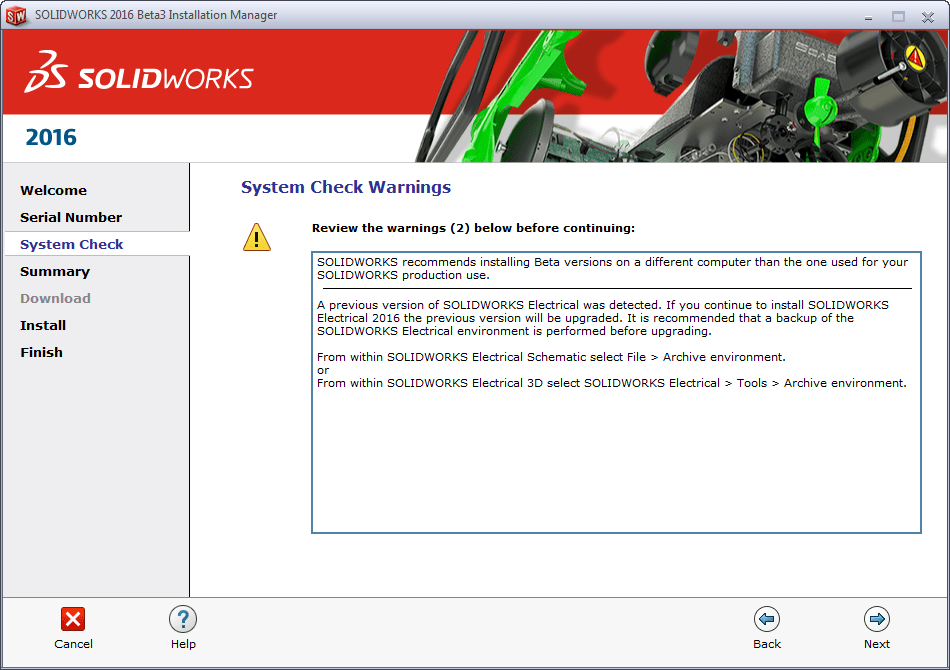 Likely you will already have an existing SQL Server instance on your server so it is ok to use the existing instance from a previous install.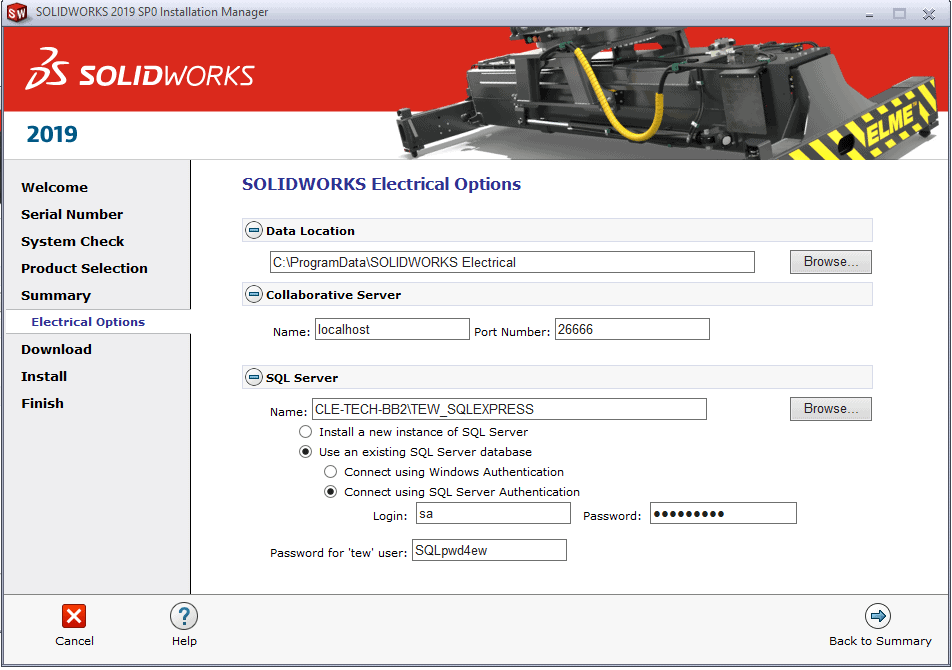 Network Server Install
If choosing to use server products:
Server Products has options for installing the SOLIDWORKS Electrical server.
Everything except the application files are installed on a server ( for use sharing data between users, the SQL server and data folders will reside on the server)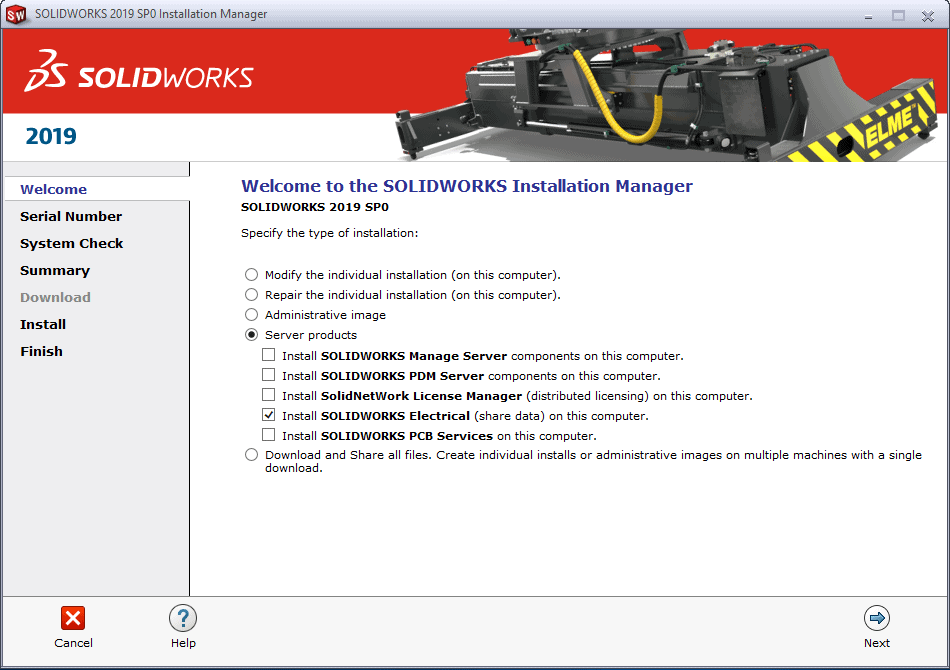 Continue on to configure the settings and file locations. Remember this is on the server computer so you may use C: as well but it might be another drive letter. Work with your IT dept. to determine the proper location.
You will add all of these features to the installation
Data (libraries and projects)
Collaborative Server (multiple user interface)
SQL Server (data base engine)
Set the SOLIDWORKS Electrical Options menu.
Data Location
Collaborative Server

SQL Server location
Initial Port
You may already have an existing SQL Server instance on your server so it is ok to use the existing instance from a previous install. Or you may need a new instance if it has not been setup before.
SQL Server

New instance
Existing instance
Authentication mode
Password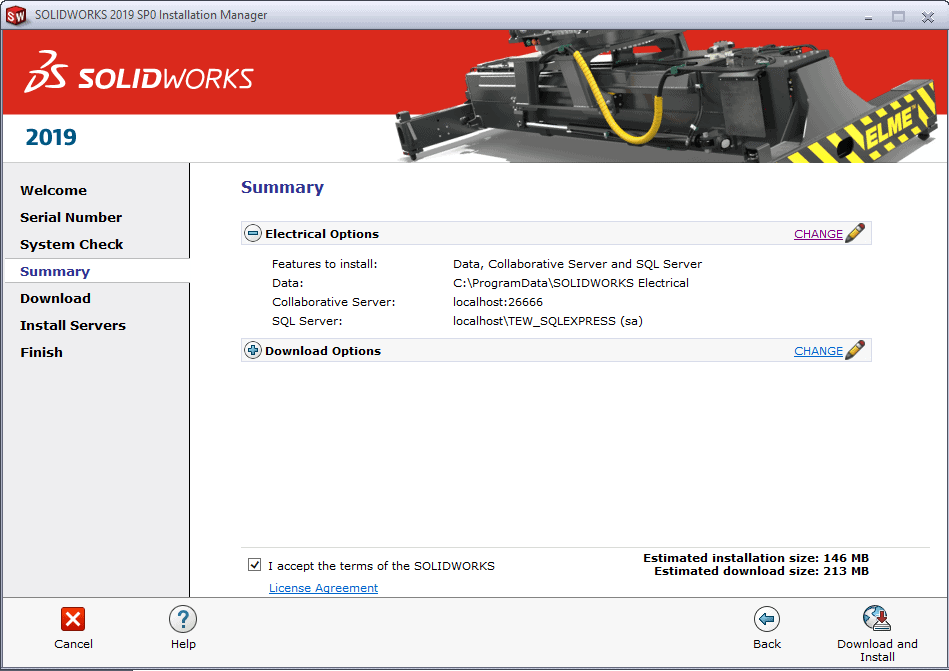 Network Client Install
These settings will similar to the individual install with these slight changes. Uncheck the collaborative server and data options. These will be provided by the server.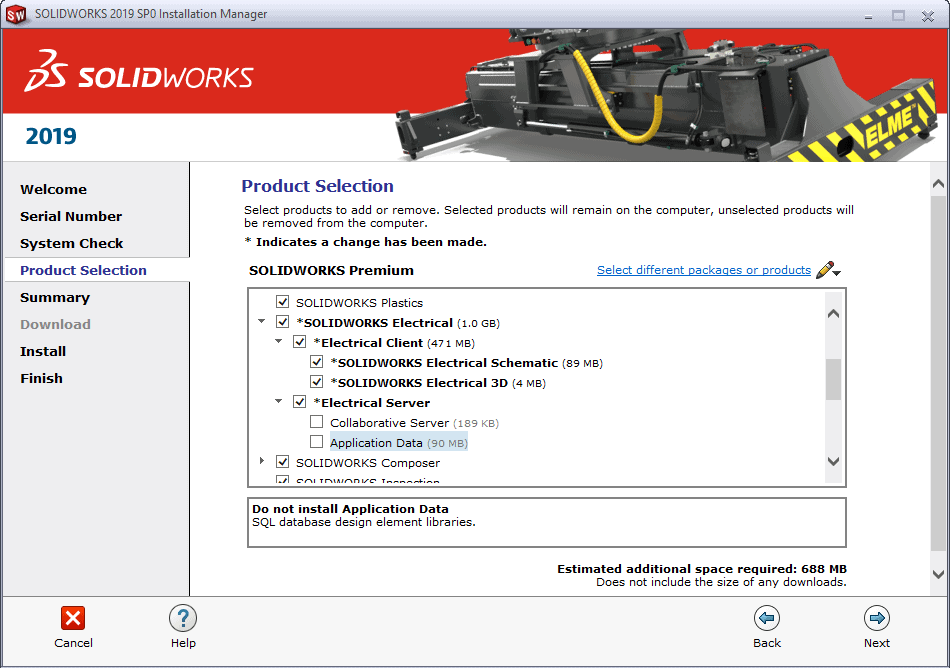 The server settings should look like this: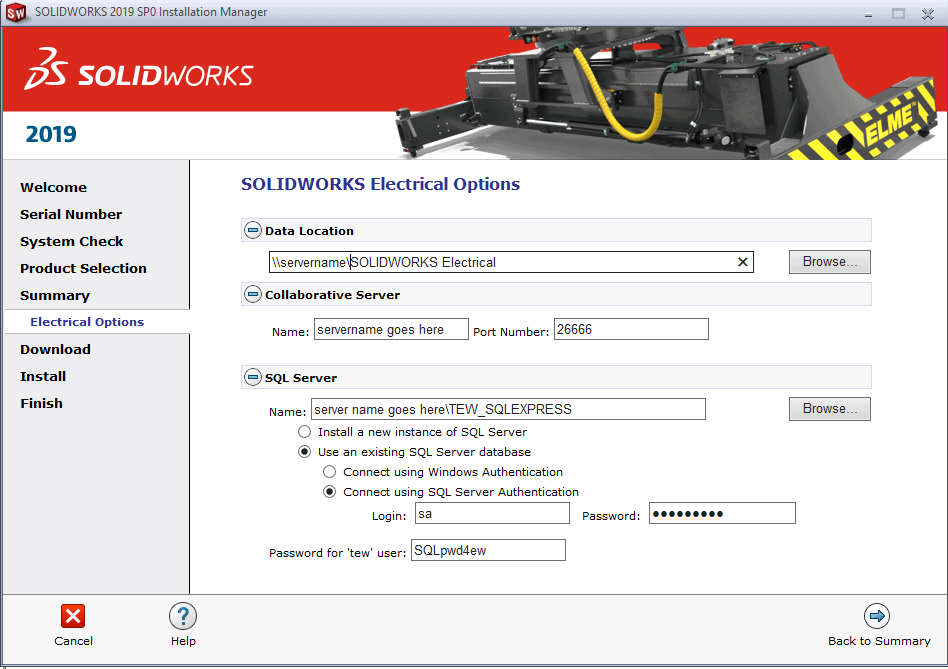 Potential Errors: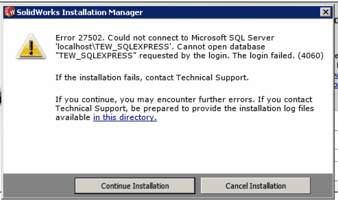 Causes
Invalid permissions
Connection
Firewalls
Anti-virus
Network connection
Install settings
Password
Incorrect password
TEW password length (also seen as 27506)
Sometimes this error comes up as 27502 (if they have epdm) sometimes it's 27506 (if there is no epdm but password restrictions are enabled)
Install settings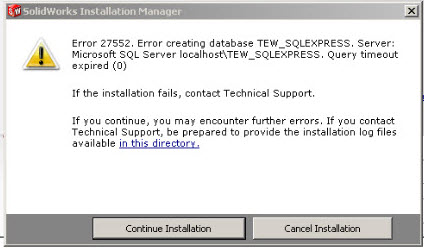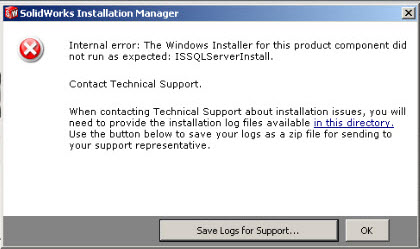 Causes:
Invalid permissions
Upgrade from major version
SQL database owner
Installation settings
Incorrect options chosen
Admin image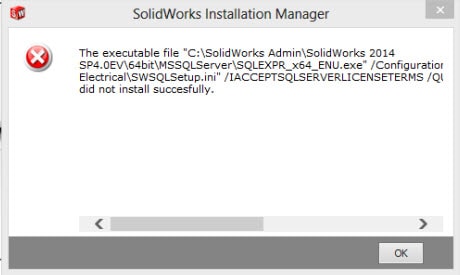 Causes:
SQL cannot create an instance
Permissions
System restart
If you need help with any errors please don't hesitate to contact us for support.
***NEW FOR 2019***
Following the industry and environmental trends, SOLIDWORKS 2019 will only be available via electronic distribution for customers in US, Germany, France and Italy. You will be able to request one DVD media kit per valid serial number. Once your serial number is validated below, your media kit will be shipped within 45 business days.
https://solidworks.dsgraphics.com/solidworksmediakit
Brandon Brooks & John VenEngen
Technical Support Engineer & Senior Technical Support Engineer
Computer Aided Technology, LLC