SOLIDWORKS 2020 What's New – Mirror Components
It's hard to believe that Assembly Mirror Components has been a command offering since SOLIDWORKS release 2001 and to think that almost 20 years later they are still adding enhancements to this great command. Well for SOLIDWORKS 2020 this is true, and I would like to show you some of the new command options that will make creating mirrored components in assemblies even easier.
In SOLIDWORKS 2019, we had options of mirroring type based on Bounding Box Center and Center of Mass:
New for SOLIDWORKS 2020, we have a 3rd option for Component Origin:
This new option will give the user much more control over the orientation of copied components that are not opposite-hand versions.
You will also notice in the 2020 PropertyManager layout, the Mirror Type section has moved to the top of the page. The Orient Components box as well as the Components to Mirror box on the Step 2: Set Orientation page are now re-sizable.
Additional new and changed options also found on the Step 2: Set Orientation page in the Mirror Components PropertyManager are:

Just to compare the three options for Mirror Type, please see the images below:
Choosing Center of Bounding Box: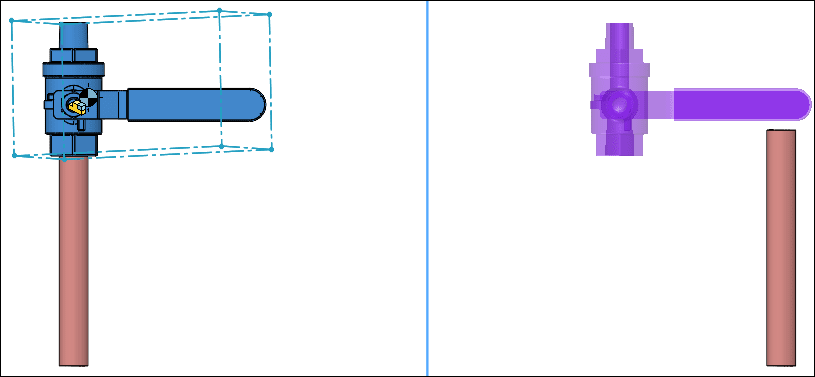 Choosing Center of Mass:
And finally, the new Component Origin:

I hope this part of the What's New series gives you a better understanding of the new features and functions of SOLIDWORKS 2020. Please check back to the CATI Blog as the CATI Application Engineers will continue to break down many of the new items in SOLIDWORKS 2020. All these articles will be stored in the category of "SOLIDWORKS What's New."
Design Innovation Month – October 2019
What is DI Month? We're declaring October Design Innovation Month—again! It's a month-long series of special events focused on what's new in design and manufacturing technology. You'll learn about enhancements in SOLIDWORKS 2020 that deliver new capabilities for improved performance, streamlined workflows, and a connected design ecosystem. Find out what's new in 3D printing applications and 3D scanning to integrate into your design process. So, get ready to do things differently. It's time to innovate! Learn more about Design Innovation Month and register for events here:
Brian Reel
Sr. Manager, Field Technical Services – West
Computer Aided Technology, LLC