SOLIDWORKS 2020 What's New – SOLIDWORKS Visualize
There are several exciting new enhancements to SOLIDWORKS Visualize 2020 this year, and I've already blogged about one of them here: IES Light Profiles. However, there are a few more topics that are worth mentioning too. SOLIDWORKS Visualize continues to impress, so let's dive into these new features.
AMD Radeon™ ProRender
SOLIDWORKS Visualize now supports AMD Radeon™ ProRender, a raytracing engine that is designed to run on AMD graphics cards. This feature can be enabled from options.

I have not tried out this feature yet since I don't have any AMD hardware, however I would have to assume that renders might look slightly different since this feature would not be using IRAY and instead use ProRender. Stay tuned for future testing…
AxF Measured Materials
SOLIDWORKS Visualize now supports AxF™ measured materials. The .axf file format from X-Rite stores digital material representations, most notably measured materials, from their BTF scanning technology. To add .axf files to a project, drag from Windows Explorer into your scene, or add them from the pallet.
Below are a few paint samples rendered on one of my previous project files. The results are amazing! For more information on X-Rite scanning technology and some sample appearances, visit https://www.xrite.com/axf.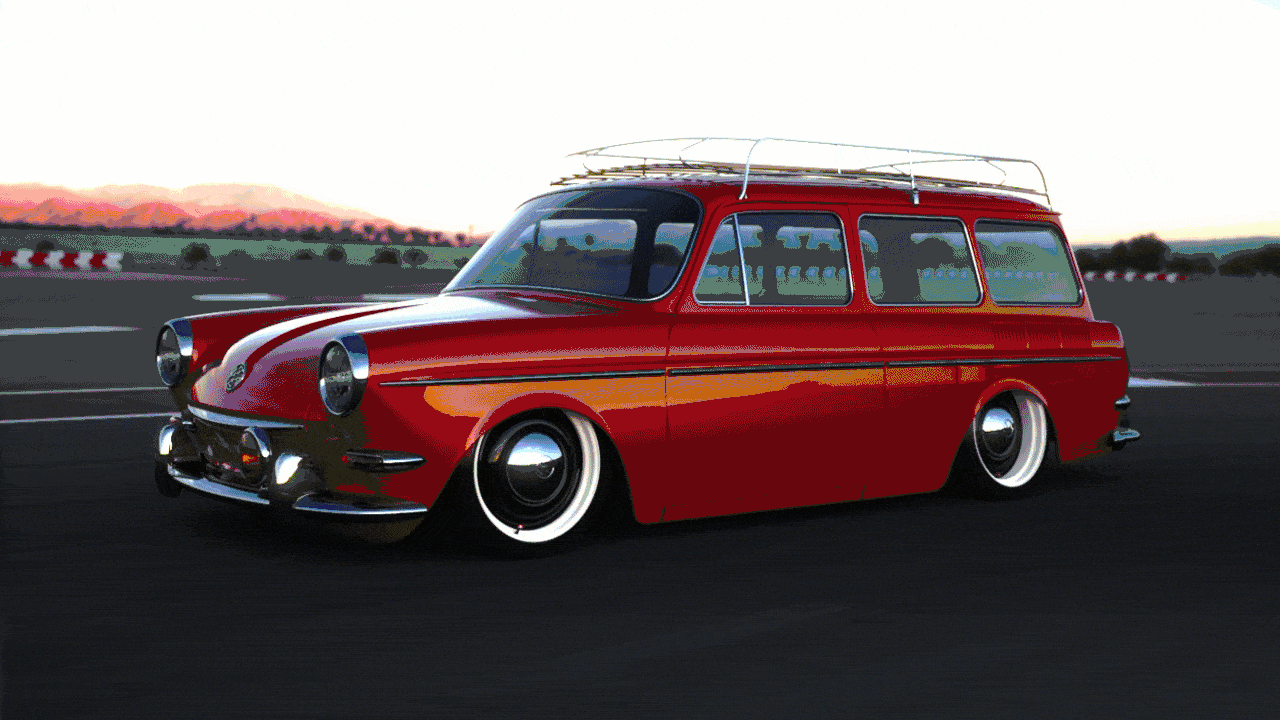 glTF Export for AR and VR
You can now export *.gltf and *.glb file formats of your SOLIDWORKS Visualize project data for use in augmented and virtual reality viewers. Stay tuned for some future content with AR and VR!


Instancing
SOLIDWORKS Visualize 2020 can now handle duplicated geometry, such as patterned components from SOLIDWORKS assemblies, more efficiently. Typically, for larger SOLIDWORKS assemblies, the use of duplicated geometry requires less GPU memory and reduces the likelihood of running out of GPU memory. However, appearance part-grouping mode does not support this functionality, so you'll want to use the advanced mode when exporting to Visualize.

NVIDIA vMaterials and MDL Support
Last year in SOLIDWORKS Visualize 2019 we announced support for NVIDIA vMaterials, however, you were only able to preview them in accurate mode. You could not edit the appearance, and the texture size was only editable by changing the model mapping data.
Now, SOLIDWORKS Visualize 2020 supports full editing capabilities of vMaterials. You can adjust bump heights, texture scaling, colors, and even add additional textures for things like fingerprints or dust on glossy surfaces. The materials now accurately show up in preview modes when you want to quickly adjust textures without ray-tracing. Download the material library here: https://developer.nvidia.com/vmaterials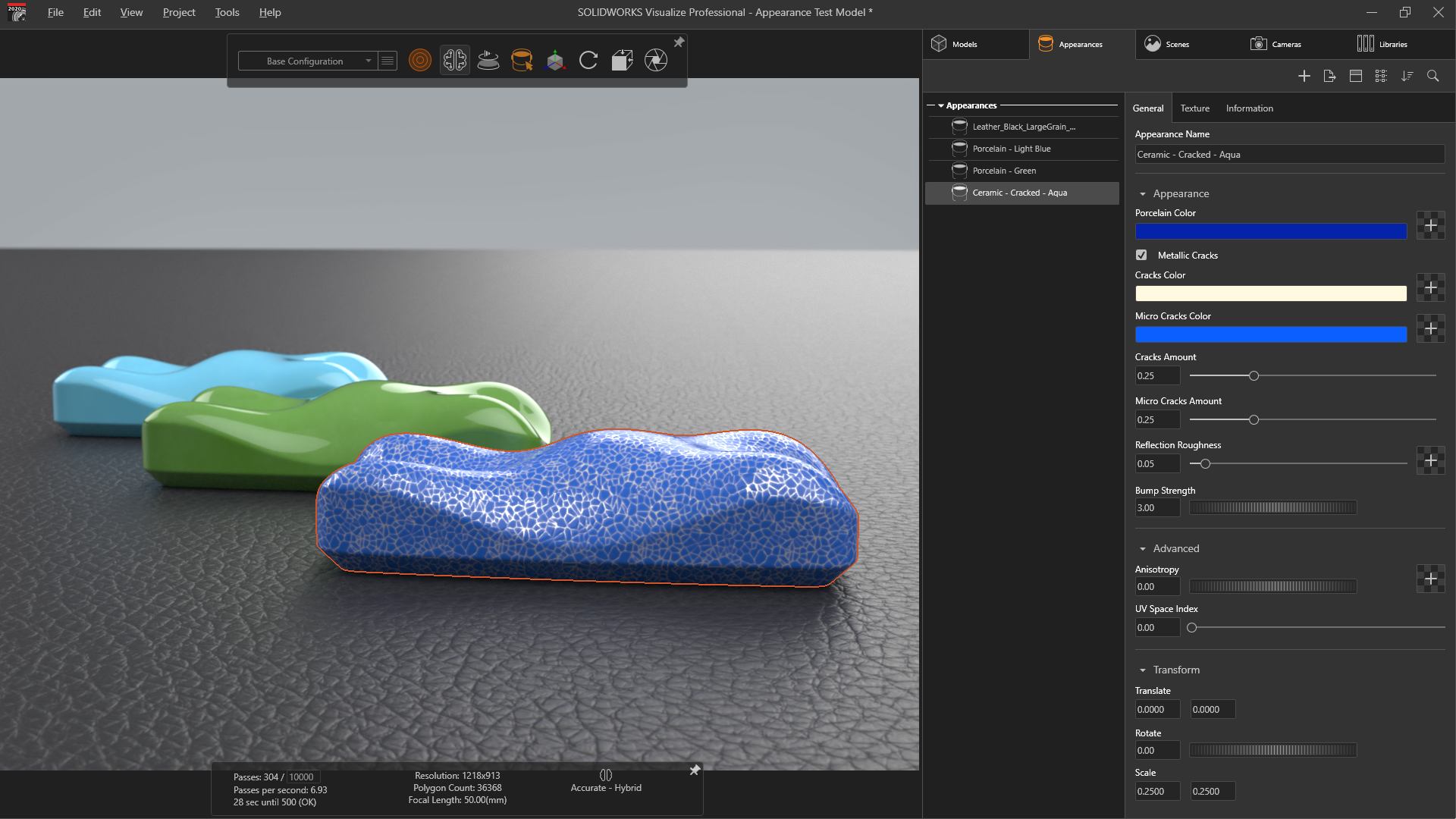 NVIDIA RTX Support
SOLIDWORKS Visualize 2020 now has RT Core support for full RTX hardware acceleration for Accurate and Fast render modes on NVIDIA Turing™ TU10x GPUs. This is HUGE considering these cards were built for raytracing! Although I haven't done any testing with these cards yet, you should expect a considerable boost in performance when using NVIDIA Turing™ GPUs. According to Brian Hillner from SOLIDWORKS, you can expect 30% to 50% better performance depending on the project when using RTX hardware and Visualize 2020. Support for RTX will also be available in Visualize 2019 SP5 if you're not ready to switch to 2020. Make sure to download the latest NVIDIA Certified Drivers to take full advantage of this new addition.
SOLIDWORKS PDM Integration
You can now use an integrated SOLIDWORKS PDM menu to access vault commands and view file information when the file is open in SOLIDWORKS Visualize. You must have SOLIDWORKS PDM Professional installed. In order to use common commands like check-in, change state, etc., you must first save the active Visualize Project into the PDM Vault.

I hope this part of the What's New series gives you a better understanding of the new features and functions of SOLIDWORKS 2020. Please check back to the CATI Blog as the CATI Application Engineers will continue to break down many of the new items in SOLIDWORKS 2020. All these articles will be stored in the category of "SOLIDWORKS What's New."
Design Innovation Month – October 2019
What is DI Month? We're declaring October Design Innovation Month—again! It's a month-long series of special events focused on what's new in design and manufacturing technology. You'll learn about enhancements in SOLIDWORKS 2020 that deliver new capabilities for improved performance, streamlined workflows, and a connected design ecosystem. Find out what's new in 3D printing applications and 3D scanning to integrate into your design process. So, get ready to do things differently. It's time to innovate!
Alex Worsfold – CSWE
Sr. Application Engineer
Computer Aided Technology, LLC