SOLIDWORKS 2020 What's New – Split Members
In SOLIDWORKS 2019, a new structure system was introduced to allow you to create and modify structural members of different profiles in one feature. The structure system uses primary and secondary structural members in a workflow that makes it easier to create complex structure systems with flexible corner management and trimming. In SOLIDWORKS 2020, you can now split primary and secondary members by specifying references or dimensions. This new functionality lets you simply reference faces, reference planes, or members to use to perform the split. In addition, SOLIDWORKS now has the option to manually enter a specific Split Length dimension for length, which includes a direction vector. Another new option in SOLIDWORKS 2020 allows you to select a member and then enter the number of instances that you want the member to be split into. The new Split Member command is very easy to ease and very straight forward.
Splitting Members by Reference
When you are editing the Member Properties in the Structure System mode of SOLIDWORKS, all you have to do is select the structural member in the graphics area that you want to split. You can Ctrl + select more than one member if you want to split them all at the same time. Here are two cross beams that have been Ctrl + selected in the Structure System mode. They appear under Selected Members in the Member Properties PropertyManager. Split Member has been checked and Based On Reference is the first choice in the pull-down box. All you have to do is pick the member that you want to be used to create the split. Below I clicked the vertical beam.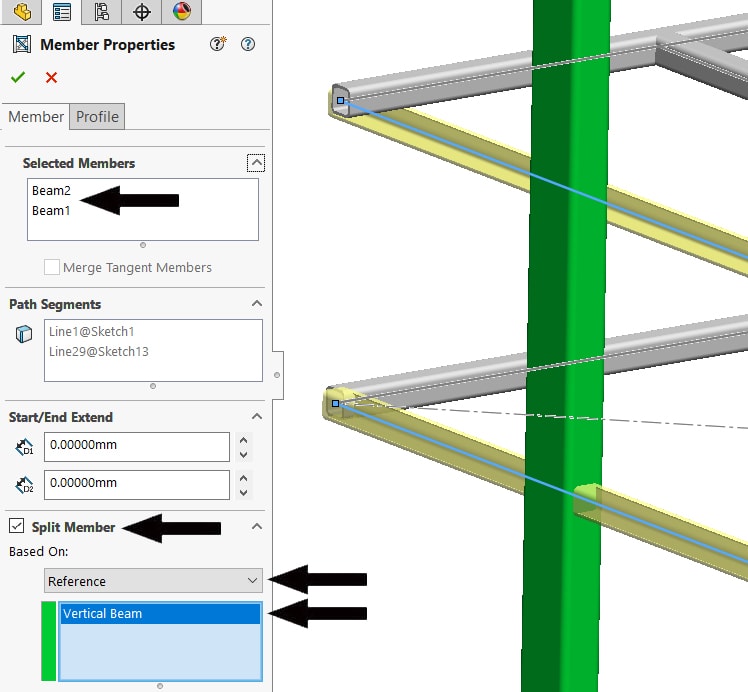 The result is that the two cross beams are split into two separate members, one on each side of the vertical beam.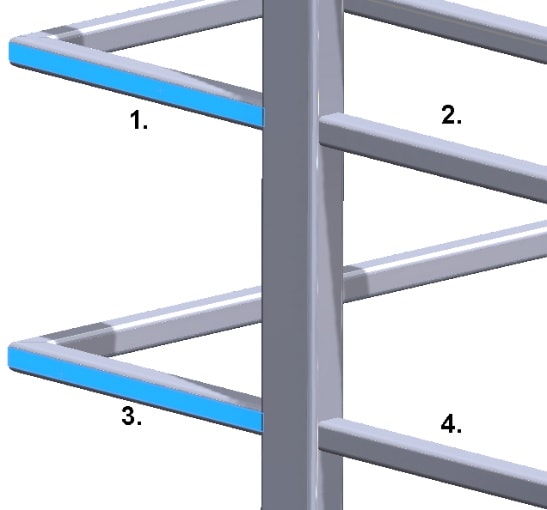 Splitting Members by Dimension
The other new option in the Member Properties PropertyManager is Based On Dimension. Here I selected a structural member and picked Dimension in the Based On pull down menu. Using Split Length, the structural member can be split at the desired dimension. Shown here, the structural member is split every 0.5 inches to create 12 structural members from the one structural member.

The final SOLIDWORKS 2020 new option I will cover is Instance. If you do not have a specific dimension but know the number of structural members that you want, you can simply select a structural member and pick the Instance option in Based On Dimension. Below I selected Instance and entered 12 for the number of instances to split the structural member in.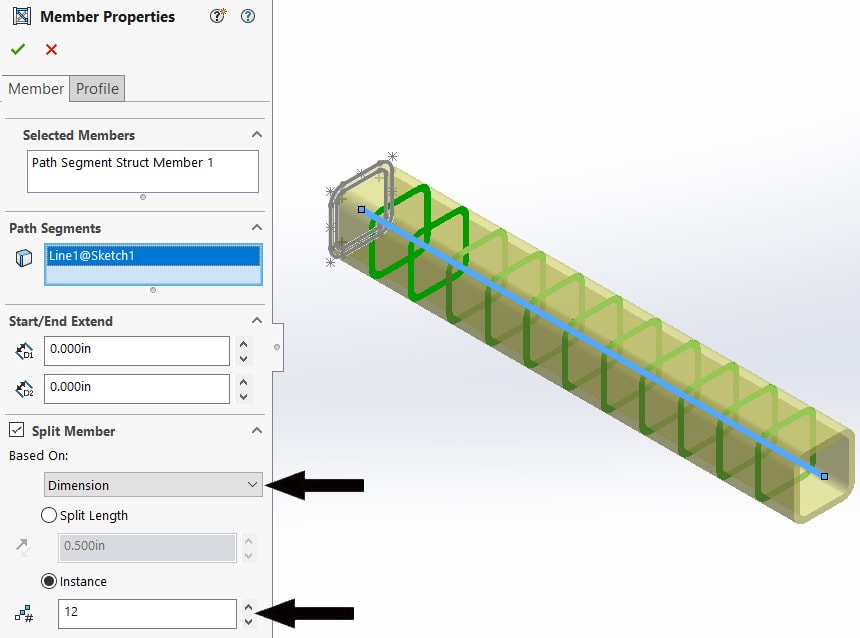 Now the Structure System in the FeatureManager design tree shows the 12 split instances from Member1_1 to Member1_12.
I hope this part of the What's New series gives you a better understanding of the new features and functions of SOLIDWORKS 2020. Please check back to the CATI Blog as the CATI Application Engineers will continue to break down many of the new items in SOLIDWORKS 2020. All these articles will be stored in the category of "SOLIDWORKS What's New."
Design Innovation Month – October 2019
What is DI Month? We're declaring October Design Innovation Month—again! It's a month-long series of special events focused on what's new in design and manufacturing technology. You'll learn about enhancements in SOLIDWORKS 2020 that deliver new capabilities for improved performance, streamlined workflows, and a connected design ecosystem. Find out what's new in 3D printing applications and 3D scanning to integrate into your design process. So, get ready to do things differently. It's time to innovate!
Neil Bucalo
CATI Support Engineer
Computer Aided Technology, LLC