SOLIDWORKS 2020 What's New – Weldment Structural System Member and Corner Trim
With each new release of SOLIDWORKS, we are focused on providing tools to make your job easier when it comes to designing. If you work with weldments, then make sure you have checked out the new weldment structure system that was added in 2019. This allows a user to define the structure with some simple geometry extrusions and reference planes instead of all the 2D and 3D sketches we previously needed.
Sometimes some of the best enhancements are the small improvements to existing tools to add the functions we all thought should be there in the first place. The enhancements in SOLIDWORKS 2020 to the weldment structure tool are some of those enhancements, like allowing users to select references using both planes and faces instead of just planes.
I would like to focus on a particular enhancement in the weldment structure; the member and corner trim function. The trimming function has always been a little cumbersome to work with especially when more than 2 members met at the same intersection.
The new trim options in our weldment structure tool will allow us to easily control how you want each member to behave when trimmed. It is even smart enough to leave your previous corner trim selections intact when adding new members.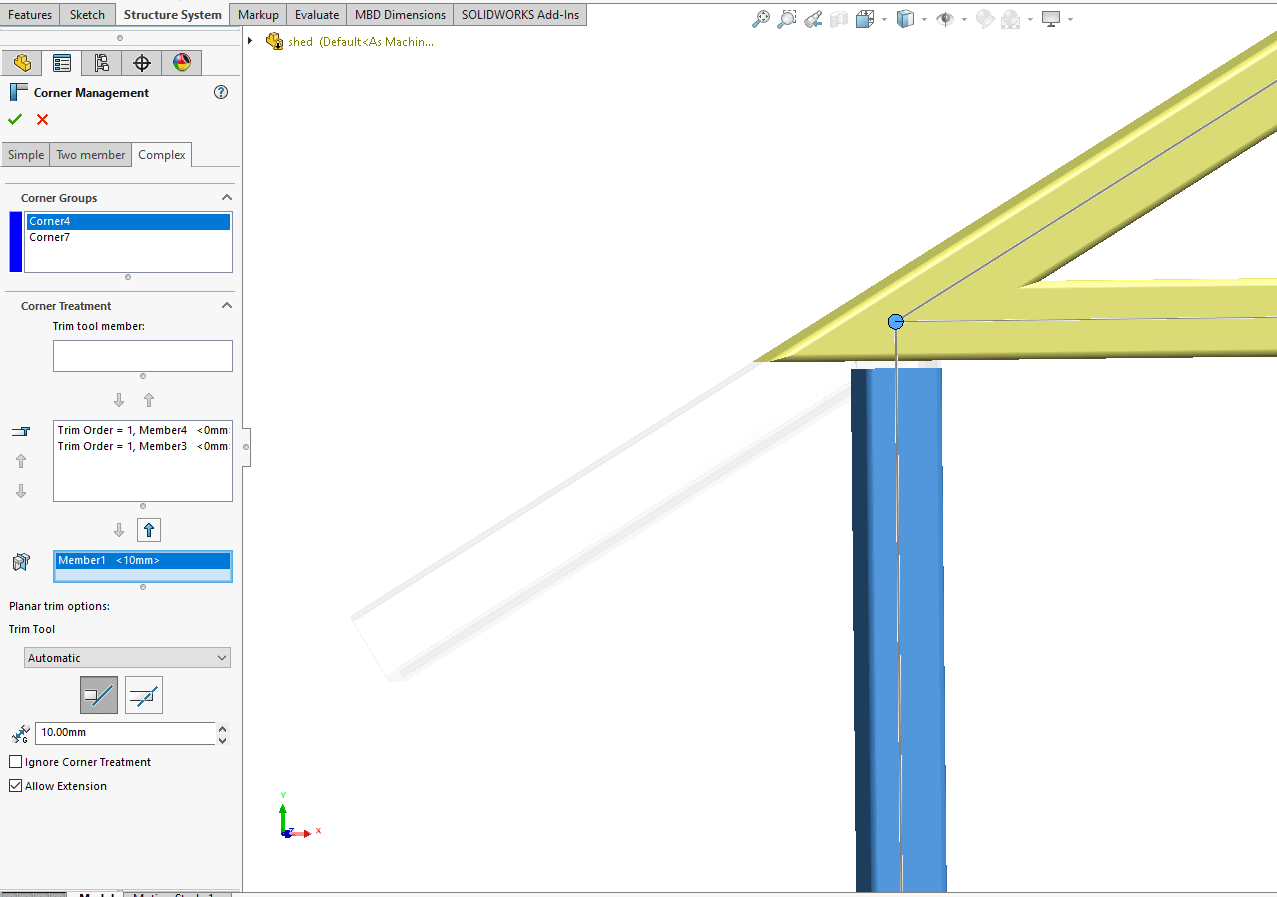 Each corner allows the users to select which member is a trimming tool, which bodies are trimming, or what planer surface is being used for trimming. The different weldment members can be easily moved between these categories with a simple click of the up or down arrows, and right-clicking a member in the selection box will isolate commands to that member. The gap controls can now be applied and varied between each member in the trim, and each corner has its own independent controls.
If you are a weldment user, then be sure to check out this option.
I hope this part of the What's New series gives you a better understanding of the new features and functions of SOLIDWORKS 2020. Please check back to the CATI Blog as the CATI Application Engineers will continue to break down many of the new items in SOLIDWORKS 2020. All these articles will be stored in the category of "SOLIDWORKS What's New."
Design Innovation Month – October 2019
What is DI Month? We're declaring October Design Innovation Month—again! It's a month-long series of special events focused on what's new in design and manufacturing technology. You'll learn about enhancements in SOLIDWORKS 2020 that deliver new capabilities for improved performance, streamlined workflows, and a connected design ecosystem. Find out what's new in 3D printing applications and 3D scanning to integrate into your design process. So, get ready to do things differently. It's time to innovate! Learn more about Design Innovation Month and register for events here:
Bryan Pawlak, CSWE
Sr. Application Engineer
Computer Aided Technology, LLC