SOLIDWORKS 2021 What's New – Model Display: 3MF Enhancements and Color Picker
SOLIDWORKS introduced more enhancements that include display, import, and export of 3D models in SOLIDWORKS 2021. 3MF files – which are quickly becoming an industry-standard for additive manufacturing – can now import and export more colors and textures than ever! Additionally, selecting colors with the eye dropper when applying appearances now works with external applications. In this article, I will go into detail with the 3MF enhancements, explain why 3MF is becoming an industry-standard, and finish with additional appearance functionality with the color picker.
3MF ENHANCEMENTS
In SOLIDWORKS 2021, extended graphical support when importing and exporting 3MF files are now available. Graphics bodies can now recognize per-vertex coloring, per-facet coloring, decals, texture, and transparent effects. Mesh BREP now supports transparent components and classic BREP files support both transparency and per-facet coloring. See table below for reference:

When Exporting to the 3MF format, SOLIDWORKS now supports the color of procedural appearances and textures such as:
UV mapping
projection mapping
cylindrical mapping
box mapping
spherical mapping
If you have not heard of projection mapping, you are in for a treat.
Finally, export options also include the ability to export transparent parts.
WHY 3MF?
3MF is an industry consortium that is aiming to tackle the challenges manufacturers face daily involving interoperability issues. The incumbent .STL file has been around for over 20 years, since the birth of 3D printing. However, STL files have their own set of drawbacks. For one, STL files cannot keep up with this rapidly growing additive manufacturing industry. It cannot understand or apply colors or textures and has been notorious for poorly handling beam lattices, both big and small. Furthermore, an STL file with lattice structures are several orders of magnitude larger than the same 3MF file. Just take a look at this image from Ntopogoly's blog posted in September:

One can see that the same two files are nearly 180 times smaller in the 3MF format than the STL format. The .STL file is 80.3MB, whereas the .3MF file is only 450KB. 3MF not only saves file size, but it also produces higher quality surface resolution than an STL file.
The reason why this works so well is because of the way a 3MF file understands geometry. It uses beams and nodes to create faces and vertices, rather than utilizing tessellation to estimate geometry. This means that 3D printed 3MF files are more predictable and even faster to print than an STL file.
There are many companies who have partnered with the 3MF consortium in addition to Dassault Systemes, including Microsoft, Autodesk, HP, Siemens, General Electric, and more. (For a full list, check out the 3MF website).

This is why 3MF is on the verge of becoming the industry standard, so be sure to capitalize on 3MF where you can.
COLOR PICKER
To change the pace a bit, SOLIDWORKS also introduced the ability to select a color from the color picker from anywhere on your external applications. Simply select the eye dropper near the color wheel, point, and click on the color desired to color any faces in the model that you wish. This is helpful for if you're trying to match the color of your company logo correctly or if you're working with a part in multiple programs.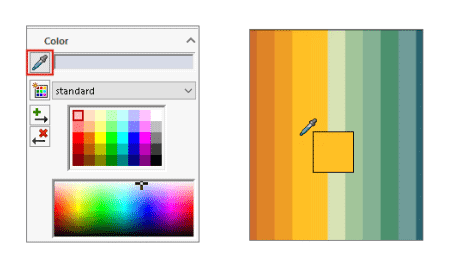 The industry of additive manufacturing is ever-growing, and SOLIDWORKS customers should be assured that Dassault Systemes is always on the cutting edge of that technology. We've seen how extended graphical support of 3MF files has developed in 2021, why 3MF files are the new STL, and how we can change face and part colors with external applications.
I hope this part of the What's New series gives you a better understanding of the new features and functions of SOLIDWORKS 2021. Please check back to the CATI Blog as the CATI Application Engineers will continue to break down many of the new items in SOLIDWORKS 2021. All these articles will be stored in the category of "SOLIDWORKS What's New."
Jordan Kleinschmidt, CSWE
Application Engineer
www.cati.com
What is DI Month? We're declaring October Design Innovation Month—again! It's a month-long series of special events focused on what's new in design and manufacturing technology. You'll learn about enhancements in SOLIDWORKS 2021 that deliver new capabilities for improved performance, streamlined workflows, and a connected design ecosystem. Find out what's new in 3D printing applications and 3D scanning to integrate into your design process.