SOLIDWORKS 2022 What's New – Simulation Bonding and Contact Architecture
In this 2022 release of the SOLIDWORKS Simulation software code changes related to contact resulted in additional performance improvements. These are happening "behind the scenes", but their effect is evident in faster solution times, especially for studies that use the FFEPlus iterative solver with a large percentage of nodes participating in bonded contact interactions.
In summary, the code changes reduce the overhead by 1) removing duplicate degrees of freedom in the bonding and contact equations, 2) optimizing a parameter associated with contact penalty stiffness, and 3) eliminating unnecessary function calls within the contact search algorithm.
I'm not a programmer, so the lingo above requires me to see an example to help understand the magnitude of the change. Here's a simple bushing assembly I came up with to test the performance between SOLIDWORKS Simulation 2021 and 2022. The steel inner ring is fixed, the middle ring is an elastomer material. A torque is applied to the outer steel ring. Global contact is set to "bonded" to hold everything together. The meshed assembly shows that I've refined the mesh in the contact areas.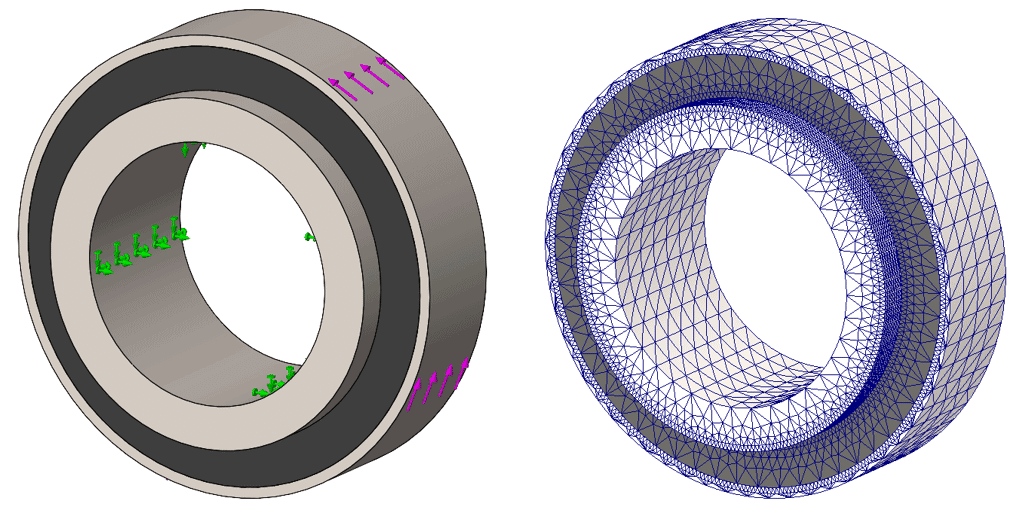 After a solution has been completed, it's possible to report the number of degrees of freedom (DOF) and solve time by opening the Solver Messages window accessed via a right-click on the Results folder. A comparison of this information between the two releases is shown below.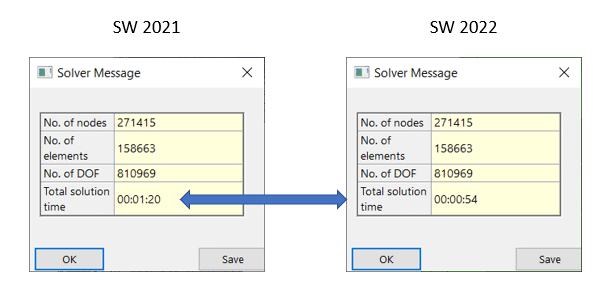 For this example, with identical DOF count, the iterative solver is about 33% faster in SOLIDWORKS Simulation 2022. (Solution time is also improved when using the direct solver, but with smaller gains.) The 2022 What's New document shows an example in which the reduced solution times are 35% and 12% for the iterative and direct solvers, respectively. As with all performance improvements, "your mileage may vary" and I found that the greater the number of nodes involved in the contact as a percentage of the total node count, the greater the effect.
I hope this part of the What's New series gives you a better understanding of the new features and functions of SOLIDWORKS Simulation 2022. Please check back to the CATI Blog as the CATI Application Engineers will continue to break down many of the new items in SOLIDWORKS 2022. All these articles will be stored in the category of "SOLIDWORKS What's New."
Kurt Kurtin
Sr. Product Manager, Simulation
Computer Aided Technology
What is Design Innovation Month?
DESIGN INNOVATION MONTH 2021 – Live Events, Webinars, Virtual Showroom, Contests
Design Innovation Month is CATI's massive "What's New in 2022" event for SOLIDWORKS, 3DEXPERIENCE, and 3D printing & 3D scanning technology.  That's six weeks of in-person events, live and on-demand webinars, demonstrations, in-depth blog posts, and prizes!  Best of all, it's free of charge! Check the DI Month Hub for all the details and to sign up for your nearest live event.