SOLIDWORKS Electrical 3D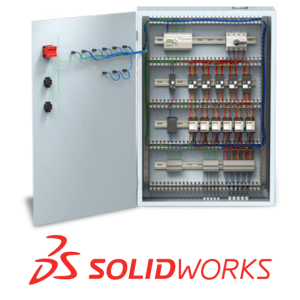 SOLIDWORKS Electrical 3D
Integrate electrical schematic design data with the SOLIDWORKS 3D model (SOLIDWORKS Electrical 3D requires SOLIDWORKS 3D CAD) of a machine or other product—bidirectionally and in real time. Design engineers can place 3D versions of all electrical parts into the model and route wires, cables and harnesses in 3D to connect all electrical equipment.
Place electrical components in SOLIDWORKS 3D model
Real-time synchronization between schematic and 3D model
Accurately plan specific locations and paths to avoid rework
Determine optimal lengths for wires, cables, and harnesses
Maintain bill of materials and other documentation for quick retrieval
Manufacturer's electrical component library
BOM synchronization between electrical and mechanical designs
3D Electrical cabinet design
Auto-routing
Individual license for 3D designer (works with SOLIDWORKS Electrical Schematic, requires SOLIDWORKS 3D CAD)
Is SOLIDWORKS Electrical 3D right for you? Let us help you decide.
---
{tab Media|left orange}
Media
https://www.youtube.com/watch?v=TdKbTUYsftQ&modestbranding=1
https://www.youtube.com/watch?v=QC5GwkSV1tY&modestbranding=1
{tab Customer Stories|orange|hidden}
Customer Stories
{tab Related Articles|orange}
Related Articles
{loadposition related-electrical}
{/tabs}