SOLIDWORKS: Getting Started with Mold Tools
SOLIDWORKS has thousands of tools and features that cater to all sorts of major industries. Sheet metal, machined parts, structural fabrication, consumer products, automotive, aerospace, medical…the list goes on. Another very important industry that we'll get into is mold tooling. In this blog post, we are going to introduce the Mold Tool commands. We also have an upcoming webcast that will demonstrate how these tools can be used to accomplish the tasks required for mold tooling design.
Accessing the mold toolbar is easy. It likely requires turning on the Mold Tools tab in the Command Manager.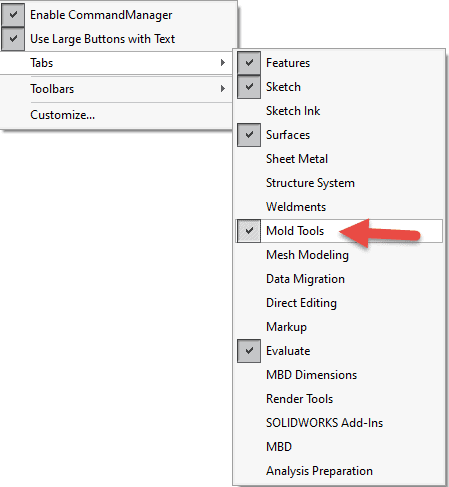 The Mold Tools tab contains many familiar commands, highlighted in the red region. These are mainly surface modeling tools but also contain some powerful evaluation tools. The green box highlights the more specialized commands for creating mold tooling that we are going to focus on.

While it is possible to design your mold tooling using only the surface modeling tools, it would be more time consuming and require more steps in your feature tree. These mold tool commands automate some of the required surface modeling steps and essentially function like running a macro, combining multiple surface commands. Let's take a quick look at these mold tools.
Insert Mold Folders
This is an organizational tool for your Feature Manager Design Tree. This command creates subfolders in the Surface Bodies folder. This helps keep various surface bodies grouped according to their goal. These categories would be Cavity Surface Bodies, Core Surface Bodies, and Parting Surface Bodies. You rarely need to use this mold folders command because these subfolders are automatically created once you use some of the other mold commands.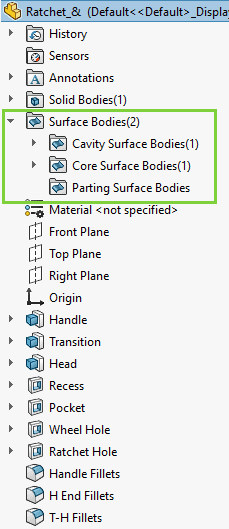 Parting Lines
This tool creates a 3-D curve on your part. This is most often used to define where a parting surface will exist. This parting Line command utilizes the draft analysis tool to assist with its creation.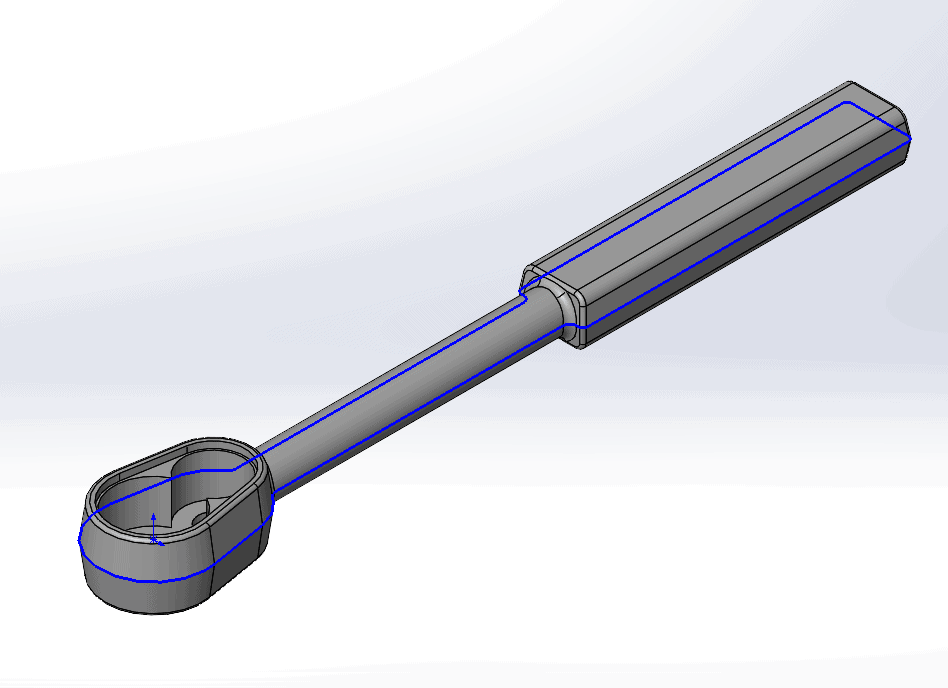 Shut-Off Surfaces
Holes and openings in the designed part need to be patched for the Tooling Split command to be successful. These patches are used to control how the core and cavity bodies meet to account for these openings. Creating the Shut-off Surfaces will automatically create the mold folders if they don't already exist.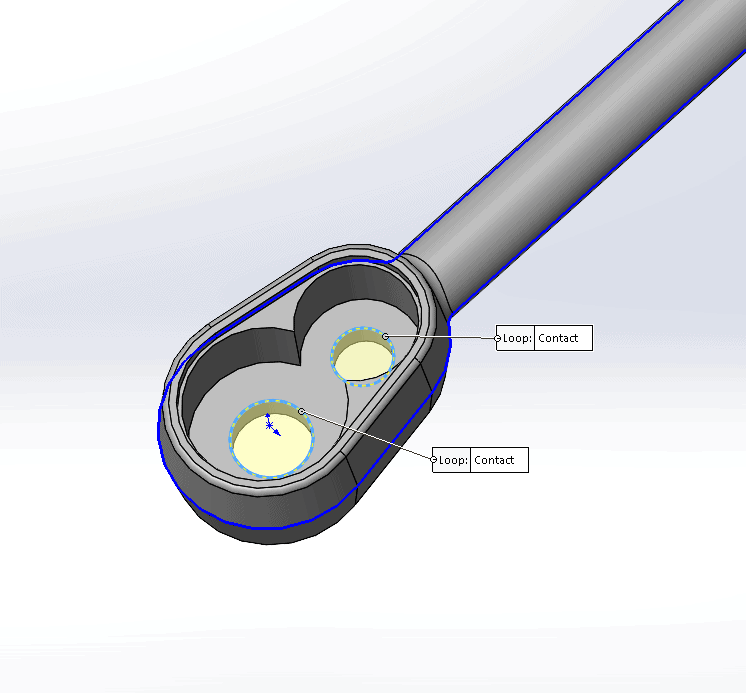 Parting Surfaces
This tool creates additional surfaces, usually based on the parting line, that will be used to separate the core and cavity bodies.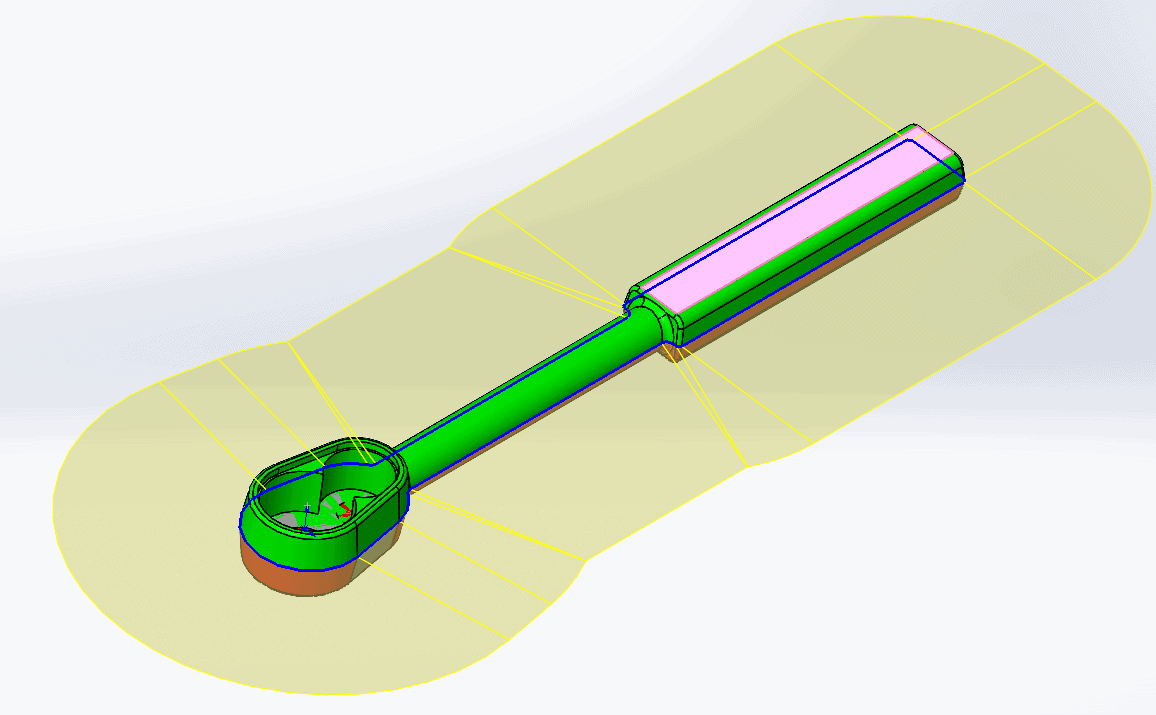 Tooling Split
This tool creates the solid bodies for "Cavity Body" and "Core Body". The Tooling Split feature functions very much like an extrusion that is then split by the surfaces created in the previous steps.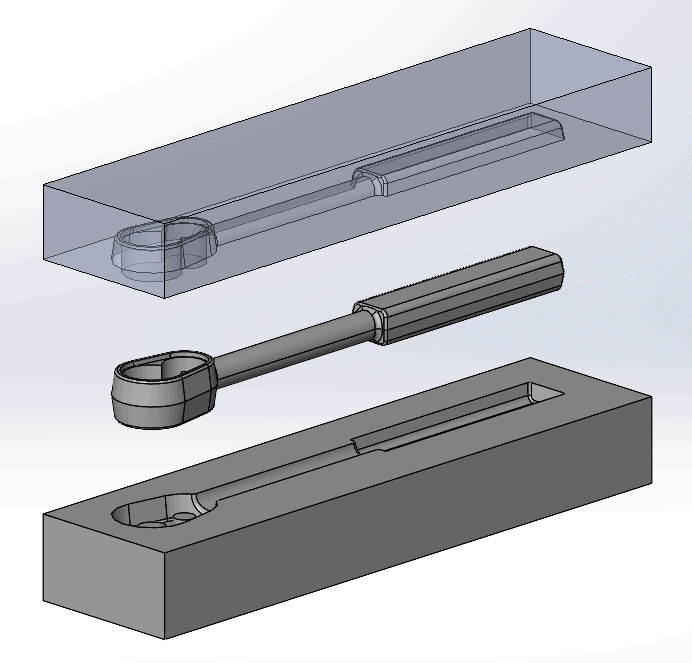 Core
This tool is used to split up the existing solid bodies into more bodies. This is commonly used for creating lifters, pins, and side cores.
Please tune into our May 14 webcast to get a better view of how these commands help us design the tooling for our products.
Register for the event by clicking below:

Greg Buter
Managing Application Engineer
Computer Aided Technology, Inc.