SOLIDWORKS Launches eDrawings Pro for iPad
3DVision Technologies is thrilled to announce that on August 31, SOLIDWORKS launched eDrawings Pro for iPad.
You may recall that earlier this year SOLIDWORKS launched eDrawings for Ipad. But some of you have been asking SOLIDWORKS to expand the feature set, and include some of the capabilities found in the desktop version of eDrawings Professional.
Some of the new capabilities include dynamic cross section views, measurements, markups and annotations, and the unique ability to share it all by email.
With a brand new intuitive user interface and improved performance, eDrawings® Pro for iPad enables you to dynamically view cross sections of your models in XY, YZ, or ZX directions from both sides and easily drag the cross section plane on screen or with a convenient slider. You can also measure distances in your designs, with easy-to-use selection filters for faces, edges, vertices, and holes.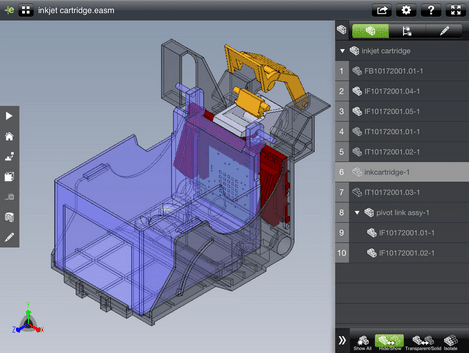 With eDrawings® Pro for iPad you can create markups on your drawings, including text notes, freehand notations, dimensions, cross-section views, photos, and camera snapshots. You can share your marked up eDrawings files with others for review and further comments. All markups with history are saved within the eDrawings file.
Features:
New intuitive and easy-to-use user interface
Significant performance improvements for opening, viewing, and interacting with all types of models
Open 3D (EASM, EPRT, SLDASM, SLDPRT), 2D (EDRW, SLDDRW, DWG, DXF), and associated files from any source: email attachments, cloud storage services (Dropbox™, Google Drive™, SkyDrive®, YouSendIt®, and others), email, web and FTP sites, networks, and iTunes® File Sharing
Zoom, pan, and rotate your 3D and 2D CAD data using multi-touch
Browse your assembly components tree, model configurations and drawing sheets
Hide, show, or make components transparent
Select View mode: standard orthogonal views, shaded with edges, perspective view
Play animated 3D standard views as well as 2D drawing views
View your designs in full screen and double tap to fit it on screen
Double tap zooms to drawing views
Markup your designs and send to others, and read others' markups
Measure your design data
View cross sections of your 3D designs
Sample files included
eDrawings Pro is available now for download on the Apple App Store. Regular price is $9.99, but it will only be $4.99 for the next 30 days. Download it today.