SOLIDWORKS: Lesser Known System Options
System Options are great for customizing your SOLIDWORKS instance. There are some common go-to's here that most people are aware of, like 'File Locations' to define where things such as templates and tables are located, and 'Auto-rotate view normal to sketch plane on sketch creation and sketch edit.' However, going through the list, there are quite a few options to be had. Today, I wanted to make you aware of some lesser known options that have come up from time to time. Maybe they were inadvertently turned off/on or maybe they were not how you wanted them from the beginning.
The first one has to do with the PropertyManager. If you have clicked on a dimension in the graphics area and the PropertyManager does not show up, you have to click on the tab in the FeatureManager to access it.
Maybe this is what you want, but if not, there is an option to automatically do this. Under the 'General' options, there is an appropriately named feature called 'Auto-show PropertyManager.'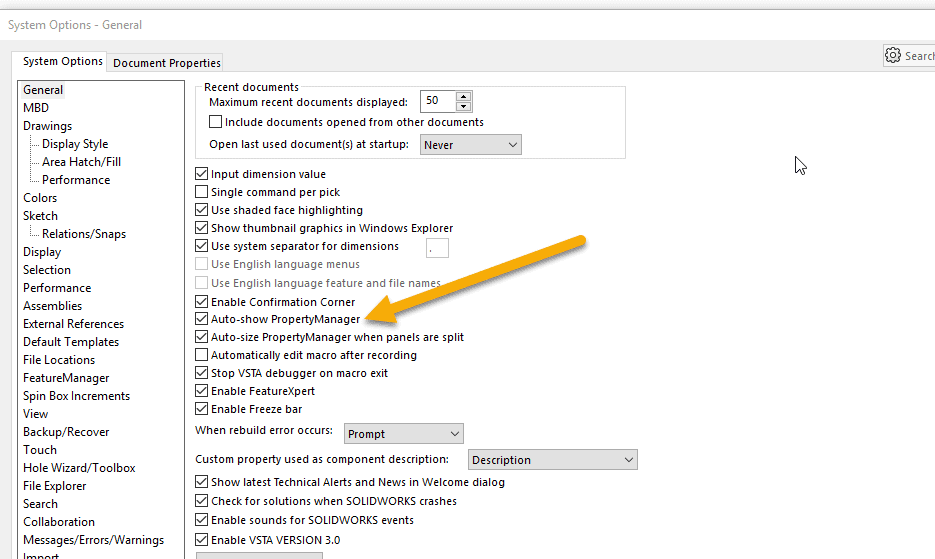 With this checked on, selecting a dimension (or sketch entities and annotations for that matter) will show the PropertyManager.
For the next option, we will look at transparency in an assembly or a part file. If you have transparent components (or faces in a part) and try to select the underneath components (or faces), you may or may not get what you want. This is controlled through the option 'Enable selection through transparency,' which can be found under the 'Selection' options.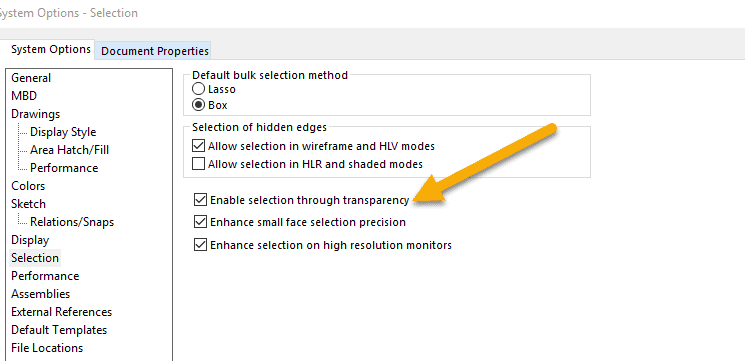 Here you can choose whether you want to select the transparent faces, or what is underneath. This can also temporarily be done by holding the 'Shift' key.
The final option I want to touch on today is for those sketching with splines. Once you have drawn your spline, you may want to manipulate the spline points. Clicking on a spline point should activate the spline handles, which help manipulate the spline. If those do not show up, as you have probably guessed, there is an option for that: 'Enable spline tangency and curvature handles!' This one is found under the 'Sketch' options.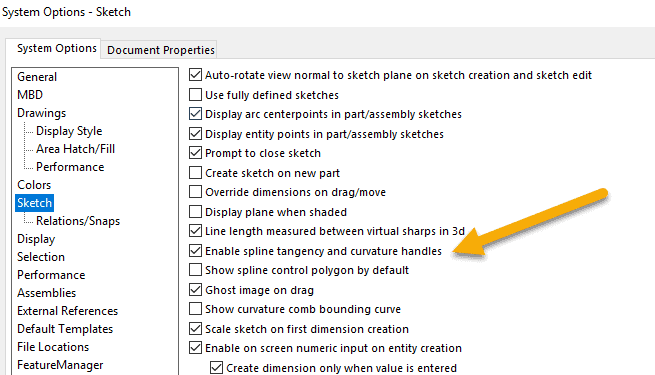 These are just a few of the many System Options available to help get your SOLIDWORKS acting how you want. If it is not doing what you were expecting, take a look in the Options and, as always, please feel free to reach out to us with any questions.
Ryan Field
Application Engineer
Computer Aided Technology, LLC