SOLIDWORKS: "My files keep printing when I try to open them from Windows File Explorer"
Since the launch of SOLIDWORKS 2020, our Technical Support team has gotten multiple reports of a very strange-sounding behavior: After installing SOLIDWORKS 2020, double-clicking a part, drawing, or assembly file from File Explorer will not properly open the file, and instead it will send that file to a nearby printer. This is still an issue we are learning about, so we don't yet know all of the causes, but we have at least found a couple fixes that can get things back to normal.
One method would be to repair the installation or simply uninstall and reinstall SOLIDWORKS 2020. Some users have tried this and reported that the problem went away without any other action. However, this operation can take some time, particularly if you go the route of a full reinstallation. Fortunately, there is a much quicker option.
The most common cause we've seen for this problem is that .sldprt, .sldasm, and .slddrw files are opening up with the wrong program. These file types should be opened with the SOLIDWORKS Launcher by default. Users experiencing this problem instead have SOLIDWORKS 2020 as the default application to open these files. Adjusting your settings so the SOLIDWORKS Launcher is used should solve the printing issue. There are a few ways to accomplish this, but I will just go over the easiest method here.
In the screenshot below, I have a folder with two assemblies in it. There are a couple signs something is wrong. For one, the icons on the left are the SOLIDWORKS 2020 logo rather than thumbnails like every other file has. You'll also see that the Type column shows "SldWorks 2020 Application" instead of "SOLIDWORKS Assembly Document" for these two items. Both of these are side effects of having SOLIDWORKS 2020 as the opening program for .sldasm files. These issues are not present for the .sldprt and .slddrw files in this folder, indicating that those file types are already using the SOLIDWORKS Launcher.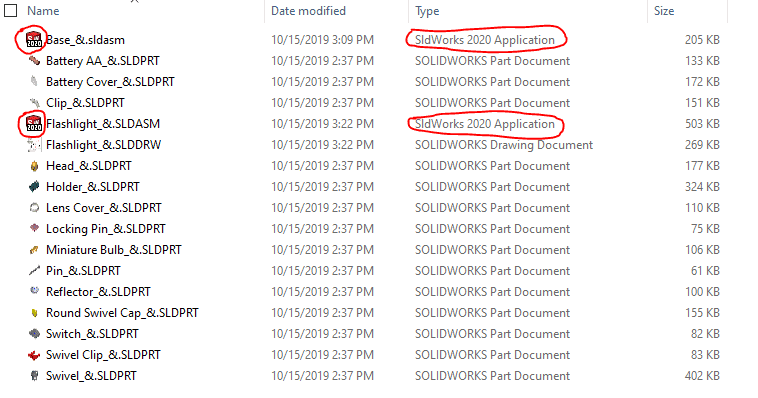 If I right-click on one of the assembly files, you'll also see that the normal SOLIDWORKS flyout menu that gives you access to commands like Pack & Go, Rename, and Replace is missing—this will also be fixed by the SOLIDWORKS Launcher. From this right-click menu, I will select Properties for the next step.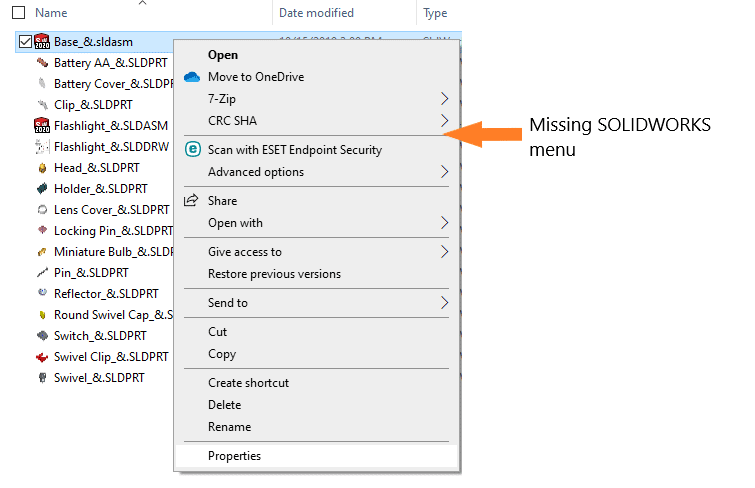 The "Opens with" field in the Properties window dictates what program Windows will use to open files with the same extension as the item you selected. In this case, all .sldasm files are being opened with SolidWorks (i.e., the SLDWORKS.exe file for SOLIDWORKS 2020).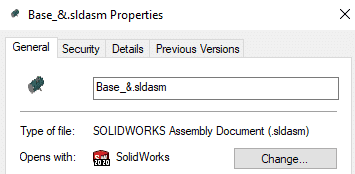 Clicking "Change…" next to the application name will open a new window that lets you choose a different program to open the files. In this new window, if the SOLIDWORKS Launcher does not appear under the "Other options" heading, click "More apps" and scroll down to look for it. If you still don't see it, click "Look for another app on this PC" at the very bottom of the list. The default location of the SOLIDWORKS Launcher is C:Program FilesSOLIDWORKS CorpSOLIDWORKSswShellFileLauncher.exe. Once you find this file, double-click it to make it the new default application.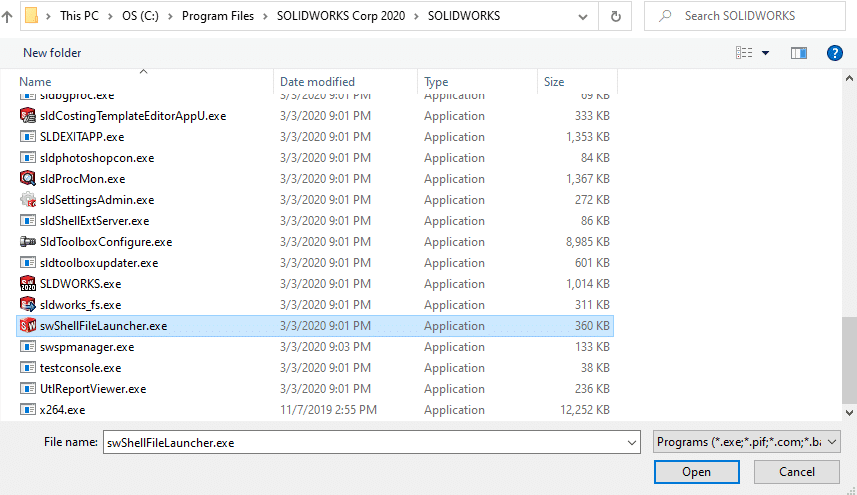 Now, my folder shows the two assembly files with their usual thumbnails, and the Type description is back to "SOLIDWORKS Assembly Document." Additionally, if I open the Properties for one of my assemblies, you'll see that .sldasm files will be opened using the SOLIDWORKS Launcher.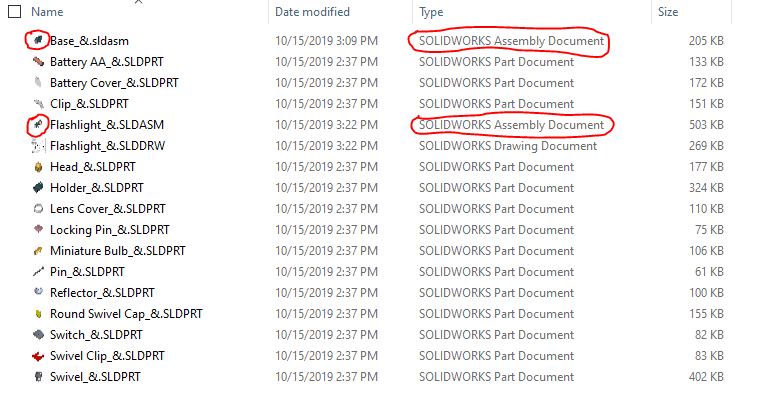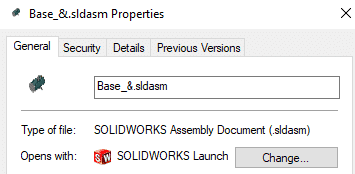 If you are also having problems with .sldprt and .slddrw files, you could repeat these steps for those file types too. Once that is done, you should be able to open all of your files from File Explorer like you normally would.
As I mentioned earlier, this issue still has some aspects we can't yet explain. Some people (including me) can open files using the SLDWORKS.exe file instead of the SOLIDWORKS Launcher, and nothing will print. Having SOLIDWORKS 2020 as the default program for your files thus does not appear to be the only prerequisite for that behavior. Regardless, based on what we have seen so far, using the SOLIDWORKS Launcher is the best and quickest way to solve the File Explorer printing problem. If these tips do not help, please reach out to us and we can try to work out an alternative with you.
Anthony Sandri
Application Engineer
Computer Aided Technology, Inc.