SOLIDWORKS PCB now natively integrates with PDM!
SOLIDWORKS PCB has been a big hit with customers, enabling an easy, seamless collaboration between ECAD and MCAD designers. However, one thing has been missing: PDM integration. We could store the board assembly files in PDM just as easily as any other SOLIDWORKS Assembly, but the ECAD files had to be manually placed in PDM and managed, similar to any other non-SOLIDWORKS file.
In the last couple of weeks, SOLIDWORKS has released the PCB-PDM Connector. Installing it will give you check-in/check-out capabilities in the PCB file menu, as well as the ability to synchronize data between the PDM data cards and parameters inside the PCB project.
How to Install
To install, you'll first need to get the installation files from your VAR (hopefully that's us!).
There will be 3 self-extracting zip files. Run all 3, and you'll have everything you need. One of them is the detailed installation instructions, but there will also be a setup.exe and batch file to run, followed by importing a config file into the PDM Admin program so that it recognizes the PCB extensions.
How to Use
There are check-in and check-out buttons in the file menu.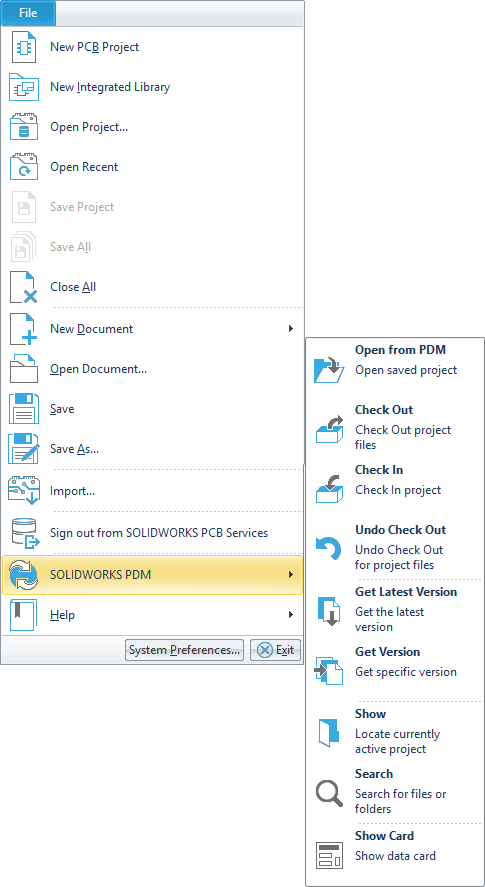 The current intention is for you to check-out a project in the beginning, and check-in when it is complete. The check-in process will create a zip file of the project and place it in PDM. If you want to "Check-in" without saying the project is complete, then use the Undo Check-Out command. During check-in, it will also create virtual documents in a Library folder (specified in the Admin tool), corresponding to the BOM components in the schematic. This way you can tell in PDM where components are used.
Finally, it will also map attributes between PDM and PCB.

In this way, you can populate data in the PDM datacard, and then have it populate your project titleblocks inside PCB. Or, you can populate the parameters in PCB, and have that show up in PDM. Note that you'll have to set it up according to your desired workflow in the PDM admin tool.
If you are looking to further integrate your SOLIDWORKS PCB into PDM, then give us a call and we'll help you get the installation files.
Brian Cooke
Application Engineer
Computer Aided Technology, LLC