SOLIDWORKS Simulation 2021 What's New – Robust Default Interaction Settings
SOLIDWORKS 2021 Robust Default Interaction Settings
With every single new release of SOLIDWORKS, I am always impressed by new features that make the simulation process easier for users. SOLIDWORKS 2021 embraces this idea and there are numerous enhancements that make the simulation experience even more user friendly. In this blog I will be going over the Robust Default Interaction Settings enhancement, which makes assembly and multi-body simulation much easier.
If you were to setup a multi-body or assembly simulation in SOLIDWORKS, SOLIDWORKS has a default interaction setting related to multiple bodies. Note, in SOLIDWORKS 2021 the naming convention for contact changed to Interaction settings; for further information on this, check out the blog my colleague wrote. The default interaction settings in SOLIDWORKS Simulation dictate whether a part is bonded, has free movement, or part contact in relation to the other bodies. In our case we are going to look at a sample assembly file in SOLIDWORKS 2020 and SOLIDWORKS 2021 to see the difference in the default interaction settings.
SOLIDWORKS 2020 Interaction Settings:
In our case we are going to look at a model of two plates, with a slight geometric imperfection. In our case the model has a small gap between the plates.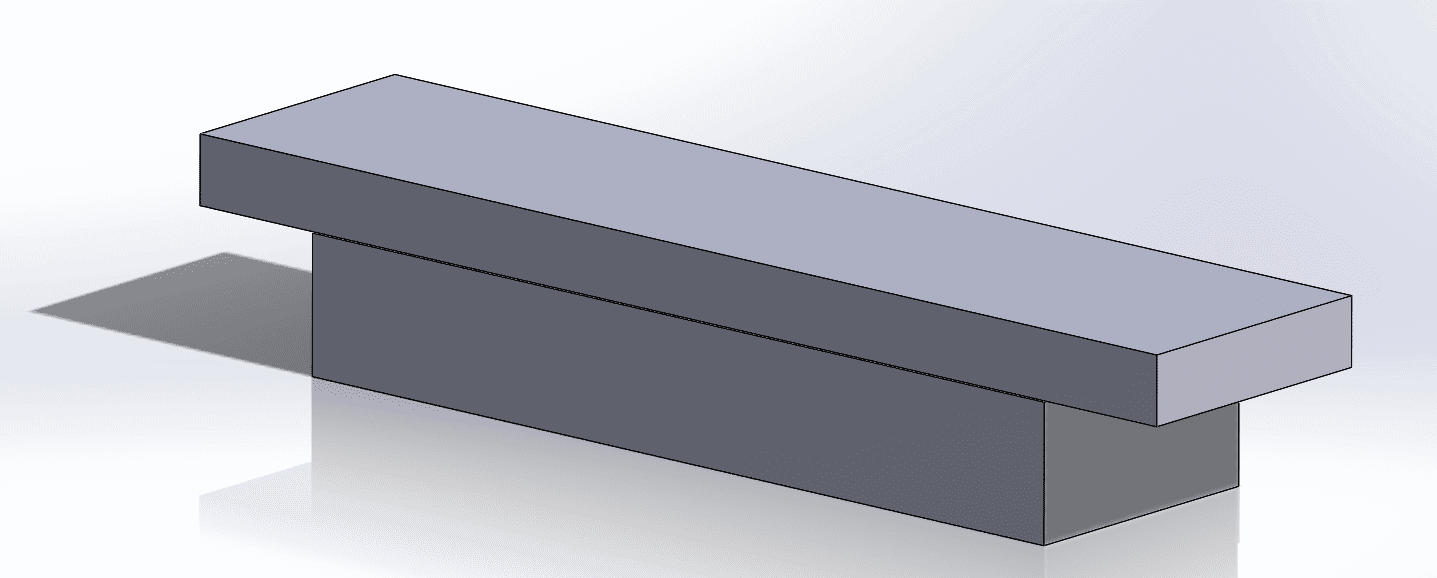 When we start a simulation study in SOLIDWORKS 2020 the default settings create a component bonded contact. However, in SOLIDWORKS 2020 and prior SOLIDWORKS versions the default Global Component settings only work on coincident bodies or if you select the non-touching face option. Thus, in our case to get a bond to work between these two plates, we would need to define a local contact set because there is an existing gap between the two plates. The only other option, utilizing bonded contact, is to go back and edit the physical geometry and make a coincident contact. In either case, the default interaction settings will not account for this bond. In our case to maintain the bond I apply a local contact set.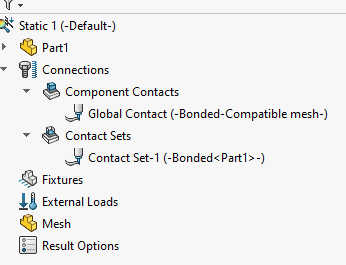 SOLIDWORKS 2021 Interaction Settings:
Now when we create this same simulation study in SOLIDWORKS 2021, we see some noticeable changes. The first change is now the Global Interaction Settings can specify a gap for bonded contact. Note the gap range must be less than ten percent of the characteristic length for the bond to be applied. Additionally, when I type in 10 percent, SOLIDWORKS will automatically determine the maximum gap range it can utilize. Thus, in our case the gap between the two plates is less than one mm, so the gap range is acceptable. This saves us from having to create an additional local contact set like we had to do in 2020.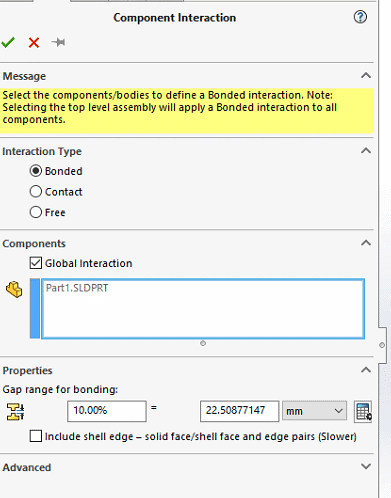 The other noticeable change is for the component interaction type, and the ability to stabilize a gap. In our case we are concerned about a bonded contact, so we do not have to apply a contact interaction type for our specific model. However, if you were to run a case with a contact interaction type and a gap, you could turn on a stabilization option. This stabilization option applies small stiffness' at the contact locations in the gap to assist the solver. Through doing this, it makes contact interaction problems more robust in solving than previous SOLIDWORKS versions.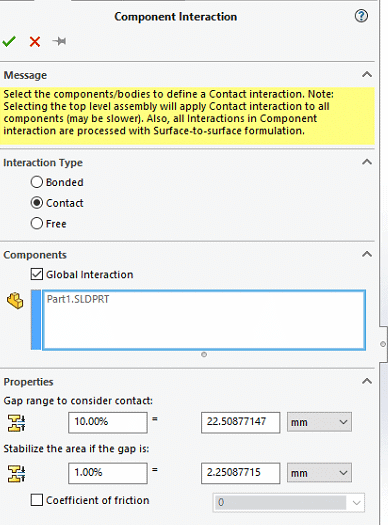 I hope this part of the What's New series gives you a better understanding of the new features and functions of SOLIDWORKS 2021. Please check back to the CATI Blog as the CATI Application Engineers will continue to break down many of the new items in SOLIDWORKS 2021. All these articles will be stored in the category of "SOLIDWORKS What's New."
Drew Buchanan
Application Engineer, Simulation Specialist
www.cati.com
What is DI Month? We're declaring October Design Innovation Month—again! It's a month-long series of special events focused on what's new in design and manufacturing technology. You'll learn about enhancements in SOLIDWORKS 2021 that deliver new capabilities for improved performance, streamlined workflows, and a connected design ecosystem. Find out what's new in 3D printing applications and 3D scanning to integrate into your design process.