SOLIDWORKS 'Tip of the Day' - Complete List
If you come to this blog to learn tips and tricks, you've just hit the jackpot. Have you ever noticed those little tips in the lower right hand corner of the 'SOLIDWORKS Resources' tab of your task pane? Have you ever clicked the 'Next Tip' link a countless amount of times because you just couldn't get enough?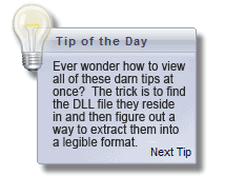 Well, this is quite a spoiler to anyone that wakes up in the morning overwhelmed with curiosity of what each day's SOLIDWORKS tip is going to be, but here's the complete list. Just be aware that this list was pulled from a 2012 installation, so there is exclusive 2012 SOLIDWORKS functionality referenced in some of the tips. Enjoy all 163 of them!