SOLIDWORKS: What is "Title Block Fields"
Title Block Fields in SOLIDWORKS is another way to create and add custom properties to a drawing and part. This tool allows you to define notes in the title block that can easily be edited by the user. The notes can be linked to properties or can be a static text.
The Title Block Fields tool can only be accessed when editing the Sheet Format. Let's get started.
Click Edit Sheet Format from the Sheet Format command manager tab.

And then click Title Block Fields.

The property manager dialog box appears.
As well as a rectangular box. This box is called the Hotspot Border. Adjust this border by dragging the handles of the rectangle. This will capture notes that can be modified.

Now, we can select the notes that are linked to properties. Such as Project, Description, Rev and so on and so forth.
We can now select static text notes. Such as units and tolerances and so on and so forth.
The order the title block notes are selected determines the order users can tab through the fields to enter the information. These selections can be reordered by using the arrows in the Text Field selection area.
SOLIDWORKS also gives you the option to include tooltips to identify the selected note. Click on a field (I'll choose MILLIMETERS) and activate the Tooltip field. I'll type Units.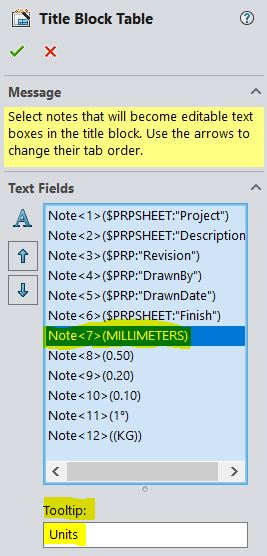 Project, Description and so on already have Tooltip because it is linked to a property.
Hit the green check mark and exit Edit Sheet Format. Hover over the title block area and notice the Hotspot Border is highlighted as well as a Title Block Table 1 has been created and is a feature in the Sheet Format folder.
The next step is to save and test the drawing template file.
I've created a new part and drawing. To activate the Title Block Field Data, double click within the Hotspot Boundary. Single click on desired note and enter text into the blue highlight field.
Let's take a look at the File Properties in both the part and drawing to verify the values were populated correctly from the Title Block Fields.
Here is the drawing:
Here is the part:
I hope you find this helpful. Thanks for reading.
Have a safe and blessed 2022.
Roger Ruffin
Sr. Application Engineer
Computer Aided Technology