SOLIDWORKS World 2017 Recap: SOLIDWORKS 2018, sustainability, and the future of design
Kishore Boyalakuntla, the Senior Director of Product Portfolio Management and Brand User Experience Leader at SOLIDWORKS, kicked off today's General Assembly with a discussion of the new SOLIDWORKS Ecosystems and the exciting products we'll see in SOLIDWORKS 2018.
Boyalakuntla began with the Design to Manufacturing Ecosystem product, SOLIDWORKS CAM, which will be released in SOLIDWORKS 2018 next fall. According to the presenter's slide, the Design to Manufacturing Ecosystem has an intelligent knowledge base and tolerance based machining.
The next ecosystem being released in 2018 is for data management, SOLIDWORKS Manage, a new product that leverages ease-of-use and biomanagement. It will better manage time and resources, includes nice dashboards and reports, and is said to be an easy-to-use product that's a simple upgrade from PDM Professional.
In the Simulation Ecosystem, SOLIDWORKS Engineer is a 3D experience platform product designed to help solve structural analysis problems. It is built to quickly set up and solve problems, and will extend simulation capabilities with simple one-click data transfer. A select group of customers will have access in Q1, and it rolls out worldwide with SOLIDWORKS 2018.
SOLIDWORKS announced the IoT Ecosystem, SOLIDWORKS IoT. It is managed by SOLIDWORKS PDM Professional and has best in class MCAD and ECAD collaboration.
Duane Elgin and Jon Friedman talked sustainability with design in the Customer Mash Up
Sustainability expert and social visionary Duane Elgin, along with Jon Friedman, the President and Co-Founder of Freight Farms, discussed the design community's critical role in the sustainability of planet Earth. According to Elgin, the Earth already has billions more people than what it can sustain over the long haul, and we will need to design our way into a more sustainable future. With the fluctuation in the climate being harmful to farmers, Friedman touched on how shipping containers can be used to change a square footprint to a cubic one in schools and businesses.
Elgin let everyone know that there is no longer time for a top down approach, and that instead people must be collaborative and work on emerging new ecosystems, or "eco villages," at the local level. He let the audience know it is an extraordinary opportunity for SOLIDWORKS and its community to start a design revolution and design out into a more creative and sustainable future!
Mark Schneider presented Model Mania with live modeling
There has been 18 years of model mania, and this year participants were tasked with modeling a simple round machine part as quickly as possible. Schneider announced the winners of this competition and did a live model of the part, with a reminder that Model Mania is a great opportunity for people to explore the power of computer aided design.
Keynote Presentation
Anousheh Ansari, the first female private space explorer, discussed the future, and how design and our community will play a role. Ansari helped spur on the industry of private companies creating spaceships and spaceship parts, and sees a future that is personalized with 3D printing. Here are some of her predictions for the future.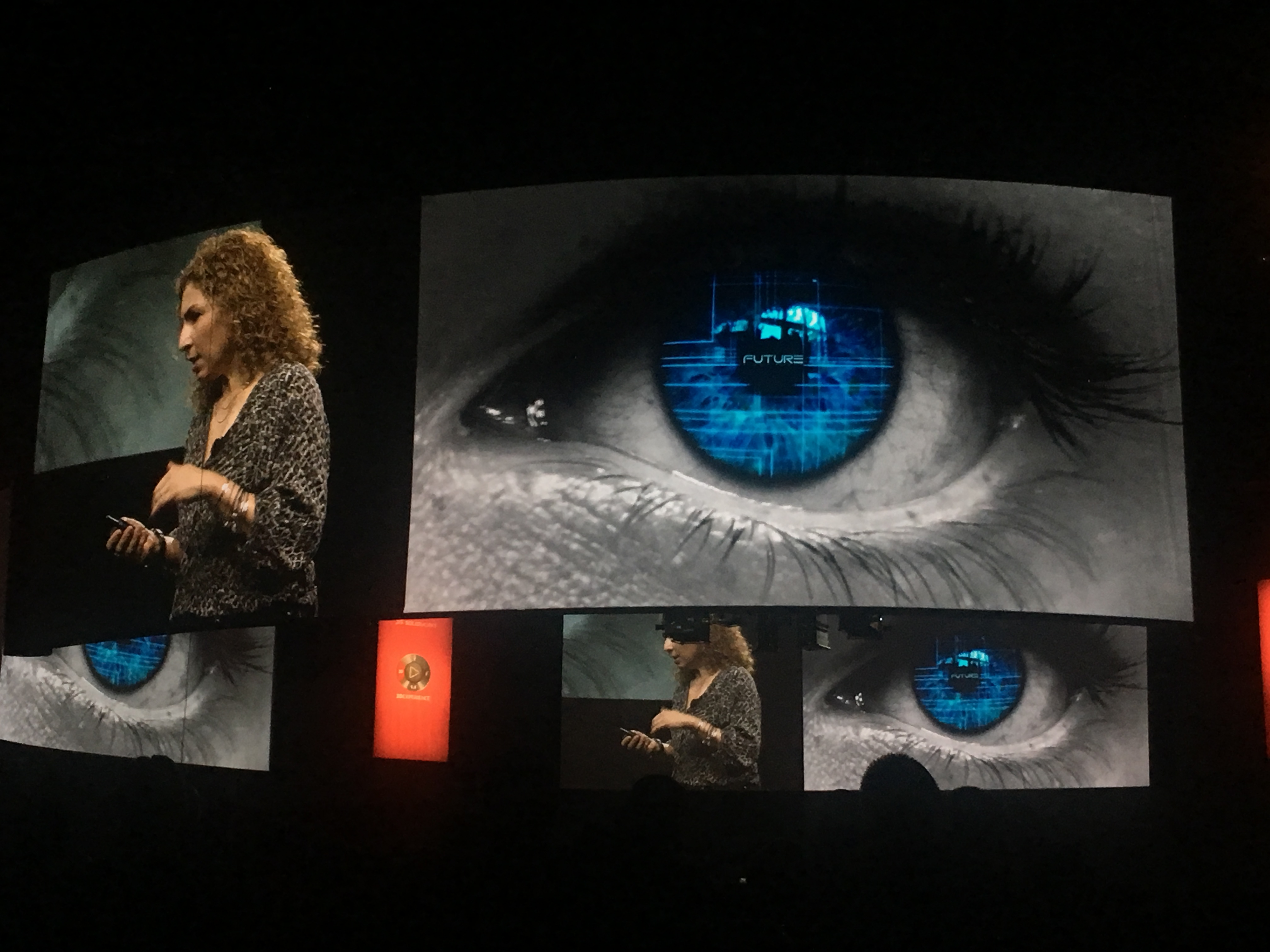 The future will be augmented
All of the technologies will come together to help us take better care of people and help remove limitations we might have.
We have a future in space
Ansari says we will need to look outside our planet for additional resources, so getting access to space easily, and at a lower cost, is important for our future. Getting green energy from space — like harvesting power from the sun, mining asteroids, and even colonization on other plants — will help us have a more sustainable future.
Ansari urged the audience not to let fear stop us in our tracks, but face challenges with open eyes and design a future you want to see!
SOLIDWORKS Next Top Modeler reveals brand new features in SOLIDWORKS 2018!
In a fun "SOLIDWORKS Next Top Modeler" segment, different "contestants" covered exciting new features in SOLIDWORKS 2018 that had the audience cheering. Here are some of the features we can look forward to:
– Add symmetry at any time in 3D.

– You can now input from a tablet with a stylust and instantly convert into a sketch entity.

– A new welcome screen with links to resources and access to recent files.

– A revamped performance evaluation tool for assemblies that identifies what components are slowing you down.

– New enhancements for 3D interconnect that directly inserts new neutral formats. They are treated just like any other file once they're inserted, and the enhancements supports new types of geometry from other CAD programs. It also supports custom properties.

– Self-fixturing design techniques, with tab and slot tools that can be configured on different parts or assemblies. Changes to existing designs can be added easily with tabs on the side.

– SOLIDWORKS PDM now has a revision table with an approval column and ability to add notes. Bi-directional communication is available.

– Large assemblies can now be worked on in a mixed environment (Large Design Review and Resolved), with the ability to insert and mate graphic components.

– SOLIDWORKS introduces generative design to speed up the process of creating parts based simulation requirements. The results will show which areas need to be kept, and which ones need to be removed.