SOLIDWORKS World Preview 2017
SOLIDWORKS World 2017 will be here on February 5th, giving designers the opportunity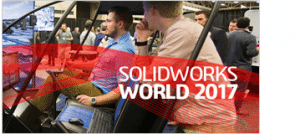 to network, learn about new products, and choose from 200+ breakout sessions for a fresh perspective on the 3D design industry. Sessions will cover technical training, reseller training, and general topics.
This year SOLIDWORKS has also introduced the Learning Path, where attendees can choose from one of four Learning Paths: Internet of Things, Model Based Definition, Additive Manufacture, and Subtractive Manufacturing. According to SOLIDWORKS, the learning paths will "give attendees a jump start in these important and emerging aspects of manufacturing."
If you can't make it this year, you can register for the SOLIDWORKS World 2017 live webcast. This will allow you to remotely view the general sessions and listen to the great insights of the featured speakers.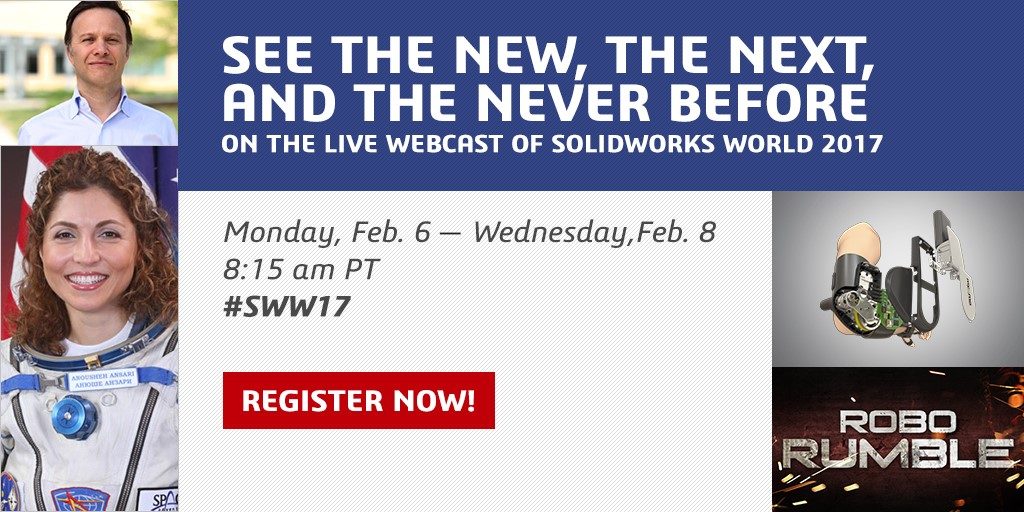 Here are a few of the things we're most excited to see this year, and a breakdown of the conference schedule:
Inspirational keynote speakers
The SOLIDWORKS World 2017 keynote speakers are inspirational visionaries who SOLIDWORKS says will offer a new perspective on the future of product design. The diverse lineup includes Jason Silva, the host of a National Geographic TV series and the creator of Shots of Awe, and Anousheh Ansari, the first female private space explorer and co-founder of Prodea Systems. These creators will be joined by other top-notch speakers who will get us thinking about technology in a new way.
Exciting networking opportunities
SOLIDWORKS World has great opportunities to meet other attendees and grow your professional network, and this year there are three networking events: a tailgate party, a welcome reception, and a Special Event. SOLIDWORKS released a preview of the Special Event, which was revealed to be a block party on the backlot of Paramount Pictures Studios in Hollywood. According to the preview, there will be games, performance artists, music, and fantastic food. Not only will these events be fun, but they'll put us in same room as thousands of like-minded people who are just as interested in 3D design as we are.
Seeing new tools, technologies, and the future of SOLIDWORKS
This event is the perfect opportunity to see innovative new products and technologies that may not even be on the market yet. This glimpse into the future of 3D design is sure to get us excited about the upcoming year, and give us inspirational ideas of our own. This year SOLIDWORKS is running four different learning paths: IoT, MBD, Additive Manufacturing and Subtract Manufacturing. All four learning paths are exciting, it's hard to choose.
We'll also be hearing from the CEO of SOLIDWORKS, Gian Paolo Bassi, on creating what's new and next, and be given the chance to qualify for a special MySolidWorks Certificate with the new Learning Path. Attending four out of six sessions on a given Learning Path will not only qualify us for the certificate, but give us that jump start in industry knowledge.
Exploring Los Angeles
Although the conference is sure to keep us busy, there are plenty of great attractions in L.A. if you want to do some exploring! These include:
– California Science Center

– Universal Studios Hollywood (which you'll already be seeing if you attend the Special Event!)

– Hollywood Walk of Fame

– A

variety of parks

perfect for any fan of the great outdoors
We're excited to attend this year's conference and begin learning new things, meeting new people, and continue to be on the cutting-edge of the 3D printing world. If you can't attend or just want to see our insights, be sure to follow us on social media and check back on our blog — whether it's an inspirational quote from Jason Silva or a full conference recap, we'll have plenty to share about this year's SOLIDWORKS World conference!
What are your SOLIDWORKS World 2017 plans? Here's the breakdown on what's coming up:
Sunday, Feb. 5
Kick off the conference with registration and a CAD Managers' Boot Camp. For those looking to get SOLIDWORKS certified, SOLIDWORKS Certification Exams are being offered from 10 a.m. to 2 p.m., and 3 p.m. to 7 p.m. Of course, if you want to get in as much networking as possible you'll want to complete your exam before 3 p.m., when the Tailgate Party starts. The Welcome Reception/Game-Day party is also tonight, giving you plenty of time to mingle with other 3D design enthusiasts.
Monday, Feb. 6
CEO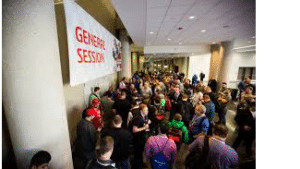 of SOLIDWORKS Gian Paolo Bassi will begin the day with a special welcome, followed by the Customer Mash Up and Keynote Speaker. (That's five great speakers in less than two hours!) This General Session will be followed by multiple technical training and reseller training sessions. The number of options for each block of time is huge, with categories like modeling essentials, data management and administration, and design communication. With so much to choose from, you'll probably want to plan ahead — see the daily agenda here.
Tuesday, Feb. 7
Tuesday's General Session is action-packed and begins with a talk on SOLIDWORKS 360 from Vice President of Strategy and Community at SOLIDWORKS, Suchit Jain. This is followed by SOLIDWORKS Education & the Next Workforce from Marie Planchard (SOLIDWORKS) and Amir Abo-Shaeer (Dos Pueblos Engineering Academy), before Customer Spotlight from Motiv Robotics and the SWUGN Awards.
Capping off the morning is the first SOLIDWORKS World Robo Rumble, which will happen after a presentation from the The National Robots League!
From there you'll have another day full of training sessions before that Special Event at Paramount Pictures Studios.
Wednesday, Feb. 8
The General Session on Wednesday is full of speakers from SOLIDWORKS, covering topics like the SOLIDWORKS ecosystem, model mania, and what's new in SOLIDWORKS. We'll also get to hear about the sustainability of 3D printing in a customer mash up, and listen to keynote speaker Anousheh Ansari.
Following the typical 11 a.m. refreshment break will be another day of training sessions that ends at 3:45. With some sessions covering more than one category (like the session on the customer IOT journey), you'll want to make sure to choose your last day of events carefully before heading home.
Free time
As we mentioned, there's plenty to do in the L.A. area, including city tours, museums, visiting landmarks, and great places to eat. You can find sushi, Filipino restaurants, breweries, and the restaurants of Wolfgang Puck and Roy Choi all in one city.
Images courtesy of SOLIDWORKS.