SOLIDWORKS Electrical - Time Saving Symbols
Using SOLIDWORKS Electrical, I've picked up a few shortcuts that help me use the software a bit more quickly than I could when I first started out. I mentioned a few shortcuts in previous blogs, but it is always good to refresh with new releases.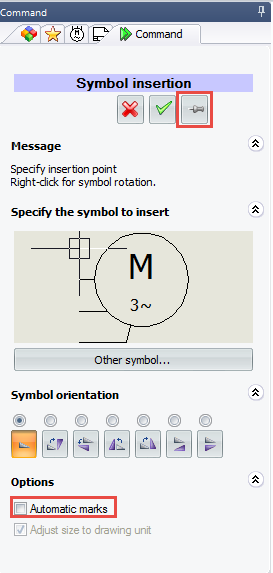 Often during training classes, I get asked about dialog boxes and minimizing their popup. One simple trick to use on symbol insertion is the Automatic Marks pushpin.
When inserting a symbol, click the pushpin icon. This does a couple of things for you. The insert symbol dialog will now stay open after inserting a symbol. This allows you to keep inserting several symbols in a row without having to restart the command.
Also, using the "Automatic Marks" check, the software will no longer provide a popup after placing a symbol, thereby cutting down time if you are just trying to place a few symbols quickly. The inserted symbol is now tagged automatically after every drop on the page.
Corey Kubichka | Electrical Product Manager