Upgrading NVIDIA Graphics Card Driver
As any experienced SOLIDWORKS user knows, a graphics card can be the underlying cause for a multitude of CAD issues, sometimes manifesting in completely unexpected ways. Although hardware can be a culprit, the vast majority of related issues can be resolved with a graphics card "driver" update. This article will discuss the steps to discover what NVIDIA graphics card model and driver are currently installed and then how to go about upgrading the driver.
Normally, this can be done through the SOLIDWORKS Rx tool under Diagnostics.

This will display graphics card information and inform us if an upgrade to the driver is available. Note that a link is provided to check for which drivers are officially certified by SOLIDWORKS. This link has been updated recently to: https://www.solidworks.com/support/hardware-certification
Although this information is great and always best to check first, many times a SOLIDWORKS graphical issue can only be resolved by downloading the latest driver from the manufacturer's (NVIDIA) site – not through the SOLIDWORKS site. This is because graphics card manufacturers release later versions of their graphics drivers before SOLIDWORKS has had a chance to test and certify them. In most cases we will stick with whatever SOLIDWORKS recommends. That said, here are the steps to upgrade directly from the manufacturer.
We can directly find graphics card information on a given machine by going to Windows Device Manager and expanding Display Adapters: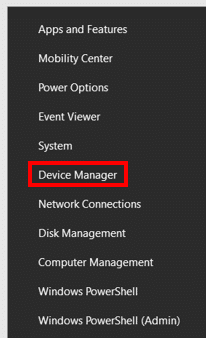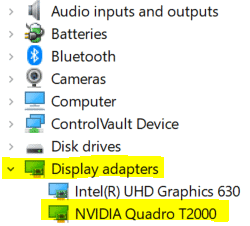 If we RMB on the graphics card and select Properties and then Driver tab, we can see the current driver information. The numbers of interest will be the last 5 digits of Driver Version, in this case 442.19: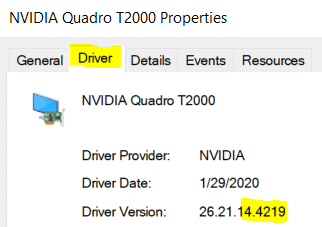 Next, we go to the manufacturer site to acquire the driver download: https://www.nvidia.com/Download/index.aspx
…and enter our information in the download search filter: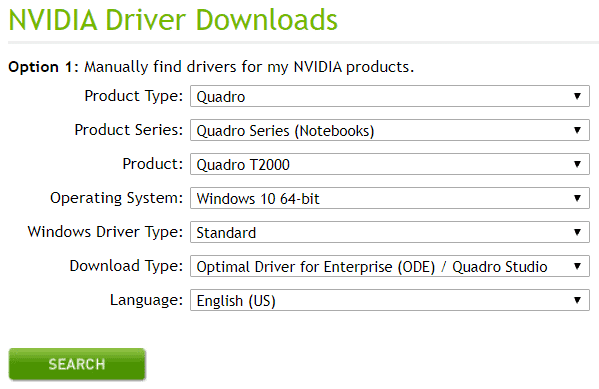 Clicking Search will give the latest recommended driver along with much more detailed information about the items that were addressed and fixed in the new driver.

Notice the highlighted version (442.19). This will usually be a later version than what you find under Display Adapters but is the same in this example as an upgrade was recently performed on this machine.
Select "Download". IMPORTANT: We have the option to choose Express (recommended) OR Custom (Advanced) installation. Choose Custom (Advanced) installation so that we can perform a clean installation. Leave everything else checked as is.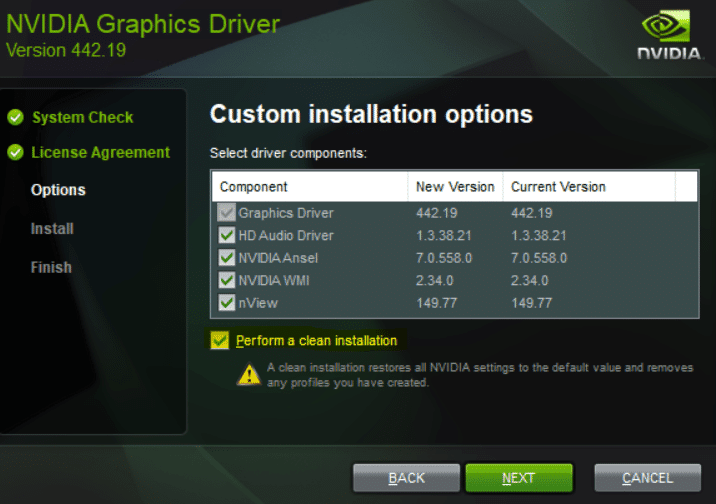 Click Next. The old driver will be removed and the new one installed. After the installation completes, it is good practice to reboot the computer.
Sometimes upgrading to the very latest driver available, does not resolve an issue. In these cases, it is easy to revert back to the SOLIDWORKS certified driver version through the SOLIDWORKS hardware certification link provided above. Follow the same steps outlined for Custom Installation.
James Carlin
Sr Support Engineer
Computer Aided Technology Inc