What's (hopefully) New in SOLIDWORKS 2021 & Top 10 Enhancements Voting Results
Anyone who has attended SOLIDWORKS World in the past knows that one of the most exciting times for a SOLIDWORKS user is when they preview what will be coming in the next release of the software as well as announcing the results of the Top 10 Enhancements voting.
This year at 3DExperience World 2020 in Nashville, TN they shared what's new in 2021 a little differently. Rather than a main stage presentation, they did it in small "pop ups" where they would appear in a user's breakout session to show some of the functionality. But, that makes it all the more exciting for us to share the consolidated information with you here on our blog!
WHAT'S (hopefully) NEW IN SOLIDWORKS 2021:
SHEET METAL CURVED EDGE FLANGE
Curved Edge Flange features are supported on non-planar tangent edges of an existing base, swept, or edge flange.
SILHOUETTE DEFEATURE
Extended functionality to include the ability to save the simplified assembly as a derived configuration in the existing assembly.
Appearances
Color Picker tool allowing users to select the appearance they need from any other application. Once selected, the appearance properties and model update immediately.
SIMULATION
More accurate results when using incompatible Mesh for bonded contact due to variations in meshing of non-planar contact.
Blended Curvature-Based Mesh improvements result in faster meshing without sacrificing results accuracy.
DRAWINGS – DETAILING MODE (new in SW2020)
Improvements make it possible to edit legacy dimensions in addition to newly created dimensions.
Detail, Break, and Crop Views can also be created, modified, moved, and have dimension and annotations added.
Hole Callouts are available for both hole wizard holes and extruded cuts.
Keep in mind any of these could be delayed or pulled from the software if not functioning how expected at the time of 2021's release (October 2020).
Another exciting thing to see is the results of the Top 10 Enhancements voting.
Every year SOLIDWORKS receives over 6000 Enhancement Requests directly from the users. Starting in November they hold open voting (this year it was done on the 3DExperience Platform public page) for all of you to vote on your favorites that you would like to see implemented. This year over 10,000 votes were cast. Since 2001, 70% of the Top 10 Enhancements have been implemented in some version of the software. Proof that SOLIDWORKS is very user-driven. All of the ideas that are submitted for this Top 10 list are carefully considered for future implementation, regardless of their final vote count, but it is still fun to see what the users push to the top of the list! Nothing is ever "abandoned", as evidenced by a "Top 10 Enhancement" from 2001 that got implemented in SW2015.
This has been done as a break out session over the past 3 years rather than in the large General Session. So once again, we are thrilled to be sharing it with you here in our blog!
They actually did 11 this year (more on why at the end…)
TOP

10

11 ENHANCEMENTS (2020):
11 Reset Markup View (to allow for more room)
10 Accurate and correct Solid Body Sweep (this was #6 on the 2019 list)
9 Use Design Library for Markup reuse
8 Give SOLIDWORKS the ability to view, edit, and create DXF
7 Toolbox warning about "Make this folder the default search location for toolbox…"
6 Option to Rename With Drawing when changing the name of a part in assy from tree
5 Show PDM Workflow states to users
4 PDM – Show Cutlist items in Assy BOM
3 PDM should manage the SW Material database
2 Ability to set up print orientation automatically
1 Focus on Fixing Bugs and Increasing Stability
As you can see #1 isn't REALLY a new functionality / enhancement so that is why they decided to do 11 this year. Interesting that 3 PDM enhancements showed up. Guess it means there isn't that much to add to SW anymore? I particularly like #7, #8 and #9.
At this session, John Sweeney from the development team talked about how the SW Tech Support team had a huge undertaking this year and actually retested all open customer bugs! 15% of them were unable to be reproduced, allowing them to clean the backlog. They are now moving forward much more efficiently than they were before. He also informed us that there are some "Major Multi-Year Initiatives" for SW Development. These include Detailing Mode, Graphics Performance, Drawing Workflows, PDM Workflows. We saw a lot of new enhancements released in these categories in SW2019 and SW2020 and there are many more to come in SW2021 and beyond.
They also wanted to make sure every user understands that in order to make SOLIDWORKS more reliable, it's encouraged that users agree to be part of the Customer Experience Improvement Program. This is an option to be part of when you install SOLIDWORKS, but unfortunately, not many people turn it on. The more users who join the program, the better SOLIDWORKS can continue to improve.
You can enable this after SOLIDWORKS is installed by going to System Options – General and turning on the checkbox that says "Help make SOLIDWORKS products better by automatically sending your log files to DS SolidWorks Corporation".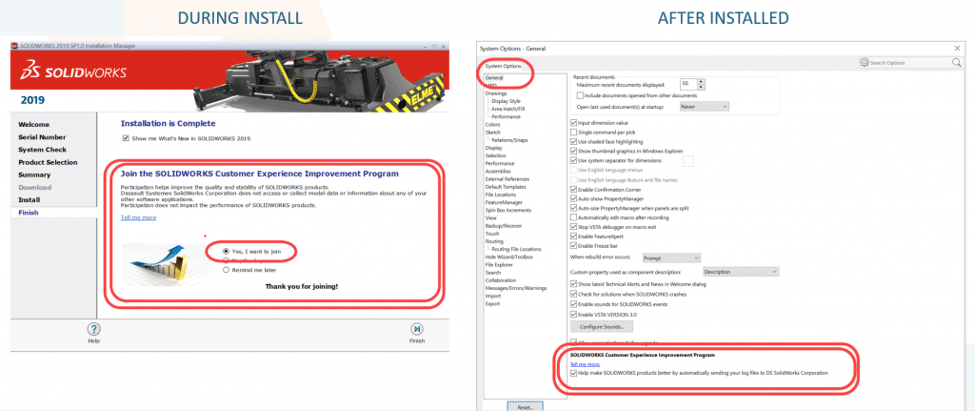 Also, be sure to use the "SEND CRASH DATA" option when you do encounter a crash in SOLIDWORKS. This option will be available in the window that pops up after a crash. SOLIDWORKS has a dedicated team at Tech Support for reviewing these crash items. They are highly focused on hangs/kills of the software.
Now you know what is important to your fellow users and what is (hopefully) coming in SOLIDWORKS 2021 this October!
Randy Simmons
SOLIDWORKS Elite Application Engineer
Computer Aided Technology, Inc