What's New in DriveWorks 18
This week is Digital DriveWorks World. Everyone knows what that means – DriveWorks 18 is officially released for download on the DriveWorks Community! I've gone through the release notes and I've played with some of the new features. On Tuesday, Glen Smith (CEO of DriveWorks) presented his What's New presentation. Today, I'm going to give you some of my highlights of What's New in DriveWorks 18, as well as what I am most excited to start rolling out to our customers.
What's New: SOLIDWORKS PDM Integration
This isn't a new feature per say, but it is a great enhancement to the existing integration with PDM. I work in both spaces, SOLIDWORKS PDM and DriveWorks and answer lots of questions about both systems. When these worlds overlap, we get questions about the options available for integration. Some of those common questions are around using serial numbers for file naming, getting the latest version of revised files, and even questions around keeping DriveWorks projects in the vault. Until the latest release, these questions didn't have an easy answer. DriveWorks 18, though, gives us all of those things we are asking for for.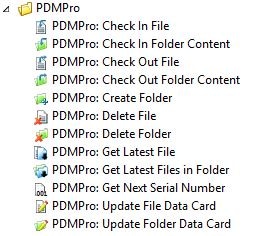 Check that out! We have the same functions we've always had, like being able to check in our files and folders. But what I'm really excited about it the added connection to serial numbers and data cards in PDM. Now I can tell anyone that asks about pulling a serial number that it's not only supported, but it's native functionality. Additional options we have available are in the plugin setup for PDM.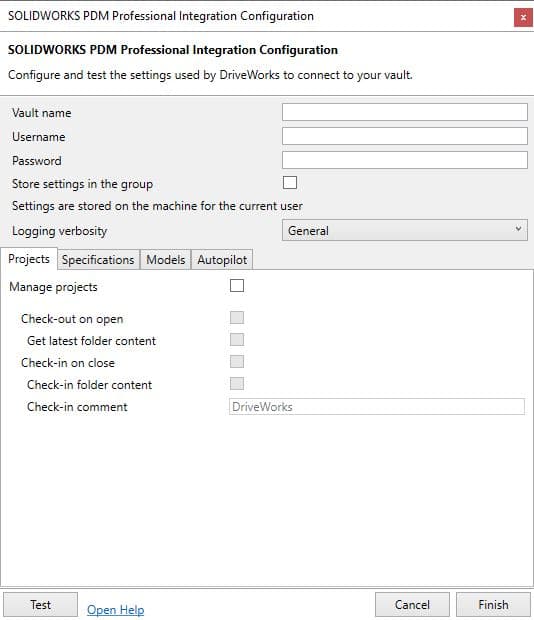 I'm not going to go through each tab, but I want to highlight one part of the integration that I thought was really cool. Now you can keep your project files in PDM, without it being a hassle. When you choose to manage projects in PDM, you can set it so the files will be checked out when they are opened. Additionally, you can get the latest version when it's opened, and even set it to check in the file when it's closed. This means less overhead and managing everything manually. DriveWorks 18 helps you automate those PDM tasks that were manual before, creating a tighter integration and a better user experience.
What's New: Run Macros without Macro Buttons
When I was playing around and trying to go through the What's New in DriveWorks 18, I stumbled upon an enhancement I didn't know I needed. This is actually my favorite enhancement, perhaps of all time. I started playing with this a few weeks ago and fell in love with the feature immediately. Let me walk you through exactly what's going on. Until now, if you wanted a macro to fire, you had two options. It could run via a macro button or during a workflow. Really, that was it.
This became very tedious when you had to use macro buttons to "confirm" selections. It isn't much of a problem in the moment; maybe an extra click here and there. However, add that up over the lifetime of the project and it could be thousands of extra clicks each year! What DriveWorks did with the release of 18 is enable you to run a macro from controls like a combo box or check box.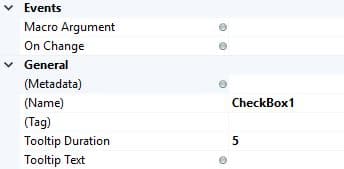 Ordinarily, when I see new features and releases, I want to do extensive testing before presenting to a customer. This enhancement was different and I actually used it in a demonstration within a week of downloading DriveWorks 18. It's a very natural thing to expect something to happen and not be required to "confirm" your selections. Not only was this natural, but it was seamless and the demonstration was perfectly smooth while saving me extra clicks. The ability to enhance the user experience by making it easier to use is perhaps my favorite "little enhancement" that I have ever seen in a DriveWorks release.
What's New: Enhanced 3D Experience (and VR!)
One of the more noticeable changes for what's new in DriveWorks 18 comes in the form of 3D. I have 1 word to describe my favorite part – animation. I'm not located too far from Nashville, so I actually attended 3DExperience World for the weekend portion. While I was there, I visited with the team from DriveWorks that made the trip and we spent a little bit of time talking about the enhancements. Maria (Vice President) immediately brought up the amazing work the developers had done with 3D, so I had to play with it and see for myself. Sure enough…
This is a game changer for me. I'm all about graphics and making things look flashy. 3D previews have always been a favorite, but the snapping was a little bit of a buzzkill. Now I can watch it move and react. Not only does this look really cool, but it gives a user a feel for exactly what they are doing when they change a dimension or feature.
I also mentioned VR. The feature is still in beta, so it may change a little bit, but you can begin using a virtual reality setting for configuring your products. Imagine the power of being at a trade show, handing someone a headset, and letting them build something in a virtual space. This is an entirely different playing field than just having a scene on the screen. Users no longer have to imagine what it would look like in 3D space, they can actually experience it!
Final Thoughts
As Digital DriveWorks World wraps up, I thought it was a great chance to add my final thoughts on the release. Enhancing the user experience is a big part of what's new in DriveWorks 18. We all have manual tasks that we become numb to and think nothing of. DriveWorks 18 has helped to make those tasks automated. From PDM, to "confirm" buttons, we can save those extra clicks. Additionally, the enhancements in 3D are dream-like. Having an animated image that updates live as I make my selections? I'm speechless. And being able to do something like that in virtual reality? The power of showing that to someone is incredible.
I'm going to wrap this up now actually and start playing with more of these new features.
Happy automating!
~Nick