Xpress Yourself
Every seat of SOLIDWORKS comes with Xpress products. There are currently five of them. Here is a list and a brief description of what they do.
1. SimulationXpress Analysis Wizard – an easy-to-use first pass stress analysis tool for SOLIDWORKS users that helps you reduce cost and time-to-market by testing your designs on the computer instead of expensive and time-consuming field tests.
2. FloXpress Analysis Wizard – a fluid dynamics application that calculates how fluid flows through part or assembly models. Based on the calculated velocity field, you can find problem areas in your design and improve them before you manufacture any parts.
3. DFMXpress Analysis Wizard – an analysis tool that validates the manufacturability of SOLIDWORKS parts and to help identify design areas that might cause problems in fabrication or increase production costs.
4. Sustainability Xpress – evaluates the environmental impact of a part.
5. DriveWorksXpress Wizard – automate your design process by generating infinite variations of a model from a rules-based project you set up once and run again and again.
They are free and meant to give you a taste of the products and solutions available to you as a SOLIDWORKS user. After trying the Xpress version, you may want to explore what the full versions may have to offer.
We are constantly getting calls about the activation codes and how to get them. So here are the steps that you, as a user, need to take to get those codes. It is extremely easy.
When you first select one if the Xpress products you are prompted with the below dialog box.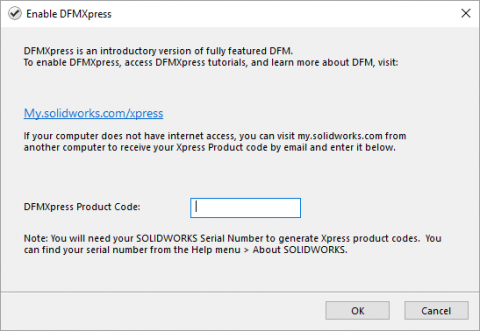 The code is not your SOLIDWORKS serial number. You will need to select the link to My.solidworks.com/xpress or type the address into a browser. If you do not have an account, you will need to create one.

After creating the account or logging in you will be shown your code for that product.
Don't close the window just yet.

You can get all of the codes to the other Xpress products if you just select the "View other products" button. This way you will have all of the Xpress codes and not have to go through this procedure again. The great thing about this is that if you are on a network, all of the codes will be the same for everyone else on the network with that serial number.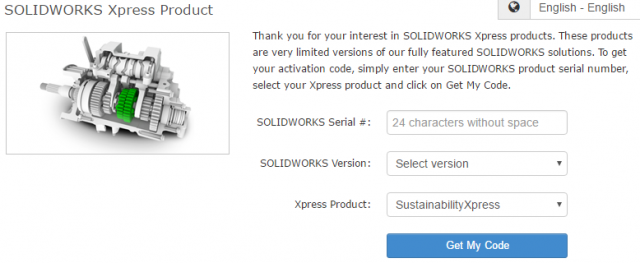 Now that you have all of your codes, all you have to do is enter them in and start using the Xpress products. Go ahead and give them a try. You will be impressed.