CAMWorks/SOLIDWORKS CAM User Defined Tooling Paths When Updating Versions
SOLIDWORKS CAM or CAMWorks TechDB is an extremely powerful tool. Machines and Toolcribs can be setup quickly to run efficiently and accurately. As a result of its ease of use, customers select a Machine to program the models for milling along with Toolcrib. In today's blog, I will show you the next step what happens when you update Versions to the USER DEFINED TOOLING and their paths.
As we have learned in SOLIDWORKS CAM Essentials we start with a sketch or an import body, however the sketch needs to be started on the front plane. The sketch can only contain lines and arcs, but splines are not supported, and the axis must vertical and centerline needs be at 0,0. Ref Lesson 9.
SOLIDWORKS CAM or CAMWorks calculates the Toolpath like End Mills, whereas the side is calculating Cut Diameter as noted in the SOLIDWORKS CAM Essentials.
If the sketch is correct the preview will show up after selecting USER DEFINED TOOL/HOLDER. There are two areas we should look at:
File Type: Mill Tool (.mt), Mill Holder (.mh) and Turn Insert (.cwtt)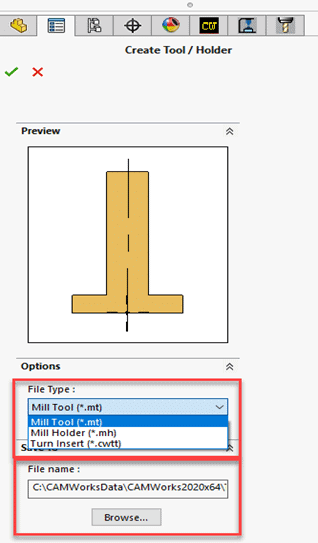 File Name: This location is where the user define Tool will be saved. Keep in mind there could be several locations used, however if you are sharing these Tools.
I would suggest saving all user defined tools to a network location.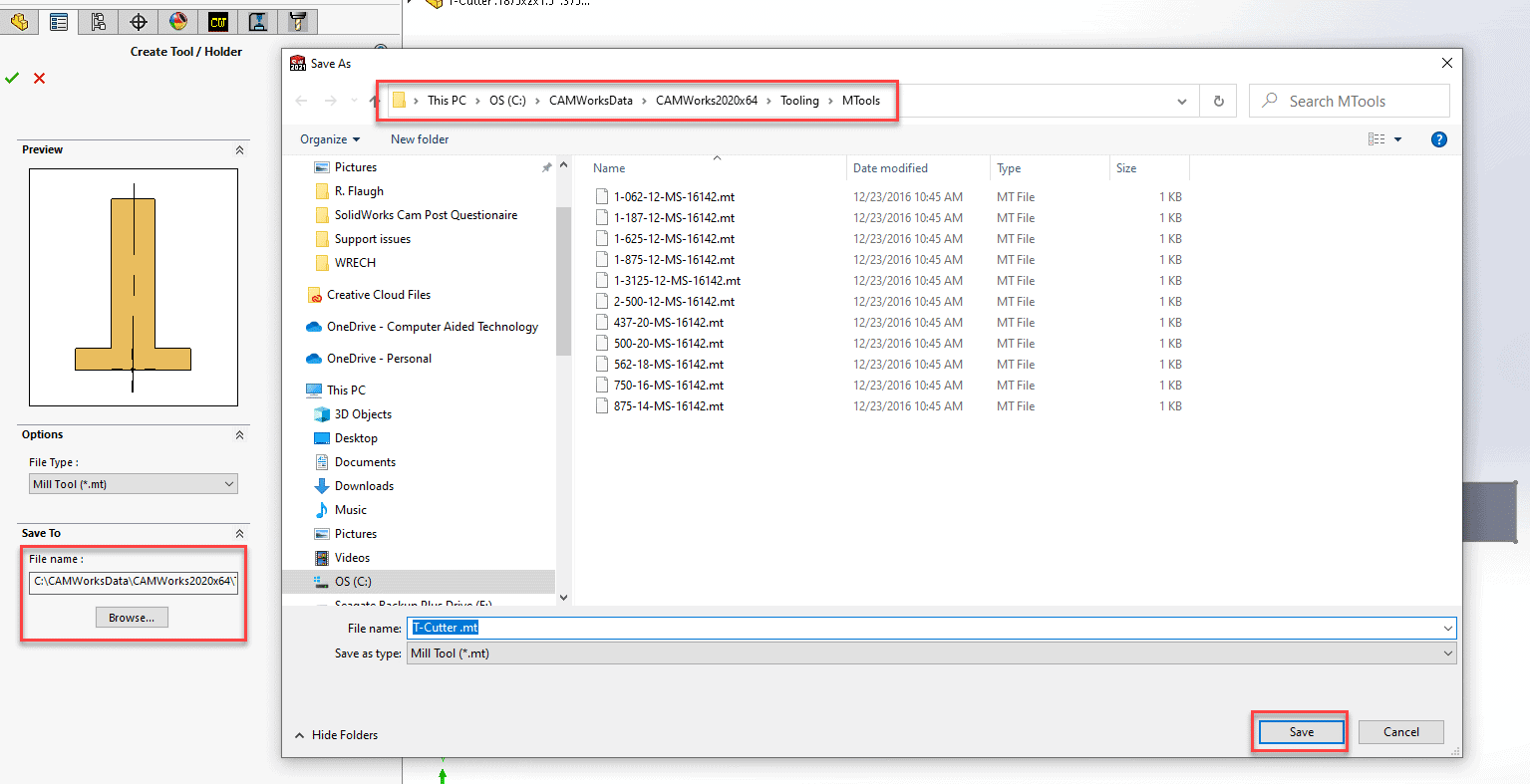 Now that we have created a user defined tooling, lets go to the update TechDB when you update from 2020 to 2021 and your USER DEFINED TOOLING.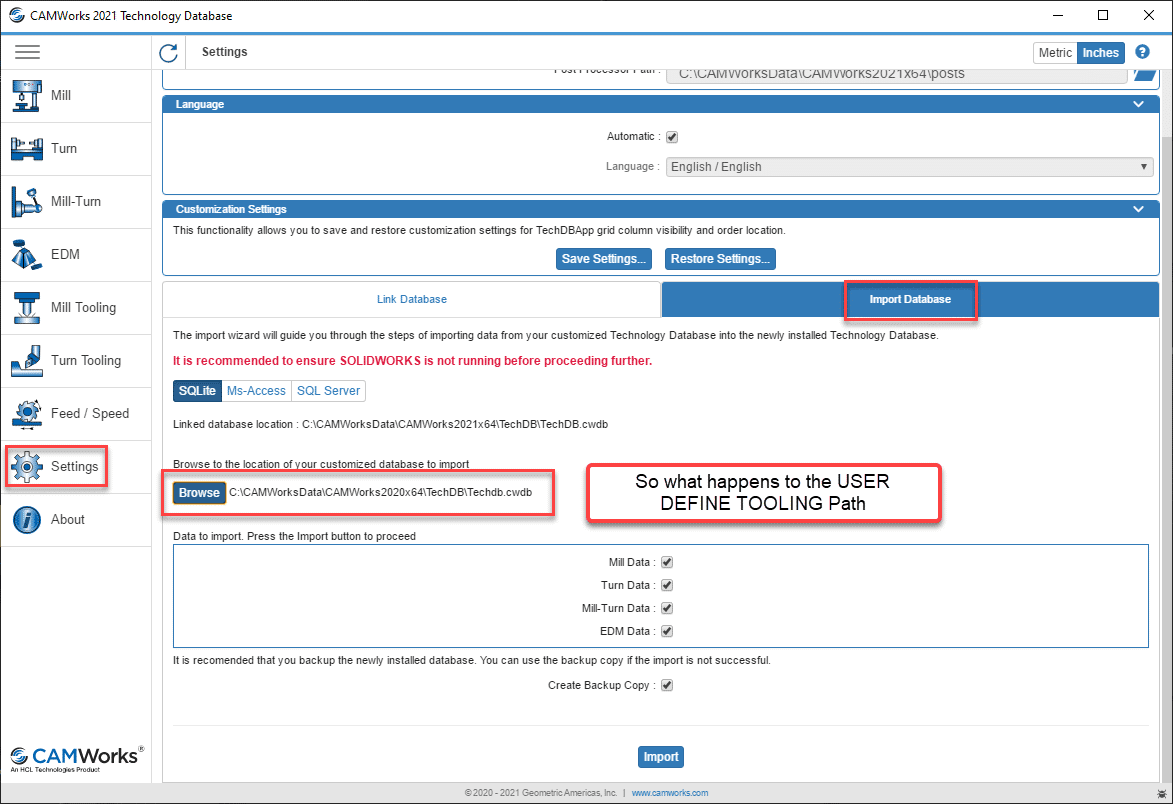 After updating let's look at what happens with your path for USER DEFINED TOOLING.
As you can see the path is not changed to the new directory of CAMWorks / SOLIDWORKS CAM, this could be confusing because you are running 2021 but the path is still in 2020. This path is not changed to the newer version, which is confusing. We suggest loading them in 1 location on a network drive to allow consistency.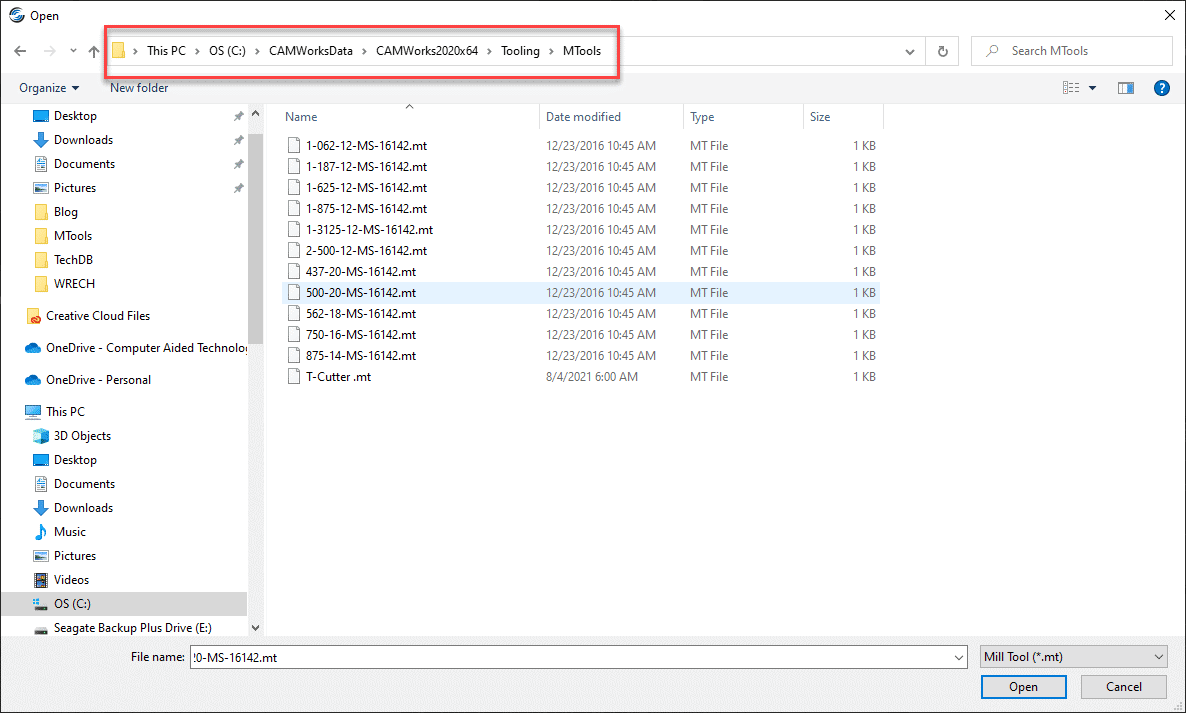 What happens if there are many locations for USER DEFINED TOOLS? I have added some tools to help you manage the path for each user defined tool.
There is no option setting defining the path, the user will need to reselect the path to each user defined tool. If the user has a significantly large number of user defined tools, does not want to reselect each path separately, they can use a free database tool such as "DB Browser" from Microsoft to open the tech database file "TechDB.cwdb", and go to the table "in_MillUDTool". This table will display the path for each tool. Here the user can copy paste the new path in the "ToolName" column.
Why is this important?
If each user references the same user defined tools, once defined within the TechDB, then every user accessing the same TechDB will reference the same tool.
The WIP is computed from the toolpath based on the tools used in each preceding operation. If an operation is using a user defined tool, then the WIP will be based on the shape of the user defined tool.
In this Blog I have given the user a splash of the Lesson 9 in SOLIDWORKS CAM Essentials for USER DEFINED Tooling creation, the purpose of this Blog is to help manage the paths when updating versions and if there are multiple users creating USER DEFINED Tooling to help create consistency.
I hope with these tips, you will be able to understand the process and what happens when updating versions. If you have any further questions about CAMWorks / SOLIDWORKS CAM, please reach out to us.
Ronnie Flaugh
Technical Support / Cam Specialist
Computer Aided Technology