solidThinking Converge 2017: Explore Technology and Design
Throughout history, technology has always influenced design. There are countless examples from coal and pigments to the printing press, and of course computer-aided design (CAD) and computer aided-engineering (CAE) software, such as solidThinking design validation tools.
Today, a new wave of technology has emerged and is converging with the design world to inspire new design possibilities never thought possible. This is exactly what we plan to explore at solidThinking Converge 2017 in Los Angeles, California on September 13th.
To steal a quote about the conference from our CEO, James Scapa, "With solidThinking Converge we want to push the boundaries of product and experience creation. We want attendees to be stimulated, and leave with a sense of purpose and confidence to help make the world a better, faster, stronger, safer, more invigorating, and kinder place. We are seeking ways to accelerate the beautiful things that happen when right brain, left brain, art, science, form, function, design, engineering, and manufacturing are propelling upward in concert."
This is the second year of our annual conference, the first was a rousing success. I welcome you to view our image gallery from
last year's event
.
solidThinking Converge 2017 will include expert keynote speakers, plenty of time to network, amazing food, drinks, entertainment, and our innovation gallery consisting of a number of the latest parts and products that have been designed and/or manufactured using new and unique methods.
Assembling our speaker lineup this year was a ton of fun. We wanted to invite a broad range of experts spanning different roles and industries. Our final lineup includes speakers from the engineering world, architecture, robotics and more. You can view the full speaker lineup here.
We look forward to having you join us at solidThinking Converge this year!
Related Articles
Why You Should Use Simulation and 3D Printing Technologies Together
How to Design a Filtration Unit with SOLIDWORKS and solidThinking
SolidThinking: Empowering Engineers with the Right Design Validation Toolsets
SolidThinking Announces Software Release 8.5
About the Author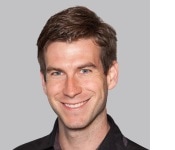 Chad Zamler is the marketing director at solidThinking. Prior to joining solidThinking, Chad worked in the world of consumer goods, as well as marketing agencies. Chad holds a Bachelor's degree and MBA from Michigan State University.